Stella and Andrea belong to the dynamic creative class of Vancouver. They are committed to creating beautiful environments to foster creativity and enrich community. They met in the intense design studio environment of architecture school at UBC and became fast friends. Since then they have pursued careers in architecture and have now branched out with their own small design firms, housed in The Aviary.
Prior to their careers in architecture, they were both talented designers in their own right. Andrea had a successful interior design firm with her work published in Western Living. Known for her minimal design and clean lines, her designs are crafted in high quality materials and create serene environments. Stella worked with natural materials: ceramics and organic textiles, creating beautiful understated designs which are harmonious and beautiful to contemplate.
Andrea and Stella bring their design approaches to The Aviary, sharing their vision and enriching the community by creating this inspiring collaborative space.
Annalisa Meyboom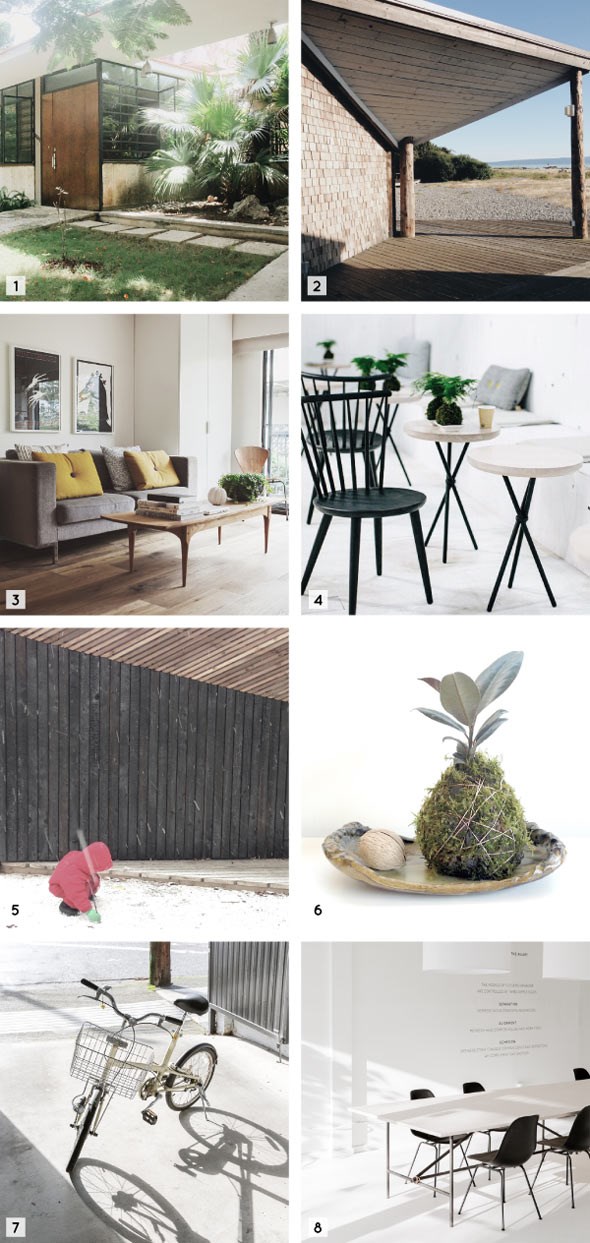 THE PROOF
1. Cuba - During architecture school, we went on a life changing studies abroad program in Havana, where Andrea actually met her now husband. Since then, she has been documenting the wealth of mid century modern architectural gems in Havana.
2. Andrea's Favourite place: Point Roberts Beach Shelters at Lighthouse Marine Park - Not only is the beach and the views to the Gulf and San Juan Islands spectacular, the beach shelters are a compelling example of Pacific Northwest architecture.
3. Andrea's Living Room - This image features my favorite things - the sofa, shipped home from Tokyo, Cuban film screen prints, a vintage coffee table from freecycle, a vintage danish chair rescued from a client's rubbish bin and my favourite Herzog & de Meuron book, Herzog & de Meuron: Natural History.
4. VIP Lounge at IDS West 2014 - Designed by Andrea, the design inspiration came from the beach shelters in Point Roberts, which included kokedama by Stella, speaks to the natural beauty of the BC landscape.
5. Charred cedar shed at Woodland Community garden in Stella's old neighbourhood - I got to use a high-octane blow torch and burn many, many planks of cedar as cladding for a community garden shed. Not only was that fun, but it also actually protects the wood.
6. Stella's Kokedama - I really love moss, and unlike what some will tell you, moss grows extremely fast here in our damp rain forest, so I harvest it from my backyard and play with it.
7. Stella's Muji Bike - the best bike you can buy for $100 CAD (10 years ago), I rarely go anywhere without this beloved purchase from my time living in Tokyo.
8. The Aviary. This is where we both work - we created this beautiful space to share with the creative community in Vancouver and we hope to meet and work alongside others who might share our love of design.
THE QUESTIONS
1. What neighborhood do you live in and why?
Stella - Cambie Village (Douglas Park) in Vancouver - this neighbourhood has big old trees with two beautiful parks within two blocks of each other, a 10 minute bike ride downtown and the Canada line is right there!
Andrea - Mount Pleasant. When we were buying our first place it was the only central area we could find and afford. We have been pleasantly surprised at how much we love our neighborhood. Guelph Park, which is adjacent to our daughter's elementary school was pretty sketchy a few years back, (now famously referred to as 'Dude Chilling Park') now one can pass by and see yoga classes taking place here.
2. What do you do and where?
Stella - usually I design buildings, currently I'm the owner/cofounder of The Aviary in the Fraserhood. In my lack of spare time, I make things like moss balls and build cardboard projects with my kid.
Andrea - I am both a building and interior designer. I run my business from The Aviary, a coworking studio for designers and creatives in the Fraserhood.
3. What inspires you to open a co-working space?
We love design, and we love good spaces; we also love working with other talented people. We wanted to create an ideal workspace and be able to share it with Vancouver's design community. We believe that by putting design at street level, we can help elevate the public's awareness and appreciation of what designers actually do. We also want to support other creatives in their journeys to do good design and to have their work recognized.
4. What knowledge/experience did you have before starting your business?
We are designers and have extensive experience in planning, design and construction, however, zero experience in running a coworking space. But design is about problem solving at it's core, and problem solving skills are handy no matter what business you are in. Our studio experience in architecture school was kind of a dress rehearsal for us. No matter how sleep deprived we were, or how stressed out we were, there was always someone around to offer support, or friendly critique.
5. Where did your business name come from?
The talented design team Glasfurd & Walker has been working with us from when our idea was purely just an idea, about 2 years ago. They came up with the name, it refers to the natural flocking pattern of birds where certain rules govern a bird's flight pattern, where the way they move as a flock and as individuals align to achieve a greater goal. At a shared workspace, we respect each other and operate as individuals, however, for our space to thrive, we are all working towards a greater common goal with each other's support. To us, that is the essence of a shared work environment.
6. How does the concept of community play into your business?
It is an essential part of our business - it is why we created The Aviary - there is so much to learn from each other, so much that can inspire and it is not by being alone that you get that kind of inspiration. Having other people around gives you different perspectives and a certain amount of serendipity that should not be underestimated.
7. What is your favourite space in the city?
Stella : Chinatown - I love the old Hong Kong style cafes which reminds me of my childhood and the beautiful Dr. Sun Yat Sen gardens is a small oasis.
Andrea - Queen Elizabeth Park. For such a relatively small park, it feels so spacious. I love the scale of the trees, the buildings at the pitch and putt, sneaking into the water fountains, and I absolutely adore the Bloedel Conservatory. I am a huge fan of Buckminster Fuller. This place is also very nostalgic for me, it is one place in Vancouver that has remained relatively the same over the last few decades. In such a changing city, it's nice to visit the familiar sometimes.
8. Is there anything else you would like to share with us?
We are very excited to see the work of Herzog & de Meuron come to Vancouver. They are the lead designers for the new Vancouver Art Gallery. While Andrea was living in Tokyo from 2001-2003 their Prada Aoyama store was under construction, and completed. This catalyst is what inspired her to finally follow through on her dream to study architecture.