Dave is a pretty well rounded person, a 'jack of all trades' some would say. And even a master of a few. One of them, being able to jump higher than anyone else I know. With those disproportionally gigantic legs (did someone sew loaves of bread to his calves?) you'd expect no less. The other, would be his great sense of humour. He has honed his corny jokes to an art form, a skill that he undoubtedly will pass down to his 2 kids.
Overall, Dave's just a great guy.  He's the type of person you want on your team. Especially if you if you're on the high jump team.
- Edward Wou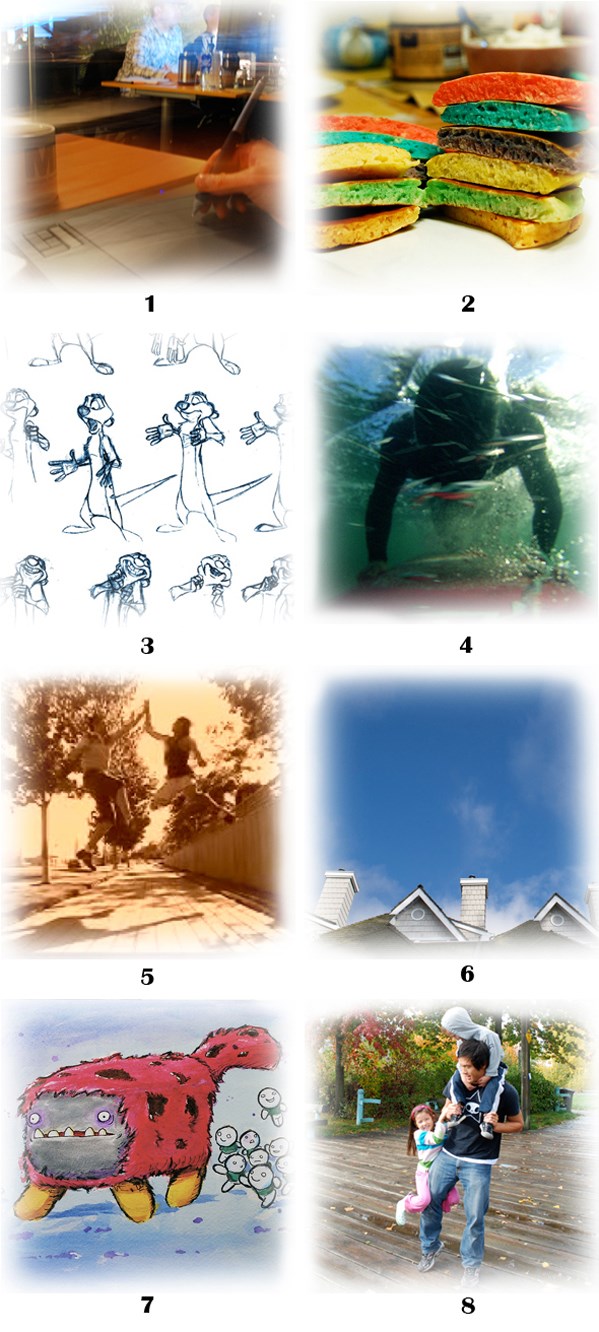 The Proof
1. I traded in my 2B pencils in favor of a Wacom drawing tablet and pen stylus about 7 years ago in order to continue being employable.  At first I was resistant to computer animation because it wasn't what I went to school for and I felt I had so much more to learn in illustrative animation. I love it now though; the digital medium is so forgiving, but my first love will still always be traditional animation: analog rules.  This is me at work at The Moving Picture Company, animating on Zack Snyder's "Sucker Punch".
2. I made rainbow pancakes for my 2 kids one day.  I like doing fun and creative stuff with them that inspires their imagination.
3. Some old school lo-fi animation samples from my days as a 2D animator at Walt Disney Animation Australia.  This particular scene of Timon was from The Lion King 1 ½ .
4. I grew up in the Shuswap Region of B.C. skateboarding and snowboarding as a kid.  Now, living closer to the ocean has afforded me the opportunity to learn the sport that spawned the two other ones I grew up with.  Here I am ducking a 4ft. wave at Cox Bay in Tofino.
5. This is a still frame from a 2min short film my friend Mat and I wrote, shot and edited in a few hours for no other reason than for fun.  We didn't even have a camera man available so we designed each shot so that it could all be filmed from a tripod. "High me five!"
6. These are the peaks of the row of towne houses where I live.  When it gets hot, the cedar shingle roofs make the neighborhood smell like a sauna.
7. Trying to not get lost in everything digital, I'm trying to keep up a bit of drawing and painting here and there.  This little pink guy is named "fluff maWg".
8. My two little kids are always vying for more daddy time.  It's fun having two little monkey's to monkey around with.
The Questions
What neighborhood do you live in?
I live in South Vancouver's Fraserview neighborhood,  right beside the river on the "right side" of the tracks!  There's a lot of green space around me and the city is still close by.
What do you do and where?
I'm trained as a traditional 2D animator, meaning I make cartoons with drawings.  But over the past few years I've had to leave the analog world in favour of the digital one.  I've just started working at Sony Pictures Imageworks at their brand new Vancouver  Yaletown studio as a computer 3D animator.
What are you working on?
I'm currently working on 'Smurfs' the movie, due out summer 2011.  Don't laugh.  I do it for the kids, and the kid in me too:)
Where can we find your work?
I've worked on a handful of TV productions and a few movies, so you can see some of my work as reruns on Saturday morning or in the bargain bin at your local video store, haha. Alternatively, you can see a small sample of my Demo reel that I would show to prospective employers here.
In lieu of not drawing professionally anymore, I've been doing some doodles and painting mock-ups of them recently.
I'm a new amateur in photography, but some of my better photos that I've been snapping recently are posted on my flickr site here.