Well-versed and practiced in many areas of the arts, from graphic design to illustration, to photography and painting, David Arias' passion and eye for creativity is truly inspiring. Genuine and hard-working, he is quietly quite brilliant and the kind of guy that everyone wants to be around. You find yourself instantly sponging off of his humour, confidence and charisma. He consumes great design as one might chocolate—with appreciation and excitement, be it a new typeface, amazing installation or photo. David has an innate entrepreneurial spirit, which sets him apart, and has become an asset to his studio and the amazing work he produces. He's always pushing the envelope of what is expected, and encourages clients to go beyond their imagined plan and scope of ideas—to stand out and strive for more—a better solution. He has an unhealthy addiction to Call of Duty, Coca Cola, type, and matte black.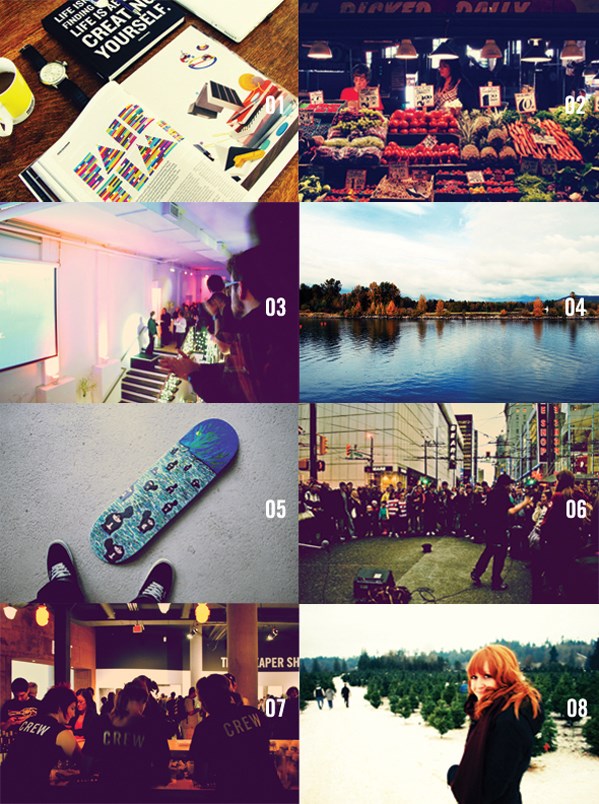 The Proof
01 Design essentials -- I spend a lot of time around the computer, and reading design–related material in books or magazines. I keep a sketchbook with me handy, in case ideas pop into my head and I need to put them into paper. A few cups of coffee are also consumed in the process, on a daily basis.
02 Fresh market foods -- I believe in supporting your local market, and farmers. Getting fresh food from local vendors is something we do on a daily basis. Even when traveling, we try to seek out fresh local food from nearby markets. The image above was taken in Seattle, a place we often visit to wind down and relax, while absorbing some of Seattle's urban culture.
03 Design community and events -- As an independent designer, I often have to work twice as hard to get work coming through the door. Networking within your own industry often helps to get noticed, and getting noticed can lead to more work. I love meeting new people, especially those who are involved within a creative industry. The image above was an award event hosted at Canvas Lounge in Gastown. The Graphex Awards featured some of Canada's best designers and design studios. I was asked by Taxi in Singapore to photograph and document this event.
04 Away from the chaos -- I have learned to appreciate the peaceful and natural beauty of our landscapes surrounding Vancouver. I live a few minutes away from Fort Langley, a small town near the Fraser River. I love the small town feel of it, for whatever reason, it feels cozy going there, especially in the fall. It's a totally different mindset and vibe than being in downtown Vancouver.
05 Art is my escape -- I often get caught on the professional, business and corporate side of design. Sometimes you need an escape, and the freedom to simply do art, or an illustration, or anything that doesn't require much of that marketing jargon. Sometimes you just need to create and have fun. I try to do this from time to time to keep the creative flow going. The image above is a random art piece I did for Bobby Paul's fund-raiser event "Bored of Canvas". This pen and acrylic on a skateboard piece was donated and auctioned to help put food on the table for those who are less fortunate.
06 An urban and suburban balance-- As much as I love to be away from the city chaos, it also makes me appreciate it even more when I do visit downtown. The downtown busy crowds, the multi-cultural variety, the different scents on the streets of good food and the culture of an urban environment, are something I enjoy. I try to balance my life and activities between experiencing environments within the city and out of the city. I also added this image because it also showcases my appreciation for rap/hip-hop. I'm not entirely sure who the person on the mic is here, but for the brief moment I watched/heard him, I remember thinking, "he's good!"
07 The Cheaper Show– I have been a fan of this show for a couple of years now. This year (2010), I decided to come out, volunteer and support our local artists. It felt good to give a bit of time to this event and watch it come to life and see it's success. I can't image all of the hours that were spent by the leading personnel putting this together. On the event night, I was working at the bar, but enjoyed watching people have a good time. I think we're blessed to have such a cool and diverse creative crowd here in Vancouver; big-ups to everyone who was a part of this show.
08 'Tis the season to be jolly– I think my favorite time of the year is Christmas season, but not because I get gifts, but because it's a time where I get to spend more time with those who I love. A time when the snow puts a stop to my daily routine and forces me to stop and enjoy a cozy moment by the fire, with a cup of hot chocolate. As tradition has it, we spend a day as a family selecting the largest tree we can find from a farm in Langley.
The Questions
What neighbourhood do you live in?
Currently I'm living in the Fraser Heights area, a neighbourhood in North Surrey. It's a little quieter and less condensed around this area. The only downside is that you need a vehicle to get around, as most things are not within walking distance.
What do you do and where?
I'm an independent graphic designer, and I work from my home studio. Well, it's more like an unfinished basement, but that's where everything happens.
What are you working on?
I try to keep busy working on a couple of projects at one time. Currently, I've been working on some branding for a new local coffee shop, some packaging/labeling for a new beauty/ cosmetic line made from natural ingredients, a new website, and some print collateral for a local start-up. I also have an ongoing branding project for a skate-shop in Slovenia.
Where can we find your work?
You can find my work showcased on my Portfolio or Behance. From time to time I like to post some images up on Flickr. You can also follow me on Twitter, where I'll post creative-related stuff from my personal Blog.