Janet and Duane have been teaching developing unique courses together for 10 years. Janet comes the world of academic research, biology and urban planning, and wrote a Ph.D called Changing the University from Within. She believes deeply in the power of collaboration and bringing people together, and as the Director of the Semester in Dialogue at SFU, she is committed to providing students with the most engaged learning experience they will ever have. Her life was changed at the age of 12 when she spent some time with a beached humpback whale on Long Beach and now she knows when they are in the inlet. She's excelled as a camp counsellor, bike commuter, skier, hummingbird expert, urban planner and mother of 2. Duane comes from the world of architecture, design and making, and before CityStudio, was assistant dean in Foundation and academic advisor at Emily Carr University of Art and Design. His personal mission is to serve the curious and is a committed, passionate leader who cares deeply about cities, students and mentorship. He has led many lives as a designer and builder in architecture and furniture, a design professor, a Hornby Islander, cyclist and sailor. He has has crossed the Pacific ocean 6 times in a sailboat and is looking for #7. He gets his energy by drinking mate and spends it running in the mountains. One day he'll stay there, in a cabin with a fine cellar and his mountain bike.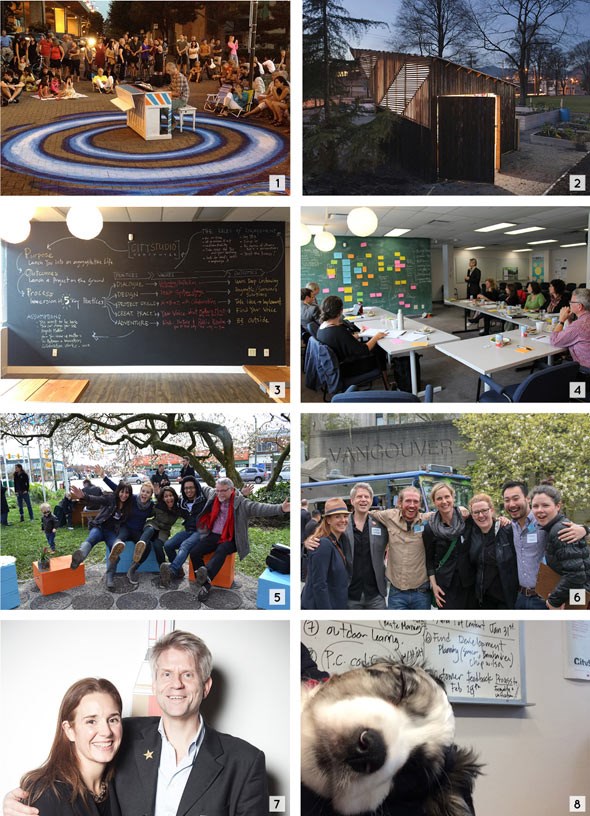 THE PROOF
1. Sunset Serenade held at 1 of 10 public piano locations in Vancouver last summer.
2. Wooodland Garden Design-Build project.
3. The CityStudio Way.
4. CityStudio Project Development Meeting with City of Vancouver Staffs.
5. Reimagine Your Park launches in McAuley Park with CoV staff John Clelland.
6. CityStudio Team at Vancouver City Hall for Hubbub 2015.
7. Janet and Duane.
8. Studio Puppy Magic at the whiteboard.
THE QUESTIONS
1. What do you do and where? ?
Duane is Co-Founder and Co-Director of CityStudio Vancouver. Serving the curious in Design, Education & Cities for 23 years. He is also an Associate at SFU Centre for Dialogue as well as a sailor, trail runner cyclist & despairing optimist. Janet is Co-Founder and Co-Director of CityStudio Vancouver and Director of the Semester in Dialogue at SFU. Janet is also the mother of two 7 year olds.
2. What does CityStudio Vancouver do?
CityStudio Vancouver connects students with City Hall and communities to co-create, design and launch real projects. Imagine the teaching hospital model applied to City Hall. The city is the classroom where students gain practical skills and experience by creating projects that make Vancouver more sustainable, healthy and affordable.
3. Why did you start CityStudio?
In the 10 years we've been teaching together and in our other positions - Duane previously as design professor, assistant dean in Foundation and academic advisor at Emily Carr, and Janet currently as Director and professor of the Semester in Dialogue at SFU - we kept hearing the same 2 questions over and over again. How can I help the planet, and how can I earn a living doing this? These two questions weren't being answered in their classrooms.
It is also clear that students can write the most beautiful and impassioned essays about democratic reform in the Ukraine, but they don't vote. There is a big disconnect between what's happening out in the world, and what could be happening in the classroom to help students get ready for the world. At CityStudio we aim to give students one of the most engaged learning experiences they will ever have.
4. What do you hope to achieve with your program?
100 years from now we think that every city will have - will need - a CityStudio, and that City Hall will the most energetic place in town. open to the contribution of everyone and a source of inspiration, learning and belonging for our young citizens.
In addition to that, we have 4 primary goals at CityStudio:
-For students to have one of the most engaged experiences in their lives in this city so they stay here.
-To teach students the skills to co-create real experiments and prototypes on the ground that move the dial on specific city goals.
-To help with culture change City Hall towards creativity and innovativation.
-To introduce students to high quality networks and teach them how to collaborate in new ways.
5. What are your students working on right now?
We are just about to launch the Outdoor Learning Project with a course called Semester Outside in the City. This is a collaboration between CityStudio, SFU Semester in Dialogue, the Vancouver Park Board, and the Vancouver Foundation that aims to move the dial on the Park Board's new Rewilding Plan. Specifically we will be exploring how we use urban parks as classrooms for outdoor experiential learning.
In a few days 20 students from the SFU Semester in Dialogue will spend 7 weeks in Everett Crowley Park going for a deep dive in the outdoors. This will lead to a design/build proposal that supports outdoor learning in the park.
6. How do students apply?
Currently we run the full time Fall and Summer studio through the SFU Semester in Dialogue. Emily Carr has been hosting the part time Spring program.
7. How can people get involved? (if they are not students)
Best thing is to follow us on twitter and facebook, come to our events and watch for our massive collaborative holiday party next December organized by Transformation Projects
8. Is there anything else you would like to share with us?
Here's something: it would be great if every reader could think about when they've had their most engaged experience ever - inside our outside of school. Tweet it to @citystudiovan #mem.
We've asked this question thousands of times and virtually no one has said that their most engaged moment has happened in front of a laptop, in a classroom or even on a campus. Most say that it happened when they were outside, working with others, using their minds and their bodies to do something real where they had real responsibility and their actions had consequences that mattered to others.
Shouldn't university be like this? Get out of the dark classrooms and into the city. Students are not mushrooms.