Esther Rausenberg is a photo-based artist who developed her unique process over many years of experimentation and searching. Themes delve into the layered, and shared histories of her native west-coast environment, and pose questions of place, presence and transience. Esther has worked internationally with the Canadian-based La Raza Artists, and has exhibited locally, nationally and internationally in Mexico, Cuba, Argentina, and Croatia. In 2013, she produced the highly acclaimed interactive site and documentation, BlackStrathcona.com, a video examination of the black community that thrived in her East Vancouver neighbourhood in the middle of the 20th century. This year, along with Glen Alteen and Barbara Cole, she helped save Al Neil and Carole Itter's "Blue Cabin" from demolition. Esther has twice been appointed to the City of Vancouvers' Arts and Culture Policy Council and is currently the Co-vice Chair. For over 35 years, Esther has lived and worked in Strathcona, with her partner, artist Richard Tetrault, her dog Noche and nephew Brendan.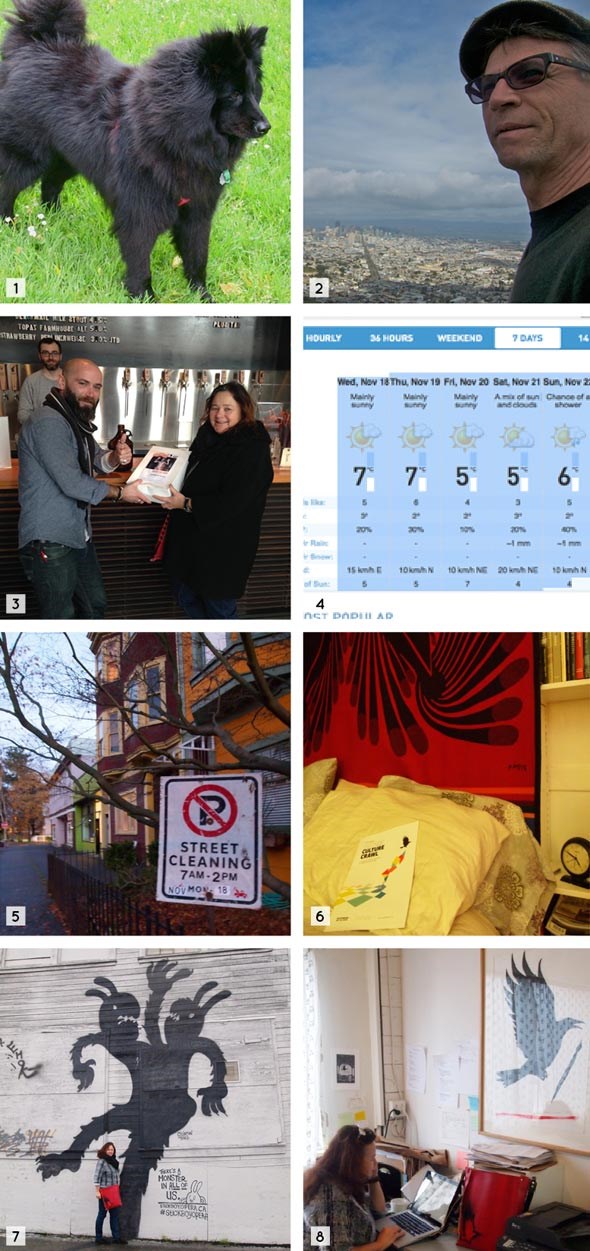 THE PROOF
1. Early morning walk Strathcona Park with my dog Noche
2. Favourite artist/muralist, partner and breakfast maker Richard Tetrault
3. Moving Art Film and Video Projections brochure delivery at Strange Fellows.
4. Seven day forecast - NO RAIN I watch it hourly.
5. Strathcona street cleaning - no stone left unturned
6. Bedtime program reading - Is there really a typo?
7. En-route to work to Parker Street
8. At work with crows
THE QUESTIONS
1. What do you do and where?
Executive Director and Coordinator of Traffic Logistics (LOL) at the iconic Parker Street #108 - 1000 Parker. http://culturecrawl.ca
2. What is the Eastside Culture Crawl?
An annual visual arts, craft and design festival with over 450 artists opening their studios and welcoming the public.
3. How did you start working with the Eastside Culture Crawl?
In 1993, I had coordinated and developed the Paneficio Studios, which is one of three founding buildings of the Crawl. We connected to a few other buildings and the Culture Crawl was born. Hard to believe it is in it's 19th year! Build it and they will come and do.
4. What are you working on right now?
At this moment, a mere few days away, there is a flurry of last minute panic details to attend to. My trusted administrator Jodie and I are tackling all those things we promised we would do but haven't gotten around to, including Moving Art projections for Strange Fellows, program delivery to the Shangri-La Concierge, creating the Modo hop-on-hop-off shuttle route, orchestrating food trucks, organizing the volunteer team, distributing our fundraiser cookbook Eastside Eats, praying to the weather gods, and the list goes on and on...
5. What keeps you going operating the Crawl?
Hmmm chocolate, girl guide cookies, my love of art, a great board, our sponsors who come back year after year, and our small but mighty, dedicated team.
6. What are you most excited to see this year?
New art and new artists - 468 studios to visit and the thousands of people that descend on our neighbourhood.
7. How can people find out more information about the artists in the Crawl?
Check our website for up-to-date info on artists and downloadable map.
8. Is there anything else you would like to share with us?
This is an extraordinary event, and one I am proud to coordinate. I'm thankful to the artistic community for sharing their work with the public.
---