When I met designer Gaby Bayona less than a year ago, she mentioned she'd like to have a mini-bridal empire. Since then, her label Truvelle has gone from being available in nine boutiques to over thirty, and to top it off she has opened her first brick & mortar storefront in her favourite Vancouver neighbourhood of Gastown.
To date, she has designed three solid, eight piece collections - each with their own impression, while maintaining a signature aesthetic synonymous with her lifestyle. Gaby is her brand. From her personal appearance, the details of her home & studio, right down to the foods she puts on her plate, an effortless result is undoubted. The best part? She's mostly oblivious to this instinctual aptitude.
Gaby is an inspiration to watch in action and is eager to share her knowledge, connections and guidance with other future entrepreneurs. The support she shows local creatives is admirable and she is the driving force behind the small, close-knit team she has put together to help bring her ideas to fruition.
Between collaborations with other designers and the constant stream of ideas pouring from her brain, her empire is well underway. I'm just not so sure it's going to stay 'mini'.
Britt Schafer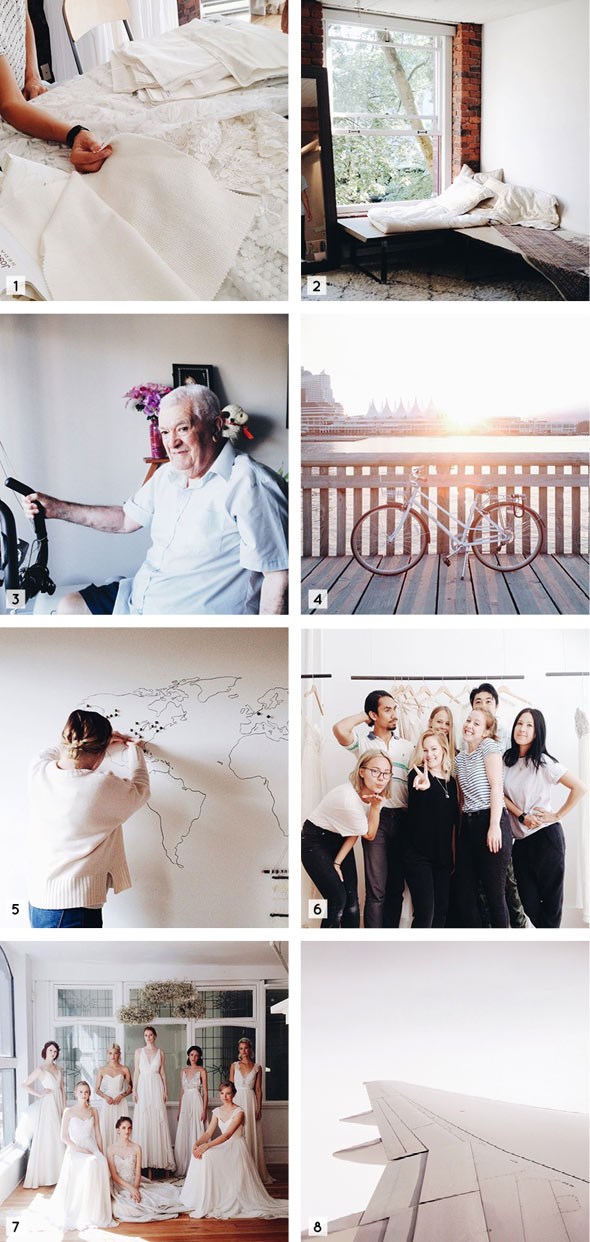 THE PROOF
1. Sourcing fabrics for upcoming collections and projects
2. My home is slowly coming together
3. Sunday hangs with my great-grandpa, where he gives me 'good' advice like "don't be too ambitious". Sorry gramps.
4. Cause you're not Gastown until you have a bike.
5. Whenever we have a new retailer, we pushpin their location on our world map
6. When people joke that you pay for your friends, well, I actually do. Couldn't have asked for a better team.
7. Truvelle's 2016 collection
8. This sight has become all too familiar
THE QUESTIONS
1. What neighbourhood do you live in?
I live in Gastown. I've been wanting to be part of the community since I was a kid, but what ultimately placed me here was my need for a commercial live-work unit.
2. What do you do and where?
I'm the designer and owner of Truvelle, a bridal company which creates modern wedding gowns. We operate within four Gastown spaces, splitting our square footage between production, admin, design, shipping, storage, and retail.
3. What are you working on right now?
I'm leaving for Japan in a few days and then NYC in a few weeks, so I've been busy with travel plans and getting the studio in order before I leave.
4. Why did you start a wedding gown business?
My wedding gown business was a cluster of fated instances + things just working out. I applied - and was rejected - for the UBC business program, so spent my free time after high school assisting my mum with her custom wedding gown business. What started as a little bit of admin work eventually grew into running her business, which made me realize I wanted to branch out and start my own company. I started planning Truvelle when in 2013 - I was 20 at the time.
5. How does your business differ from other bridal businesses?
Truvelle offers unique, Canadian-made designs at an accessible price point. We're a young company run by a young team, which gives us a fresh point of view within the wedding industry.
6. Where can we find your collections?
We've just opened our Vancouver flagship, located at 235 Cambie Street, Mezzanine. We're also found online, but the bulk of our business comes through our wholesale accounts. We currently retail in over 30 boutiques throughout Canada, the States, Australia, Germany, Austria, and South Africa.
7. What keeps you going in this industry?
I'm a people person, so being in an industry filled with so many supportive people has been amazing. I also love running a business, and would be happy doing it in almost any industry.
8. Is there anything else you would like to share with us?
One of my favourite pieces of business advice was "If you put yourself within the daily functions of your business, you aren't running a business - you've just created a job for yourself". I tell this to all of my friends who are nervous about their first hire : as long as your can afford it then don't be afraid to let go of the smaller responsibilities so you can focus on the big picture.