James is one of the senior equipment designers at MEC. Having graduated from Brunel University in London, UK, James built up experience in the european outdoor industry before taking the opportunity to move to Vancouver to fulfill an ambition of living near the mountains and designing for the sports that he loves to do. He aims to build considered products that engage users both functionally and emotionally and deliver gear that helps people to get out and enjoy the outdoors. Equally passionate about the mountains as he is this city, you'll never find him at home, but you will find him running the local trails, riding his bike and camping out with friends whenever the opportunity arises. You'll probably hear him laughing before you see him....!
Claire Appleby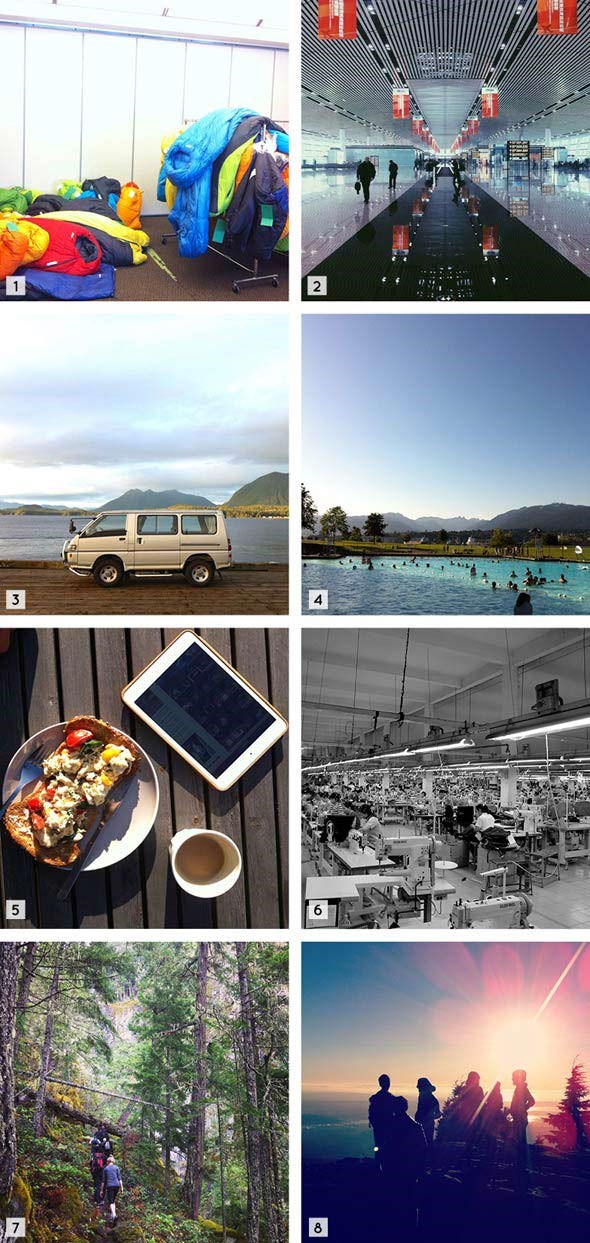 THE PROOF
1. I've been working on a new range of sleeping bags for Spring 2016 recently. Lighter and smaller is the name of the game.
2. I'm regularly on the road throughout the year and hands down my favourite place is Asia. This is Beijing airport and it's still exciting to land there every time.
3. Road tripping is another passion. If you see this Delica with a tall guy hunched over the steering wheel, give me a wave!
4. New brighton pool. One of my favourite secret spots in the city in the summer.
5. I'm kinda obsessed with brunch since moving here 5yrs ago. I'm still trying to perfect the perfect sunday morning hash.
6. MEC has some amazing factory partners. I'm still in awe of the skills of the people that make our product day in, day out.
7. There so many good hikes local to this city. If you don't already, get out and get group hiking!
8. I still pinch myself on days like this. Vancouver is a pretty special city.
THE QUESTIONS
1. What neighborhood do you live in?
Mount Pleasant - Fraser/Kingsway to be precise.
2. What do you do and where?
I'm one of the senior equipment designers at Mountain Equipment Co-op.
3. What are you working on?
Right now, i'm working on new hiking packs and sleeping bags for launch in Spring 2016. Can't wait for people to see it.
4. Where can we find your work?
Hopefully you'll see a lot of it around the city but head to the store on Broadway or in North Van to see the whole collection.
5. Do you have a favourite designer or brand? Who would that be? Why?
Changes all the time but right now i'm really into Finisterre out of the UK. They're a cold water surf brand and i love the story that there telling with the products they're putting out there.
6. What keeps you going in this industry?
I think that moment when you see someone having a genuinely great experience in the outdoors, and knowing that their kit has been part of making that moment.
7. If you had a chance to start your career all over again, how would you do it differently?
Honestly, i wouldn't change a thing so far but if i'd had the chance to get out travel even more, i would have loved to see some other corners of the world earlier on in my journey.
8. What advice do you wish someone would have given you when you were young?
It sounds cheesy, but find what you love to do, and do that. Don't compromise.