It's hard to define Jamie Garratt. He's a ping-pong champ, surfer, wake boarder, and rock star. He's also a motorcycle enthusiast, company president and dad. He's chilled out and hard working, and has no problem telling you exactly what's on his mind. Jamie's passionate about all things digital, which prompted him to open Idea Rebel in 2008. His education in business and computer science has helped to earn his company a huge reputation in a short time. What is it like to work with Jamie? It means relaxed staff meetings at the ping-pong table, beer Fridays, and yoga Wednesdays. It also means world-class projects, hard work and strict deadlines.
-Amanda Mc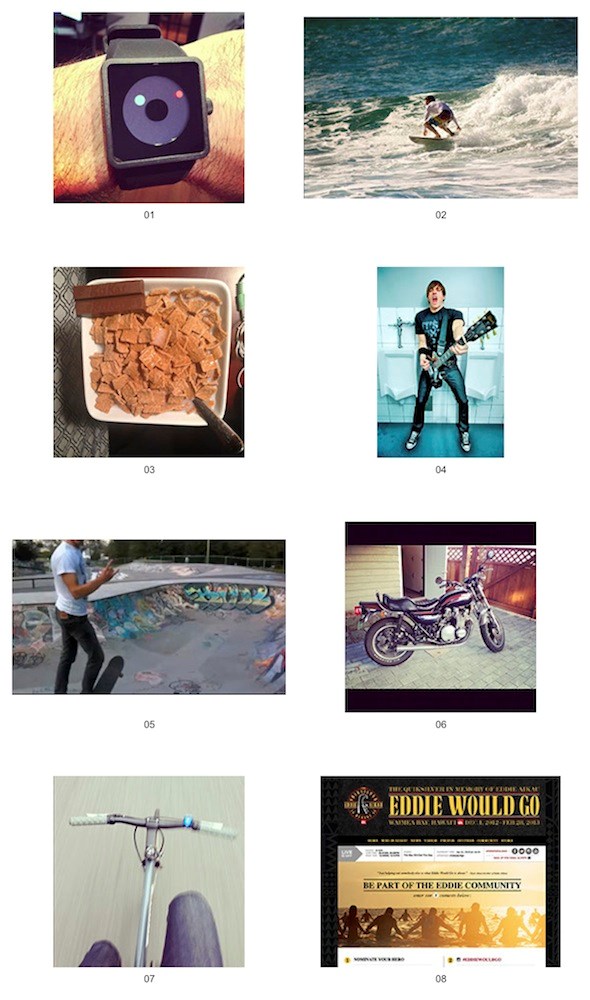 The Proof
01 One of my favourite watches.  I love watches.
02 Me surfing in Hawaii.  Was there for work for the PipeMaster/ Quiksilver
03 I love Cereal.  A great combo - KitKat and Golden Grahams
04 Pic of me playing my favourite guitar that I got when I was a teenager.  Exit This Side photo shoot.  That guitar actually got stolen at the next show.  Super sad day!
05 One of my favourite Skate spots.  Mini Bowl in Burnaby
06 1977 Kawasaki KZ1000 LTD.  My pops bought this bike the year I was born and handed it down to me when I got my license.  My Beauty!
07 My Daily Commute
08 #EddieWouldGo Campaign we helped build for Quiksilver.  You can nominate a #hero or Instagram pics of you taking it to the next level.
The Questions
What neighborhood do you live in?
Yaletown
What do you do and where?
I'm President and Lead Strategist at Idea Rebel.  I develop and build Digital Ideas for clients.  I work out of Gastown but sometimes in Toronto and LA.
What are you working on?
If I told you I'd have to kill you.  But for real, I'm working on an app that will push the limits on social and sport.  Will be out in the spring!  Bang, you're dead. :)  Other than that I'm working on some new music, trying to surf as much as possible and help Idea Rebel grow into new markets.
Where can we find your work?
One stop to check out all my latest work - www.idearebel.com