A native of Vancouver Island, Jane Cox is the Founder and Director of Cause+Affect, Producer of PechaKucha Night Vancouver and the Co-Founder of Fuel Vancouver. Together with her partner Steven Cox, in 2004 she founded Cause+Affect, a brand consultancy which helps organizations with a multitude of solutions including business strategies, brand identities, marketing and communication campaigns.
Jane has been a past member of the Cultural Facilities Advisory Group for the City of Vancouver and was selected as 'City Insider' by Wallpaper Magazine for their Vancouver travel publication. In 2013 she was selected as one of ten Canadian Catalysts by The Globe and Mail for her work in connecting organizations, businesses and communities through culture.
Jane's expertise in building culture and community is the reason PechaKucha Night Vancouver has been a success. PechaKucha started with no audience 7 years ago and has now grown to over 6000 loyal fans. The event brings like-minded people together and over 350 Vancouverites have shared their stories on the stage. This event is continuously sold out at the 1200-seat Vogue Theater.
I had the pleasure to know and work with Jane for the past 9 years, and I am constantly amazed by the diverse cultural visions she produces. She is one of the most thoughtful and hard-working people I know, continuously analyzing the future of Vancouver as a cultural hub and thinking of ways to implement new ideas. It is always inspiring to see these initial ideas flourish into success. Her vision and motivation is endless.
Becki Chan, Editor of The Proof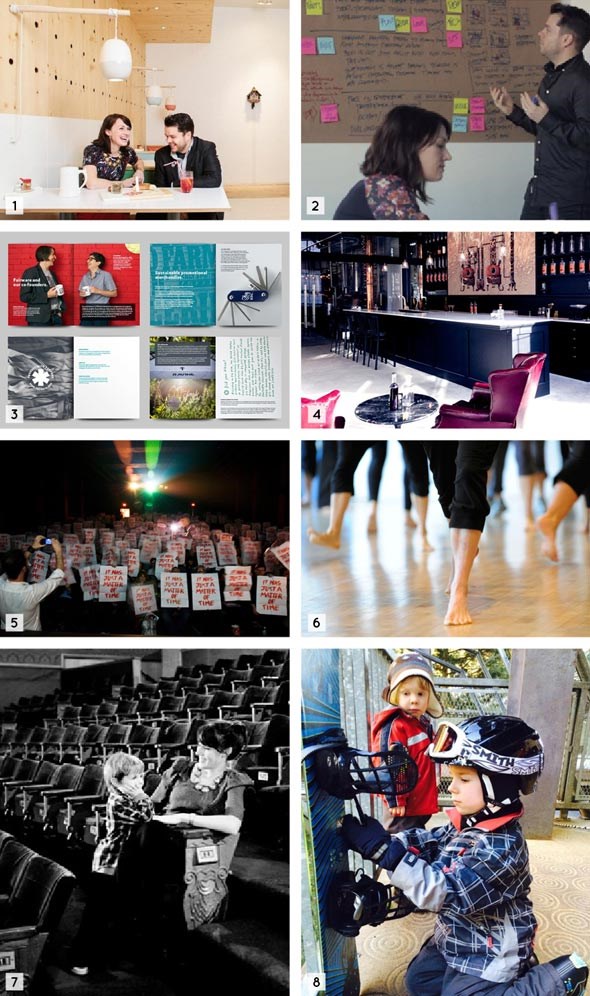 THE PROOF
1. This photo was taken of Steven and I in Bestie for Gray Magazine. I love this shot (taken by Jeremy Lee) and the very authentic cuckoo clock on the back wall.
2. A working session with Steven on creation of FUEL Vancouaver.
3. Just completed the new brand for our clients and friends at Fairware.
4. This is the interior of the Odd Society distillery, a recent project of Cause+Affect's that included the overall brand and package design of several of their products. The clients and now friends are fantastic examples of success when staying true to your dreams.
5. One of our first PechaKucha Nights when we hosted the event at the Park Cinema on Cambie. I still like this shot because it reminds me of the great energy in the room that night.
6. This is a photo of Jane Ellison's boing class. I'm a big fan and enjoy the community feel of the people that participate in the dance/yoga/stretch class.
7. I'm in the Vogue Theatre with my eldest son Jasper and pregnant with our youngest son Roan (whom is now 3!) Bringing your kids into your work brings a whole new perspective and meaning to what you do and why you do it.
8. Getting ready to snowboard on Grouse with my two boys.
THE QUESTIONS
1. Can you tell us a little bit about yourself. What do you do?
Currently I spend half of my time in Gastown running a brand consultancy
with my husband called Cause+Affect and the other half of my time in North Vancouver running around with our two young boys! I've come to really enjoy the balance and perspective my nature/urban/mother/career woman lifestyle brings.
2. You describe yourself as a culture builder. What is culture to you?
Yes, I identify more with "culture builder" than "brand strategist" because it defines what I believe I'm doing....building culture. Culture, in the sense of how I describe what I do, is the creation of a language (often visual) used to define the beliefs and behaviours of a particular group. Behaviours are so fascinating....often our clients are surprised when we start to dissect how their organization behaves, but understanding this is so important in order to create a strong internal culture and articulate who you are to the rest of the world.
3. What are you working on?
Right now I'm fully immersed in a new event series we're launching called FUEL - the Future of Urbanity, the Environment and our Lifestyles. It's a forum that will address the future of how we live, work and lead. It's super exciting because we are experimenting with a lot of new ideas and the content being presented is extremely innovative and game-changing.
4. If you have to pick a project that you are most proud of, what would it be?
I don't get hung up on the past and particularly not on a project so I don't really define myself that way. I really only identify with who I am right now because who knows where I'll be tomorrow!
5. What motivates you to create event series?
Live experiences are a great way to build culture and affect change. At the same time, what is different with an event than say, a product, is that there is the unknown. You are creating a platform and curating it the best you can but at the end of the day, the people make the event a success and the way they come together and the experiences that happen at that moment are impossible to predict.
6. Why do you think events like Fuse and PechaKucha Night are so successful?
They are both social events with cultural significance in the sense that they have been designed with socializing and connecting in mind, but they also provide meaningful content. We think of them as 'smart fun'.
7. There are many events happening in the city. What do think is the future of this movement?
I think live events are going to continue to increase alongside the increased online movement because what we lack in real connection online we will naturally want to make up off-line. There is a lot that can be said and learned on-line but you don't necessarily hear the tone and subtleties of the emotion behind what's being said. Those subtleties and expressions of emotions can provide a whole other level of meaning and therefore understanding. Additionally, when it comes to complex challenges or heated discussions, nothing beats a face to face.
8. Vancouver is Awesome. We know that Vancouver is one of the most livable cities in the world. How can we make Vancouver not just a liveable city, but a loveable city, as well?
Uniqueness. Every loveable city around the world has a unique character trait defined by a unique culture and way of life. Our natural beauty is only one character trait.
____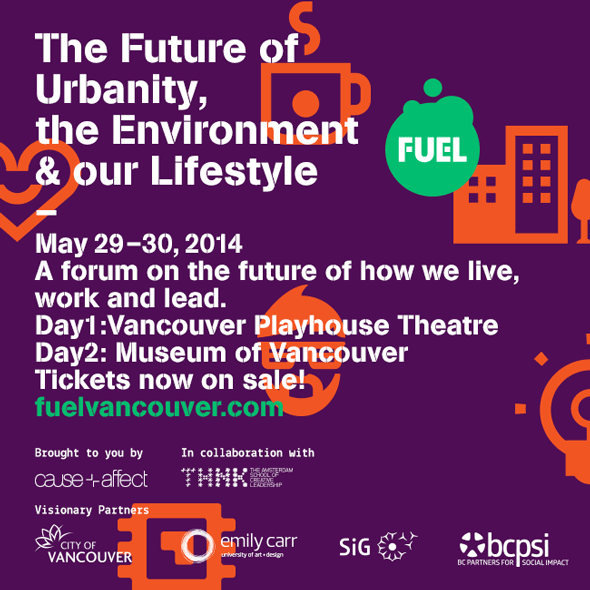 FUEL Day 1 - $250 includes evening Dialogues and After-party
FUEL Day 2 - $500 includes full day Workshop by THNK
FUEL Day 1+2 - $700
FUEL is a forum to connect innovators from around the globe with local entrepreneurs, designers, engaged citizens and leaders from public, private and nonprofit sectors committed to developing a better world. Created by Cause+Affect and produced in collaboration with THNK, the School of Creative Leadership, FUEL will explore the future of how we live, work and lead across four sectors relevant to our city; Food, Design, Sustainability and Technology. Attendees will engage in a variety of experiences including dialogues, panel discussions, workshops and future forecasts, each aimed at delivering unique interactions, inspiration and real tools for making impact.