I first met Joseph Staples at the studio of our mutual friend, artist Ronan Boyle. In the past I had seen Joseph's work around the city and I had been struck by it's raw aesthetic of black and white collage with episodes of text scrawled across some pieces. His new work feels as though he has boiled his collage work down to its essence and put it back together in a powerful and stripped down version of it's former self. As artists we are always tinkering with a style that grows over time, it seeps from one project to the next, tirelessly transforming. In Joseph's case his aesthetic recently made an amazing manifestation in his January 2014 exhibition the Economy of Image at Leo Koo Gallery in conjunction with Wil Aballe Art Projects. Joseph's new works are an incredible push forward that really blew me away. I'm sure that we will continue to see amazing work from this dedicated artist and my friend.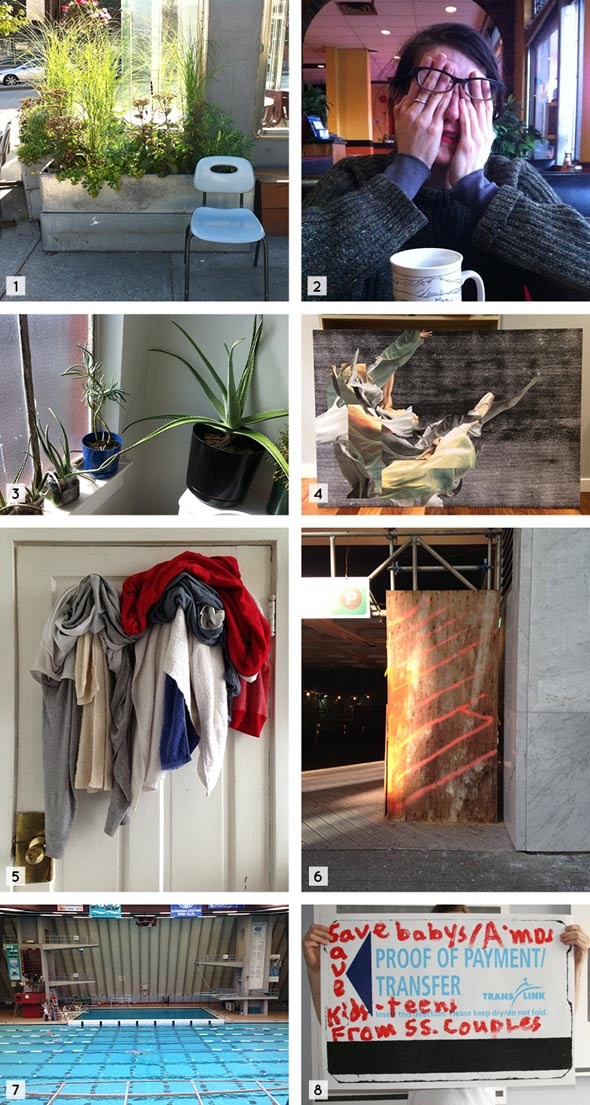 THE PROOF
1. The day starts at Gene. Every day. Imagine a nice lady with a big smile handing you the best americano in the world and calling you "her special Joe". You'd go back.
2. My friend Rita, who I hang out with there and elsewhere all the time. I get to preview the ladolcerita instagram before the common folk get it. That's twice lucky. Booyah.
3. I work out of my home. Here's a bad Jennilee rip off photo of plants in my bathroom holding hands.
4. Here's some stuff I made. If you want to check some out, pop by. I'm in the book.
5. These are color studies. There are piles of them all over my apartment/studio, made out of paper, clothing and other important...things. Such color studies have been the end of a couple relationships. Tough life being an artist.
6. We live in an infamously good looking city. To me, it matters to appreciate the average and the unexceptional. I've always liked to look around on my way places.
7. After making stuff all day, if the weather's good I will ride my bike as fast as possible, go for a swim at the Aquatic Canter or both. It's important; you can go nuts in this city if you're not careful.
8. But lucky for us, some of the best weirdo's in the world are already here.
THE QUESTIONS
1. What neighborhood do you live in?
Scenic Mount Pleasant, right on Main and Broadway
2. What do you do and where?
I'm an artist. Generally I work out of my home, but I am currently the artist in residence at the Burrard Arts Foundation in their downtown office and studio.
3. What are you working on?
I'm making collages without photos, images, paper or paste. I hate doing the same thing over and over, I try to let each new grouping of work be experiments in a something I haven't done before or working in a new way. I'm also trying to rethink the way I consider and use printmaking for a show at Malaspina Printmakers in the late spring.
4. Where can we find your work?
Internets, my place, the odd collector with near impeccable taste, new BAF location April 1st, and Malaspina in May.
5. Who are your role models?
John Stezaker, Philip K. Dick, Alex Katz, Wangechi Mutu, Kerry James Marshall, Alain de Botton. Anyone who understands their work and asks their own questions. I like style.
6. What keeps you going in this industry?
Don't like video games. Can't sell insurance. Too short for basketball. I am kinda ruined for anything else.
7. If you had a chance to start your career all over again, how would you do it differently?
I'm pretty lucky things have worked out this well and there is still a long way to go. I wouldn't f*ck with anything.
8. What advice do you wish someone would have given you when you were young?
It helps to be a bit thick. I grew up thinking the world would be long over by now and still I can't think much past a couple years. If I did, I'd be too busy trying to set up an RRSP or hoarding ginko bibola supplements to get anything done.
I only hate on other people really bad when I'm not working. It's a good barometer as to how healthy your practice is. Volume of hating = Amount of your own work you haven't done.
I like the odd bit of rap in the morning to lighten up a bit, put some pep in your step. I try to get in the ocean when I can. Jeez, I don't know. Go break things and make out with the quiet girl at the party. Live a little.
If you were going to recommend a creative to VIA, who would it be?
Jeff Hamada, Steve Rio, MIchael Mann, Jacob Daylight.