Julia Di Sano is a 27-year-old Canadian artist. She was born, raised, and traditionally trained in art in Ontario before moving to Vancouver in 2007. She has a real passion for vibrant colours, the beauty of Nature, and sharing her passion for art and life with everyone around her. She created Ebi Emporium as a venue to offer her work at an affordable price to Vancouverites and globally-based customers alike. And since doing so, Julia has expanded and grown her shop onto multiple sites; and now offers a wide range of home decor, tech device decor, and prints, in addition to original art pieces! So exciting~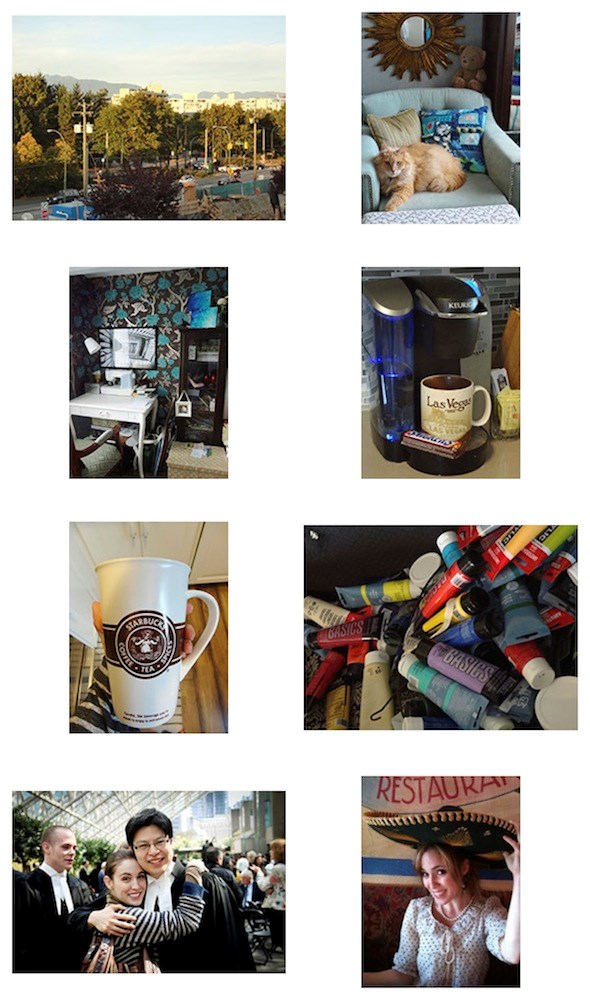 The Proof
01 This is the view from my balcony. Although I work in several places of my home, I do the majority of my painting from upstairs, with this view. SO inspiring, with the mountain backdrop!
02 This is one of my 2 Maine Coon mix cats, Kabby ("Kabocha" - "Pumpkin" in Japanese). He likes to pose.
03 This is my "clean" work area - AKA Where I do my planning for new paintings, draft letters or write cards to clients, wrap up paintings for shipping, etc. Can you tell I like bold colours and patterns? Hehe.
04 This is my OH SO YUMMY (but very unhealthy) typical breakfast of champions: Unlimited coffee with soy milk from my Keurig, and a...uhhh...Snickers bar.
05 This is my "Life's Blood" - Yes, I would probably shrivel up and DIE without Starbucks.
06 This is PART of my materials "stash." I can't claim to be super-tidy with my painting stuff, that's for sure.
07 This is me with the love of my life- My fiance, Victor.
08 I LOVE to eat out at ethnic food restaurants, and Mexican is one of my faves! My fiance and I do this as our nights out together, when we both get away from work.
The Questions
What neighborhood do you live in?
My fiancé, 2 cats and I are currently living in our newly-renovated townhome in Fairview. We lived in the heart of Kitsilano before this, and one day I hope to be back by the beach :)
What do you do and where?
I'm a painter – I typically work with acrylic paints and either high quality canvas board or stretched canvas to create my art. I have a little studio set up at home, since I prefer to work where I am most comfortable and creative. And although I'm located really close to Granville Island, I've opted to sell my work online, for greater audience reach and global opportunities.
What are you working on?
Right now?  Hmmm. A million things! A typical day for me consists of about 15 hours of online "work," including promoting, adding or editing new pieces to my online shops, networking on social media, photo-editing, etc. I also spend about 3 hours each day working on new or ongoing painting projects  AKA: LONG workdays.Oh, I'm ALSO looking into a collaboration with another local artisan to start a necklace line with my paintings!
Where can we find your work?
You can find my work in a number of places. My 2 main venues are Ebi Emporium on Etsy, and Ebi Emporium on Society 6. But I also am very present on a variety of social media sites, including Tumblr, Twitter, Facebook, Wanelo, WeHeartIt, etc.
MY SHOPS:
http://society6.com/ebiemporium
Please come LIKE and Follow me :D