In as much as a pinch of time, and without any formal culinary training to speak of, Juno Kim has ascended to great heights in Vancouver's competitive culinary industry; in such a magnanimous way in which both seasoned chefs and emerging talent alike would applaud. It's been a special and fortuitous crescendo for Juno, and anyone following his career path closely could plainly see that there is no foreseeable end to his incredible growth.
Within just a year, there have been countless well-appointed local, private and corporate fine dining pop-up experiences that he and his creative team have been responsible for. He was hand picked for Vancouver's only pop-up dinner for (RED) —a charity founded by Bono and Bobby Shriver to combat AIDS. Another one of note was a private meal created especially for the principals and special guests of Kit & Ace. Perhaps his most ambitious collaboration to date was with lifestyle brand and publication juggernaut Kinfolk - in which Juno created seemingly simple, yet intricate Wabi-Sabi inspired dishes.
The countless names of people in Juno's corner continues to grow and for good reason, for you'd be hard-pressed to encounter another more down-to-earth, ambitious and naturally talented chef within the city. His plating and earnest dishes are as memorable as they are beautiful works of art, endlessly delicious and full of intricate texture, flavour and carefully chosen colour.
Luis Valdizon, Founder of When They Find Us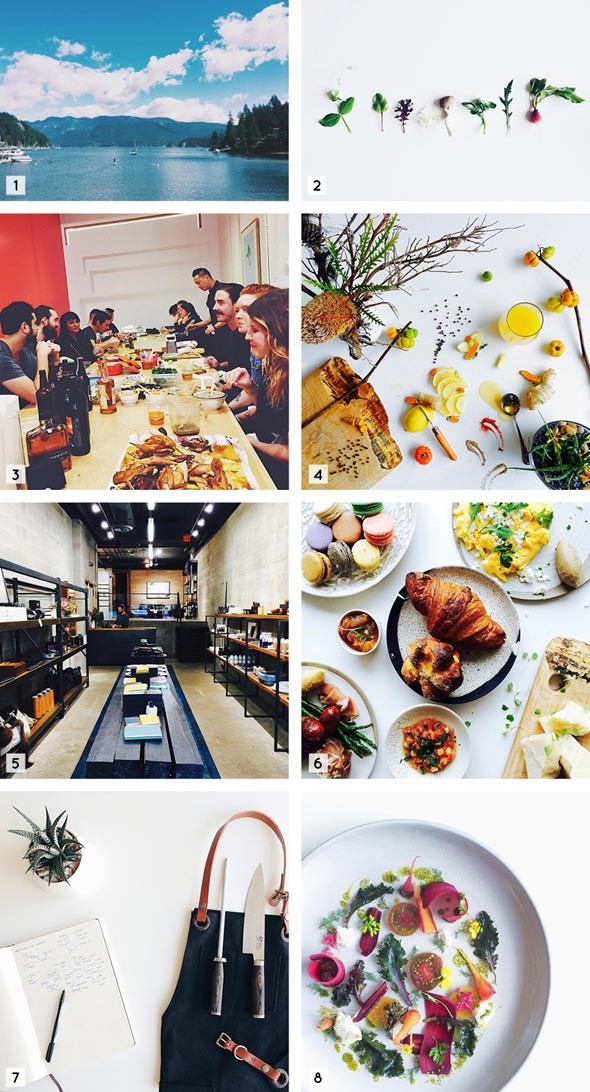 THE PROOF
1. The beauty of Vancouver astounds me every day. Some of us get so busy, we forget we live in one of the most beautiful places in the world.
2. Local ingredients are so important to me; the boom of popularity in Farmers Markets is very encouraging to see, as more people become aware of what grows around town.
3. Food really brings people together, and this is part of the reason why I love food so much. This was a potluck we had at the Juice Truck's community space.
4. A recent food styling shoot I did for the Juice Truck. I love the aesthetic creative freedom involved with shooting these fun projects.
5. Buying local and supporting local businesses is important for the local economy and culture. Litchfield in Gastown is one of so many great examples.
6. Breakfast is the most important meal of the day. Most of us don't have time to make an elaborate feast every morning, but I think it's important to do once in a while.
7. A lot of thought and planning goes into my dishes and meals. Amidst all of the technology around us, I find that pen and paper allows the thought process to flow best.
8. One of my favourite things to do is to go to a farmers market without a plan, and let the freshness and bounty of the seasons dictate what you're going to cook up.
THE QUESTIONS
What neighborhood do you live in?
Central Downtown, for the time being, but I'm relocating back to Chinatown/Strathcona in the coming months.
What do you do and where?
I'm the founder and chef of Juno Kim Catering. We specialize in multiple course pop-up dinners but we also do food styling, lessons and everything in between. We focus on curating memorable experiences for the diner. I'm also currently working with Doug Stephen and the talented gang at Merchant's. I love the level of passion they have, the desire to push their creative boundaries, and their commitment to making everything in-house.
What are you working on?
I'm currently working on creating a collaboration between food creatives that want to make unique experiences for people. How this will translate into an entity, I'm not completely sure yet...but we're getting there.
On a personal level, I've really enjoyed exploring the aesthetic creative process of food styling for film sets and magazines. However, at the end of the day, the taste component of food is still the first priority. We're pushing the ways we serve food and how diners interact with their dishes so their eating experience is more mindful.
At Merchant's, we're working on making everything in-house. We're fermenting and curing a variety of things, such as our very own butter, duck prosciutto, pig's head, and many more interesting things. Currently, we're experimenting with a sourdough starter so we can start baking our own loaves daily. We also try very hard to maintain our ranking as the third largest purchaser of Wild Turkey bourbon in the province.
Where can we find out more about the pop-up dinners?
My Instagram (@jun0k) is currently the best way of finding out about them. My followers hear about it before anyone else, whenever we host a public pop-up, usually announced a week prior. Most of the pictures are mine, but Luis Valdizon shoots most of the pictures taken during my pop-ups when I'm busy in the kitchen. Check out some of the shots we've taken of my Kinfolk Magazine, Kit & Ace, Late Nite Art dinners and much more on my IG.
Do you have a favourite recipe? What would that be?
I wouldn't say I have a favourite recipe, as I tend to want to adjust things event-to-event and seasonally. However, a perfectly seared steak using a cast-iron pan is probably my favourite technique/recipe. The action of the heat and the maillard reactions that develop from it give me an unparalleled feeling of satisfaction.
What made you decide to donate 10% of all profits toward empowering the Downtown Eastside?
Kevin Royes, local entrepreneur and inventor, was a big inspiration for me. We had a start-up together teaching kids the value of social entrepreneurship. Constantly being surrounded by change makers in society who were thinking bigger than themselves helping instil in me a desire to do more than feed people.
If you had a chance to start your career all over again, how would you do it differently?
I wouldn't. It took me eight years to complete my undergrad at UBC (I kept switching majors and I was working through it), I spent a lot of time paying my dues in the fashion industry, and I never went to culinary school. At first, these were all regrets. However, these three factors have given me the knowledge, ability and edge to do what I do now. I think the broader education has given me lots of analytical skills, my experience in fashion has given me an eye for detail and aesthetics and, by being self-taught, I approach food in a unique way that comes through for the diner.
What advice do you wish someone would have given you when you were young?
Keep an open-mind conducive to learning and innovating. Get out of your comfort zone as much as possible. Humility is also key. Once I internalized these thoughts, my career started to take off.