Katrina Pacey is, in a word, a force. She is a mother, a spouse, a daughter, a sister, and a friend, whose love for and commitment to her family and social circle is matched only by the passion she has for her work and her dedication to her community. At Pivot Legal Society, Vancouver's non-profit legal change organization, Katrina has been at the heart of the fight for social justice, housing rights, equality and safety for sex workers, police accountability, and humane drug policy. As Pivot's executive director, she works alongside a team of dedicated lawyers, staff, and volunteers to tackle the systemic issues that leave some of our residents at the margins, engaging in legal issues that affect the daily lives of the people in our city and across the country who face homelessness, discrimination, and disenfranchisement. Without question, Katrina is one of the brilliant and unstoppable people who make Vancouver awesome.
Elin Sigurdson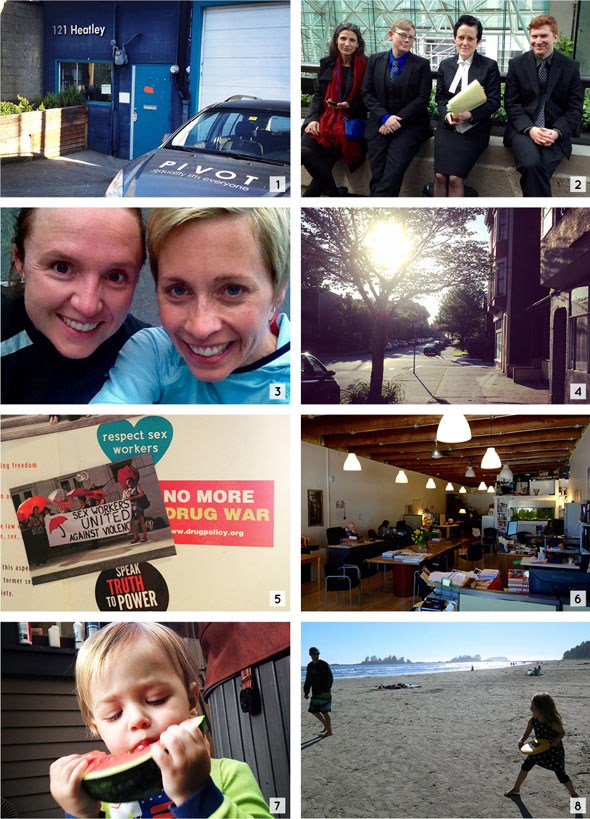 THE PROOF
1. Pivot HQ. It's not glamorous, but incredible things happen here (including some pretty great parties) and its our home away from home.
2. There are a million reasons why I work at Pivot, and here are four. The Pivot Legal dream team – Brenda Belak, Adrienne Smith, DJ Larkin and Doug King.
3. The only person who can get me out for a run at 6 am each morning and the best co-counsel in the world. Elin Sigurdson is one of by best friends and one of my greatest heroes.
4. I love my hood, and I love my walk to work. Strathcona is community.
5. A snapshot from the hectic collage next to my desk, reminding me of the amazing women of Sex Workers United Against Violence that have made this work a complete joy.
6. The view from my fancy "corner" office.
7. My watermelon-eating astronaut boy.
8. My sweet girl and my soulmate on the beach in Tofino, where we escape it all, dive into the surf, and eat fish and chips every single day.
THE QUESTIONS
1. What do you do and where? ?
I am the executive director of Pivot Legal Society, a social change organization that uses the law to fight legislation, policies, and practices that undermine human rights, intensify poverty, and drive people to the margins of society. I have been part of Pivot since it was founded in 2001, and have worked on all of Pivot's major campaigns, including drug policy reform, police accountability, housing rights. For the past ten years, I have been the lead lawyer on Pivot's campaign for sex workers' safety and human rights.
2. What does Pivot Legal Society do?
Pivot Legal Society is a grassroots social change organization that tackles many of Canada's most pressing human rights issues. We select legal actions that can achieve the greatest systemic change around goals we have set in partnership with the communities in which we work.
Pivot was born in Vancouver's Downtown Eastside in 2001 in the face of a health and human rights emergency. Pivot allies with and takes direction from community residents most affected by the issues that we are working on. We work in the Downtown Eastside because we see this community as a flashpoint for social change. By using legal action to challenge the root causes of injustice in this community, we can create dramatic and progressive change that benefits people everywhere.
3. What are you working on right now?
So many exciting things! We are preparing to go to trial on behalf of a homeless people who have brought a legal action against the City of Abbotsford. Our clients are challenging Abbotsford's bylaws and policing tactics that criminalize, displace, and endanger homeless people in their city. This case could result in the elimination of these bylaws and lead to the recognition of safe shelter as a basic human right. The outcome could change the lives of homeless people across the country.
We are also challenging appalling federal legislation that limits access to life-saving harm reduction and addiction treatment options for people living with heroin addiction. We are preparing to mount a challenge to the new prostitution laws that endanger the lives of sex workers throughout Canada. We are fighting for policy changes in the use of police service dogs so as to halt the frequent and serious injuries that they cause.
2015 has already been such an exciting year, and I am optimistic that we are going to be able to make important changes in these policy areas.
4. What do you hope to achieve with your work?
I believe that a compassionate, just, and sustainable world is possible. I am completely committed to doing my part to help us get there.
In terms of our current work at Pivot, our main campaign goals are to: 1. Reform Canada's drug laws and policies so that drug use is no longer criminalized and is, instead, recognized as a public health issue. 2. Decriminalize adult sex work so that sex workers' health, safety, and human rights are respected. 3. Create an accountable system of policing that is responsive to the needs of marginalized communities, including complete independent investigations into police misconduct 4. Create a right to housing in Canada and ensure that all Canadians have a safe place to call home.
5. How did you start working with Pivot Legal?
While working for women's equality and violence prevention organizations throughout my 20s, I came to the conclusion that social movements would be stronger if there were more lawyers involved. I felt that becoming a lawyer would make me a better activist and help me make a real contribution to social change. So, despite my deep reluctance about adopting the label of "lawyer," I applied to UBC Law. Within my first few weeks of law school, my partner came home with a little homemade pamphlet about this brand new organization (which was not much more than a concept at the time) called Pivot Legal Society. I was intrigued and went to my first meeting with John Richardson in a run down space next to Pigeon Park and felt an immediate connection to the vision of the organization.
I am as grateful to Pivot and the Downtown Eastside as I am to UBC Law for the legal education that I received over the next three years. I have been with Pivot ever since, and I love this organization as much as ever.
6. How can we help? How can people get involved?
Support our issues and our work – harm reduction and drug policy reform, safety for sex workers, increased police accountability, and housing for all. Discuss these important topics with your friends, family, and colleagues. Vote for a party that has a track record of caring for the most marginalized members of our communities. Get busy on social media spreading the word about what we need to do to make change on these important issues.
And I would not be a good executive director if I did not say we would love it if you could donate to Pivot. You can do so at www.pivotfoundation.org.
7. If you had a chance to start your career all over again, how would you do it differently?
My activism started when I was a kid, because of my spectacular mom (Ingrid Pacey) who has been a champion for so many incredibly important social causes – women's equality, abortion rights, drug policy reform, universal daycare… the list goes on. My activist career began with her and I wouldn't change a thing.
8. Is there anything else you would like to share with us?
My favourite quote by the spectacular Arundhati Roy: "Another world is not only possible, she is on her way. On a quiet day, I can hear her breathing."