The Paper Hound is a new, used and rare book store in downtown Vancouver, owned and operated by longtime book-trade colleagues Kim Koch and Rod Clarke. We don't specialize in one particular kind of book, but we favour the classic, curious, odd, beautiful, visually arresting, scholarly, bizarre, and whimsical.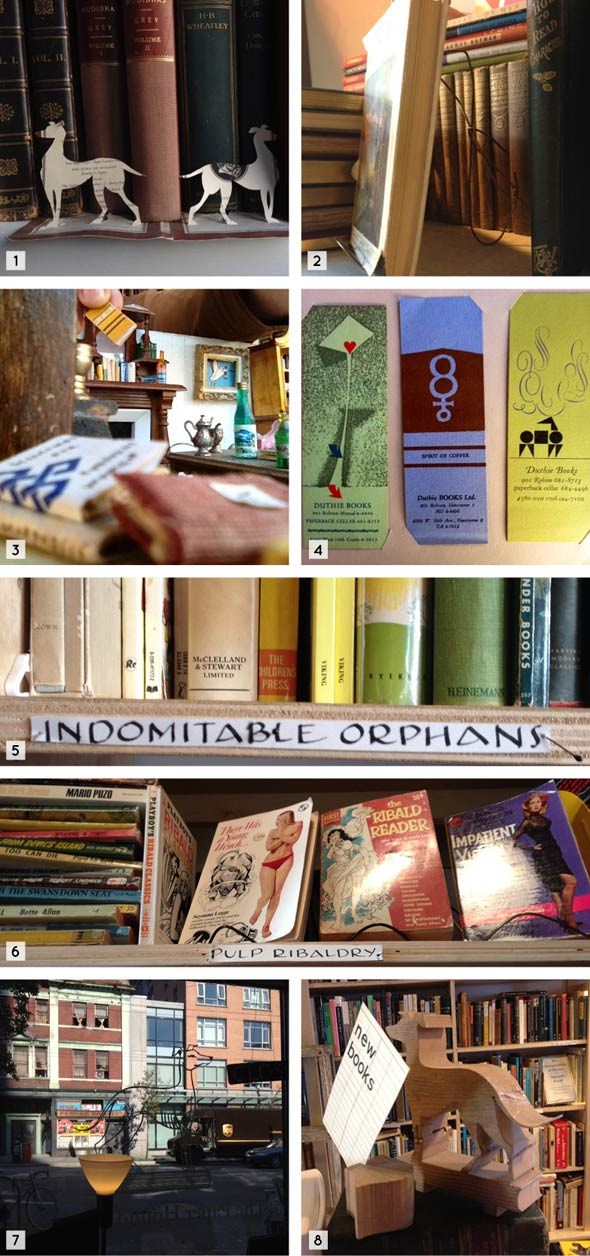 THE PROOF
1. There was period between signing the lease and actually opening the shop where we were stalled by BC Hydro. In order to channel my nervous energy into something productive, I devoted myself to cutting out about a hundred actual paper hounds from the covers of defective paperbacks with an X-acto blade, which was a soothing activity. They populate our shelves as a reminder of that terrible time.
2. Our bent wire coat-hanger bookstands are another innovation that emerged from that period of retail purgatory. Also a relaxing, hands-on activity.
3. Arranging and re-arranging the tiny book-filled dollhouse in our front window gives me a cloistered Friendly Giant sensation and a feeling of control in a world of chaos.
4. In our defense of the physical book, we often point to how it functions as a container for ephemeral tokens (letters, grocery lists, pressed flowers) that place the reader in a lineage of readership. Old Duthies bookmarks, for example, trace the book back to an earlier Vancouver retail landscape. We've filled four albums with gorgeous examples of found bookmarks.
5. The Indomitable Orphans section is a surprisingly comprehensive umbrella for classic children's literature.
6. The Pulp Ribaldry section is mostly collections of limericks.
7. Artist Carrie Walker designed our logo based on her whippet Trooper. We wanted to visually convey the dogged pursuit of the book collector, and the olfactory significance of a good bookstore (do you know how many times a day someone enters the shop, takes a deep breath, and declares "I LOVE the smell of old books!"?).
8. Our friends Natalia and Ilja made us this wooden cut-out of the Hound. He's taken a few tumbles and his tail has been inexpertly re-glued at least three times by yours truly, but his proud nose is still held high.
THE QUESTIONS
1. What do you do and where?
With co-owner Rod Clarke, I operate The Paper Hound Bookshop, a new, used and rare bookshop at 344 West Pender St.
2. Why did you choose this location? Can you tell us about this neighbourhood, "Book Row"?
This was the first and only location we looked at. Our friends Becky and Brandy from The Regional Assembly of Text suggested it to us, and for that we owe them a huge debt of gratitude. We loved the high ceilings (verticality!), the windows in the back (so rare to have windows in the back of a shop!), the brick-and-mortar rear wall (appropriate for a brick-and-mortar bookshop), the fact of being underneath a hotel (seemed romantic). We had both previously worked at the venerable MacLeod's Books, which is one block west, and so the energy and foot-traffic of the neighbourhood were already a known quantity. And we saw the benefit of being part of a cluster of like businesses in close proximity.
"Book Row" describes the strip of Pender between Richards and Hamilton where there has historically been a concentration of bookstores. Today, it comprises Albion Books, Criterion Books, MacLeod's Books, The Or Gallery Bookshop and ourselves.
3. Why did you open a boutique bookstore?
Because we are utterly unqualified to do anything else. Rod has been working in independent bookstores since 1980 (Mall Book Bazaar, Proprioception Books, The Granville Book Company, MacLeod's); I've been doing it since 1999 (Munro's Books, Albion Books, MacLeod's). It's all we can do with our limited skill set. We're unhireable in the straight world.
4. What kind of books do you carry? How do you choose them?
We strive to carry all the books that one would expect to find in a classic humanities library, and then a whole bunch of titles that no one is actually looking for, but that inspire delight when they are discovered on the shelf. From the classic to the eccentric, in a nutshell. Broadly, we focus on literature, philosophy and poetry.
5. Why is it important to have bookstores in this age?
Because the wonder and serendipity of browsing in a physical space is not replicable in an online search. Because a book is more than a text. Because bookstores are assertions of a community's curiosity and intelligence in a cynical landscape defined by capital.
6. What kind of books do you collect personally? How many books do you have at your home right now?
I collect mid-century Anchor paperbacks with Edward Gorey cover designs; reference works that somehow touch on wordplay, puzzles and/or Finnegans Wake; grammars and lexicons of minority languages; pre-1970s Penguin paperbacks….among others. I'm dilettantish. I don't know how many books are in my house, nor do I want to know.
7. Can you give us a few "staff picks" at your store?
They are all "staff picks" or they wouldn't be here! But lately, I'm keen on late Vancouver writer Rohan O'Grady's two dark novels of juvenile amorality in tension with adult immorality, Pippin's Journal and Let's Kill Uncle. The latter is probably the only book in the world that falls into the subgenre "Saltspring Island Gothic". I also feel strongly that everyone should read I Remember by Joe Brainard, for the way it frames discrete memories so poignantly and acutely. It will actually change the way you perceive the fine details of your everyday. I mean it!
8. Is there anything else you would like to share with us?
Don't buy the hype, the world hasn't turned into a vacuous gadget-obsessed dystopia. Vancouver is full of young folks who are smart, engaged readers. We would know, they are our best customers!