My brother is Kyle. He has been making marshmallows for over 2 years now and he also loves crossfit. I never thought when he asked me to come from my studio in Manitoba to help him at his first pop up at Holt Renfrew a year ago that a year later i'd be moving to Vancouver to help him manage his super busy mini marshmallow empire. He's always had a track record for making the ridiculous happen but this one has got completley out of hand. Wedding Shows, custom orders, a staff of 5 helping make and sell marshmallows, multiple month pop ups and bookings well into 2016. He's making unapolegetically delicious candy and he's really a one trick pony. Lucky for him he's got a knack for super cute packaging and constantly re inventing the marshmallow to keep it fresh and delicious. I'm here now permanently. Someone needs to keep it real for him. Marshmallows are delicious and you should buy some.
Karla McEachern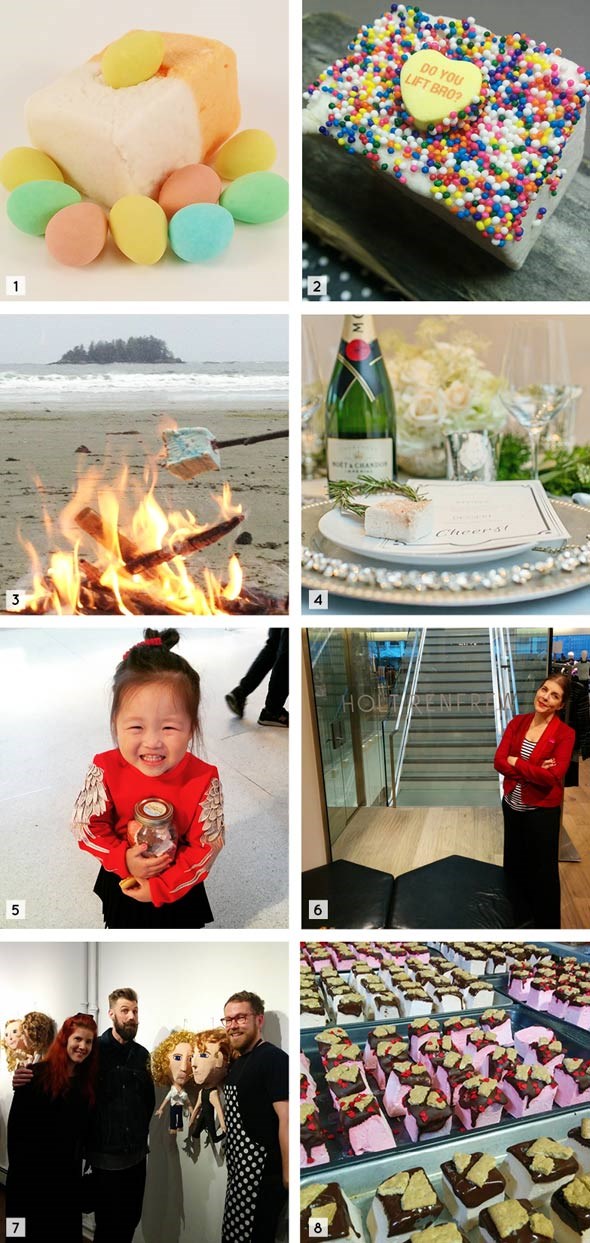 THE PROOF
1. Easter is coming and I'm back at Holt Renfrew Mar 20 - Apr 4.
2. I love crossfit and thought this was pretty funny. I had a heart left over to put a message on after filling a corporate order.
3. Getting pictures like this of customers roasting mallows on the beach in Tofino is the best.
4. When I get to be part if a styled photo shoot with taffete design, balconi floral & olive and piper jewellery I get to see archimallows in a way I never imagined.
5. Customers like this little gal makes selling & making marshmallows the best job on the world.
6. This is Carla Stef from Holt Renfrew. By saying yes to me having my first popup over a year ago she changed the trajectory of my company and brought it to places I didn't ever imagine in the best possible way.
7. Hanging out with my best friend Meaghan @yourpinata at her art show while I toasted marshmallows for her guests.
8. Mallow dipped in callebaut chocolate and topped with graham cracker.
THE QUESTIONS
1. What neighborhood do you live in?
I live in the best neighbourhood in Vancouver. Kitsilano.
2. What do you do and where?
I do all the things related to marshmallows. Sell them, popups mostly, some thoughtful collaborations in the right stores and make them at my commercial kitchen located in South Vancouver. Last year we made and sold over 80 000 marshmallows.
3. How you came to be making marshmallows?
It all started when my very supportive and good looking partner came home from work and said "if something else in this place is covered with chalkboard paint I am going to hide it"He was right to express concern. I had painted the kitchen wall, dresser, coffee table, a wall in the living room, night stand, spot above the sink in the kitchen and a bunch of picture frames.) So, I got a new hobby and decided to make marshmallows as christmas gifts for people.
4. Where can we find your product?
I do regular popup shops at Holt Renfrew at Pacific Centre and will be doing a popup at Holt Renfrew in Yorkdale in Toronto for Mothers Day. Head to archimallows.com to find the places you can find the mallows.
5. Do you have a favourite marshmallow flavors? What would that be?
I like all of the flavours I make. I eat like a maniac and if I don't want to eat 6 then i'm not going to sell the flavour. You will never find elderflower, cardamom, lavender etc.... in my fold of flavours.
6. What keeps you going in this industry?
I love this candy/special events industry. It constantly demands newness and i have just the right amount of A.D.D to keep things fresh.
7. If you had a chance to start your career all over again, how would you do it differently?
I wouldn't, My career in fashion as a buyer and all the jobs in between have set me up with the right amount knowledge and confidence to make archimallows happen.
8. What advice do you wish someone would have given you when you were young?
As a kid of the Oprah Show, I'm full up on good advice. When people tell you who they are. Believe them. Being Lucky is preparation meeting opportunity. Once you clarify your purpose for doing something, the way to do it becomes clear. You can have it all, just not all at once. etc.....