Matthew McCormick and Mate Zulj are extremely dedicated to their craft and I'm always excited about what they're going to produce next. Their combined backgrounds in electrical engineering, design and creative direction make for a powerfully dynamic team, both as friends and partners in business. They are incredibly passionate about design and skilled in their execution. Able to take a simple idea and shape it into a compelling installation, it's their dedication to curiosity that forms their process, material manipulation and conceptualization. I really see a fluid articulation of their aesthetic emerging with every piece they produce. You'd have good sense to watch out for this duo as the best is yet to come. Follow them @matthew_mate
Jeff Martin of Jeff Martin Joinery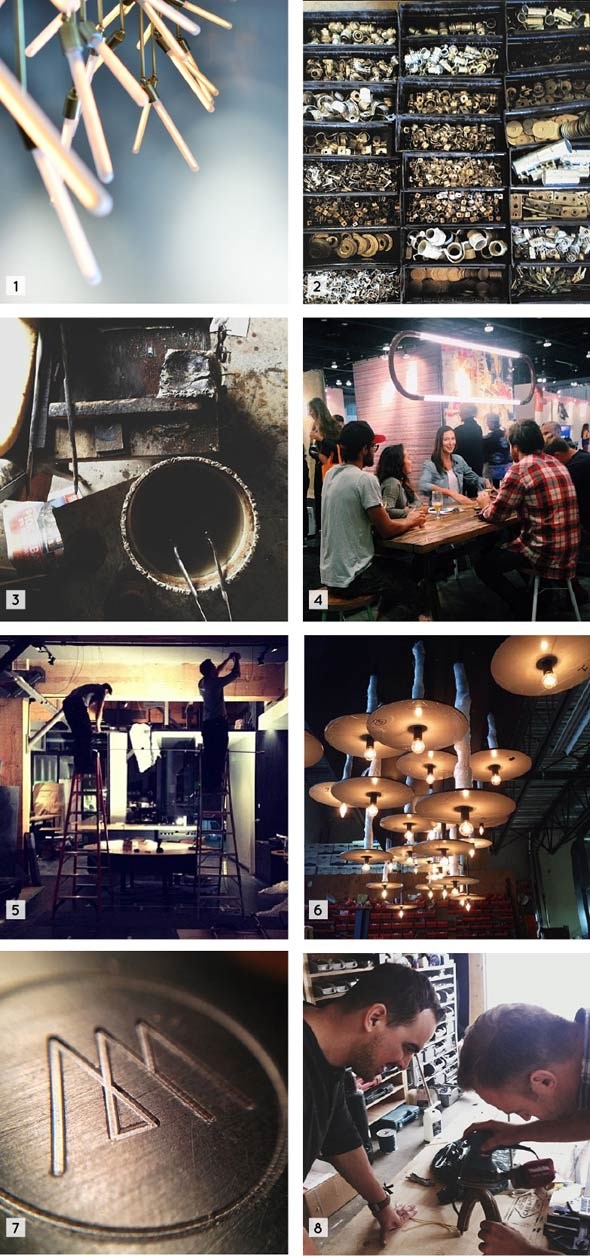 THE PROOF
1. Dancing lights. An installation we did at Earl's new head office in Gastown.
2. Taking inventory at the shop.
3. In studio getting custom glass blown.
4. The crew at Union Wood Co. enjoying some down time at last year's IDSWest Show, while our Bowie light shreds some light on the situation.
5. Burning the midnight oil installing one of our early works at West Oak in Yaletown.
6. Wrapping things up on project destine for Earl's restaurant in Calgary.
7. It all became real when our own custom parts started to get fabricated.
8. In the shop prototyping.
Follow Matthew Mate on Twitter, Facebook and Instagram.
THE QUESTIONS
1. What neighborhood do you live in?
MATTHEW: I live steps from the beach in Kitsilano.
MATE: Mount Pleasant
2. What do you do and where?
MATTHEW: We are lighting designers and have co-founded Matthew Maté Lighting. Together we are commissioned to design and build custom, site-specific lighting installations. We can often be found either at a our shop in East Van tinkering with prototypes or with the team at our manufacturing facility in Surrey when we are in full-on production..
3. What are you working on?
MATTHEW: We've recently wrapped on two large installations in Calgary, but have several other projects underway for sites in Boston and Denver. We're pretty stoked on the coming year with other new projects on the horizon for restaurants in Toronto, Ottawa, Seattle and Washington DC. You'll also see one of our pieces in the new Telus Garden building being built right now in downtown Vancouver.
4. Where can we find your work?
MATTHEW: Locally, you can find our work at West Oak in Yaletown, Life & Colour in Chinatown, Fable in Kitsilano, Litchfield in Gastown, 33 Acres Brewing Company in Mount Pleasant and various Earls and Joey restaurants in both Canada and the U.S. 
5. Who are your role models?
MATTHEW: Ingo Mauer single handedly captured my attention years ago and truly inspired me to become a lighting designer. The effortless simplicity of some of his work, creating organic forms and counterintuitive sculptures, are true acts of genius in my opinion. There aren't too many people that can take a handful of household items and turn them into such beautiful works of art.
MATE: My Father who taught me how to work hard with my hands and the satisfaction that comes from it. My Mother's style with her passion for Interiors and fashion and Maurice Dery from Karice Enterprises that has taken me under his wing sharing his humbling knowledge of machining and metal fabrication.
6. What keeps you going in this industry?
MATTHEW: My passion for lighting design and the creative pursuit fuels me everyday. It doesn't ever really feel like work.Each project we take on presents new challenges and obstacles, but this is what allows us to explore and discover our craft. It's often this process that helps dictate the design.
MATE: The next challenge 
7. If you had a chance to start your career all over again, how would you do it differently?
MATTHEW: I don't think I would do anything differently. After I finished my degree, I had the opportunity to work in various ad agencies and lead design teams which really helped me hone my skills in creative direction. Starting this company with Mate was very organic and I think that where we go in the future will continue to take shape as we grow as a team and individuals. Our combined work experiences and skill-sets have definitely proven critical in being able to communicate and execute on our vision.
MATE: I wouldn't change a thing as all those moments I would have changed at the time have led me to the wonderful life I have presently.
8. What advice do you wish someone would have given you when you were young?
MATTHEW: Start now. It's hard to figure things out looking forward, so just start investing in yourself now. Start making. Start creating. Find something that you love that and pour yourself into it. There's a priceless quality to authentic passion and coupled with little bit of skill and tenacity, you'll wonder, why didn't I start this earlier?
MATE: Appreciate the hard times and how valuable they'll be in your future
If you were going to recommend a creative to VIA, who would it be?