Meredith is a serial entrepreneur, rule breaker, connector & creative. 
After a failed attempt to play professional soccer or win an Oscar for Best Director, Meredith founded three brand management and business strategy agencies in the fashion industry, opening showrooms across the US & Canada. She's partnered with top global brands including H&M, Saks, Urban Outfitters, and Amazon, dressed the likes of Sarah Jessica Parker & Julia Roberts, and been featured in NY Times, InStyle & Vogue.
Today, Meredith pays it forward as the creator of women in leadership event series, Founders Collective, a dedicated tech startup mentor, Board member at RAW Beauty Talks, and co-founder of national nonprofit, The Next Big Thing, with her good friend Ryan Holmes (Hootsuite).
Meredith's work has been recognized by CTV, BC Business, Marie Claire, CBC, Techvibes, The Province, Globe & Mail and Woman of Worth Awards among others. She loves chocolate, dancing, four-legged friends, diptyque candles, old school hip hop, little white lights & generous people.
Twitter: @meredithjpowell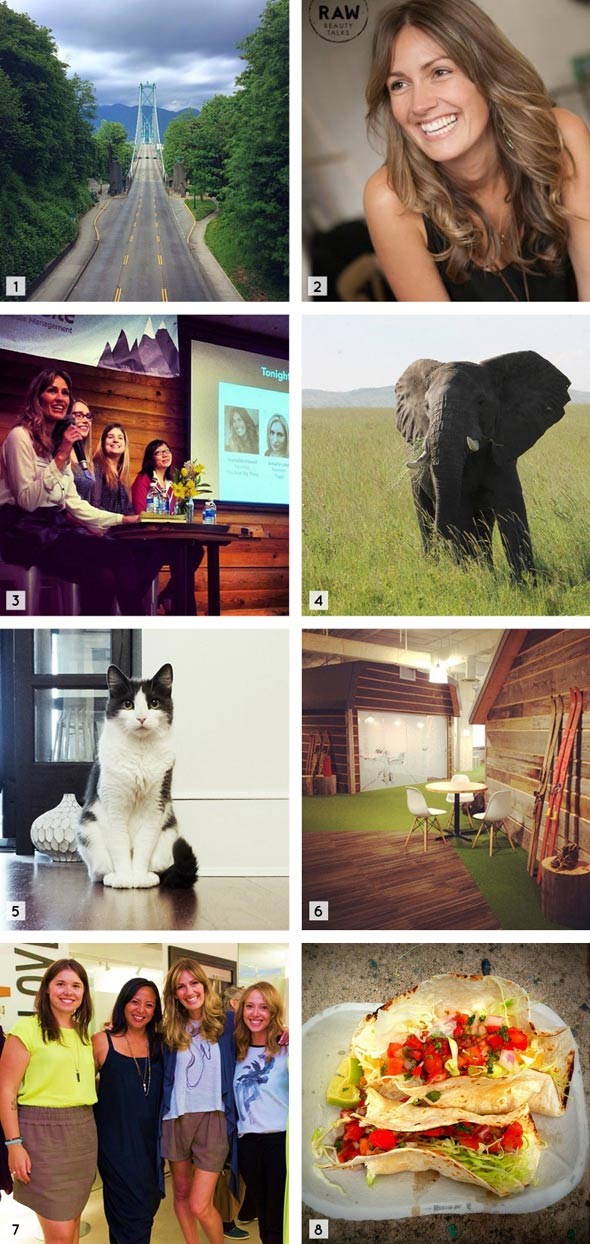 THE PROOF
1. One of my very favourite views
2. RAW Beauty Talks – no make-up, no photoshop, no filters
3. Startup Pitch panel judging @ Girls Raising
4. Taken on safari in Tanzania this year. This picture was taken without any zoom, an experience of a lifetime
5. Meet Murdoch (aka Bou), the best cat ever.
6. The Next Big Thing has special co-working space at the brand new Hootsuite HQ. Which means I get to hang at this open-concept "ski chalet" themed office often!
7. At fashion designer Nicole Bridger's "Show & Shop" on West 4th (left to right: Nicole Bridger, Adina Neufeld, Me, Tori Holmes,
8. Lived in LA for years & I'm obsessed with great fish tacos (especially alongside Negra Modelo). Tacofino is my Van fave – they make me weak at the knees.
THE QUESTIONS
1. What neighborhood do you live in?
I live on the water in Olympic Village / Mount Pleasant.
2. Can you tell us a little bit about yourself?
I grew up in North Vancouver and I adore this city. I spent my childhood summers outdoors - riding bikes, playing soccer, and swimming. In the winter, I took art and dance classes, read voraciously, and practiced piano. I graduated from UBC with what I'm told is the degree least likely to lead to a successful career - English Lit & Film Studies. But I hustled like crazy and landed a job in feature films straight out of school. In 2000, I attended a technical school to learn advanced HTML, excel, Illustrator & Photoshop, transitioned into the fashion industry. I launched several businesses in that space providing services to companies like Urban Outfitters, Saks, Amazon, InStyle, and Swedish Hasbeens, and haven't looked back since.
3. What are you working on?
I'm never happier or more fulfilled than when I'm in the process of creating & innovating. Sometimes this takes the shape of launching a women's event series like Founders Collective. Other times, it's consulting to companies regarding their creative direction, sales ops or go to market strategy.
Currently, I'm passionate about my role supporting an inspiring new movement RAW Beauty Talks. I also co-founded a national nonprofit called The Next Big Thing. I'm an active mentor and speak at events like Startup Grind, advocating for more women in entrepreneurship and tech. Using technology to empower yourself is the fastest path to success in the marketplace and women need to explore these opportunities asap, be it through great programs like Ladies Learning Code or accelerators like Launch Academy.
Less than 5% of Fortune 500 CEOs are women. Less than 4% of startups are led by women. I'm more than happy to help disrupt those numbers.
4. Where can we find out more about your work?
My one-stop shop is UCantBuyCool. I nicknamed my last year the "Year of Yes" because I agreed to take on so many new things, paying it forward in every way imaginable. You'll find a lot of info about giving back on the site.
5. Who are your role models?
Dr. Brene Brown, Tina Fey, Amanda de Cadenet, Chelsea Handler, Sheryl Sandberg, Christiane Amanpour and my family are at the top of my list. The guys from The Buried Life are exceptional role models in a sea of unremarkable media and entertainment fluff.I dig what Elon Musk did with his public release of Tesla patents. Plus he owns my dream car, a 1967 Jaguar E-Type.
6. What keeps you going in this industry?
Helping generous people think big and achieve their dreams.
Championing more women in business and tech.
Surrounding myself with individuals who inspire me.
Using my voice.
Learning daily.
Having fun.
Travel.
7. If you had a chance to start your career all over again, how would you do it differently?
I know so much now that would have been useful when I started out. However, I prefer to focus my energies on the present and the future, not the past.
8. What advice do you wish someone would have given you when you were young?
Take more pictures. Shoot more video. Save every event ticket, every press clipping, every kind thank you note. Some day, these simple things will be your access point to your own beautiful history.
____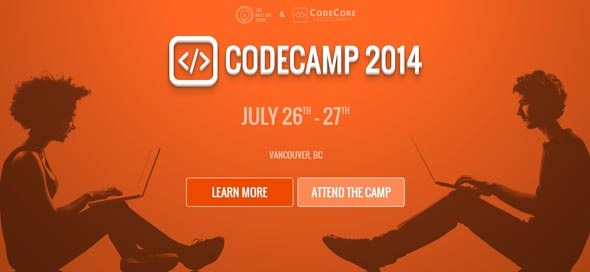 CODE CAMP is a free summer coding bootcamp here in Vancouver, July 26-27. Learn More.