Born and raised in Vancouver, Nicole received her BAA in fashion design from Ryerson University in Toronto ON. During an internship in London with Vivienne Westwood, Nicole learned the art of sculpting, draping and layering fabric. It was here that she began to realize that her talent for fashion design could also be used as a vehicle for positive social change.
In 2006, Nicole aligned herself with Chip Wilson, the owner of Lululemon. Together they founded Oqoqo, a pioneer in the North American eco-fashion market. After her experience nurturing the growth of Oqoqo, Nicole was poised to unite her passion for high fashion and eco-consciouness, and in 2008 she founded Nicole Bridger Design.
Nicole is the embodiment of NBD. A mother and social entrepreneur, Nicole strives to make positive contributions to her community and environment through the products she creates and the people she connects with. She is fuelled by a desire to create clothes that make all women feel beautiful and unique.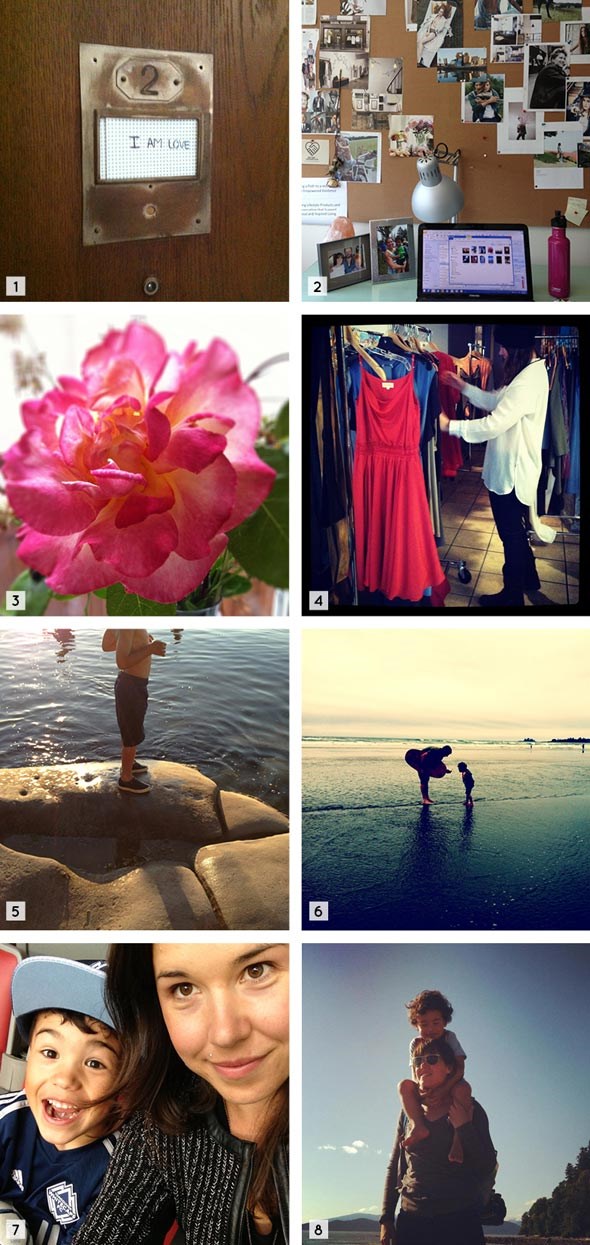 THE PROOF
1. Paris. I stayed at my friends apartment and she put my mantra on the door to welcome me. "I am love" is about coming from a pure place of love in all that we do.
2. My Desk. Inspiring images, my muse etc
3. The Denis Bridger rose. It was named after my grandfather. We have a rose bush at our home in Vancouver and it makes me think of him.
4. Photo shoot. Choosing outfits on set.
5. Hornby Swim. One of our favorite things is to ocean swim as the sun is setting.
6. Tofino. My friend showing my son how to skim
7. Whitecaps. I love going to canucks and whitecaps games with my son.
8. Wreck Beach. I love to be naked. I try to get down to Wreck Beach in the summer. Here I'm about to walk up all the stairs with my son on my shoulders.
THE QUESTIONS
1. What neighborhood do you live in?
Kerrisdale. I live with my parents and my 5 yr old son. When I left my ex-husband, my son was only 10 months old. Instead of staying in my condo, my folks invited us to come live with them. It really is the best thing for both my son and myself. He is surrounded by people who love him, they help me out if I'm ever working late or have an evening meeting. As a single mom running my own business, I have never had to worry about a roof over his head or food in his tummy. I am so grateful for our situation.
2. What do you do and where?
I am a socially conscious fashion designer. We design, manufacture and retail all here in Vancouver. We source responsible fabrics and practice ethical manufacturing. Our store is in Kits on 4th ave and our factory/ head office is at 6th and Manitoba.
3. What are you working on?
Fall/Winter 2014 is on the cutting and sewing floor now, the first styles hit the retail floor mid august. Spring/Summer 2015 will be done designing and sampling in august, we order the fabrics for production mid sept and start cutting Nov 1st. I'm currently working on our systems both for the factory and the store. Get things all lined up before I look to open our second store in Vancouver next year, hopefully;)
4. Where can we find your work?
Our store is at 2151 West 4th ave. We also have an online store www.nicolebridger.com and we sell to other boutiques which is also listed on our website.
5. Who are your role models?
My role models have been people that I have really learned something from. The person who has taught me the most is my son. I will always value and respect the guidance of my folks. Best friends where we can be 100% open and honest with one another, I really value that. And then people in my career that have given me opportunities and taught me great lessons like Chip Wilson or Vivienne Westwood. Then there are people I've never met but admire, like Yvon Chouinard of Patagonia. In the end I believe we can learn from anyone and each experience. The less desirable ones can even be the biggest lessons.
6. What keeps you going in this industry?
Being a part of positive change. I believe there is a better way to exist and we work to show that it is possible. Our mantra is 'I am love' which is about coming from this place of love in all that do in the different facets of your life. It guides us to source responsible fabrics, use ethical manufacturing, how we communicate to one another, how I design clothing that helps your true self to shine.
7. If you had a chance to start your career all over again, how would you do it differently?
Mistakes are a necessary part of learning in life. If we got it perfectly right all the time there would be no growth, no learning. We cannot be born with the wisdom we will die with. Basically, I have no regrets, even the poor choices lead to something and ultimately who I am today. That I cannot regret.
8. What advice do you wish someone would have given you when you were young?
Just be who you are, whoever you want to be. No need to justify or worry about what others will think, eventually you won't really care. But this requires actually being in touch with your higher self and listening for what choices to make. And to achieve this I recommend meditation, in whatever way works best for you.