Nate and Jevan met in high school and started working together creatively on class projects. After high school Nate attended VFS for the Digital Design program with a focus on motion graphics and Jevan went to the Gulf Island Film School to follow his passion of writing for film. It wasn't until two years ago that they decided to join forces and work together to create their company, odette.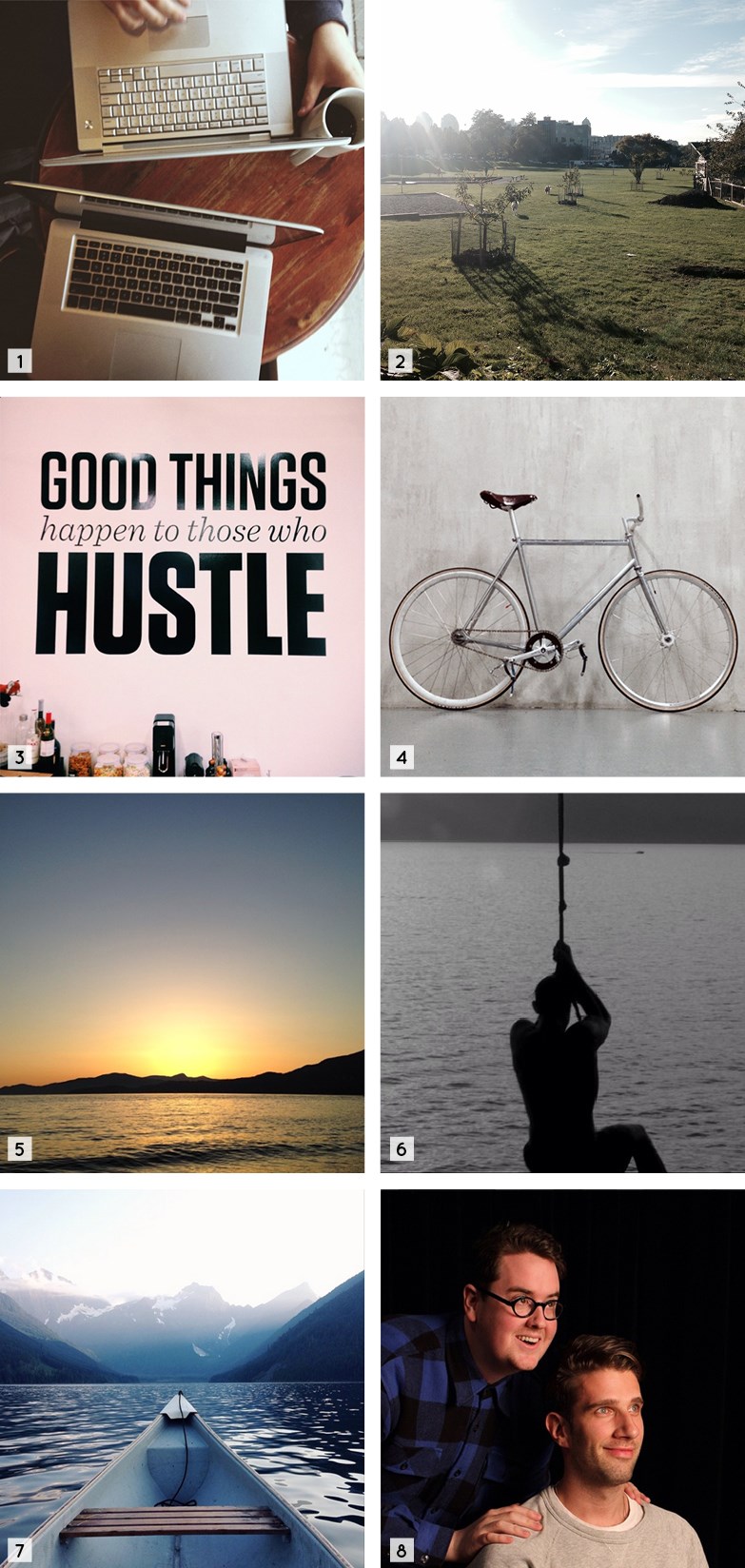 THE PROOF
1. This is how it started before we had an office. Planning and working in cafes
2. Jonathan Rogers park — where we have lunch in the summer
3. "Good Things Happen to those who Hustle". Saw this at Pound and Grain during the Open Studios and it stuck with me
4. We try to bike everywhere
5. Classic Vancouver sunset
6. Lions Bay. Great spot for a swim!
7. Canoeing and exploring in BC
8. Us
THE QUESTIONS
What neighborhood do you live in?
We both live a few blocks away from each other in South Granville.
What do you do and where?
I am part owner of odette, a video production company. We do all sorts of creative projects and have worked in both Canada and the U.S. with plans to eventually work internationally.
What are you working on?
We have a bunch of fun stuff we're working on right now! We just finished shooting Vancouver Design Week in September in which we covered a variety of events throughout the city. We are finishing up a video lookbook for a footwear company which we are extremely excited about. We also have some collaboration projects coming up with different local companies. Stay tuned!
Why do you make video?
Because it's awesome. It's a really cool way of reaching people on an emotional level and having an idea stick in their minds.
How do you like working with the designers?
It's been really interesting so far! They all have a very unique perspective and approach to design. So far we've profiled an Architect, a Graphic Designer, and a Landscape Architect / Urban Designer, and it's been fascinating to see how design is interpreted and practiced across diverse fields.
What keeps you going in this industry?
Nothing can beat working with your best friend every day working on really cool projects but it's also just meeting other people through work who are doing really cool stuff and seeing their perspective. Just learning all the time!
If you had a chance to start your career all over again, how would you do it differently?
I'd wake up earlier.
What advice do you wish someone would have given you when you were young?
Do what makes you happy