OURO is an eclectic, Vancouver-based dance collective that uses hip-hop, waacking, breaking, popping and contemporary dance as the foundation for the creation and production of new work. As individual artists coming from diverse cultural and dance backgrounds, OURO sees collaboration as a catalyst for dialogue, creative innovation, and community building. United around the common goal of pushing the boundaries of how street dance-based works are created and presented, OURO is dedicated to creating performances that explore the full range of possibilities and identities the group represents.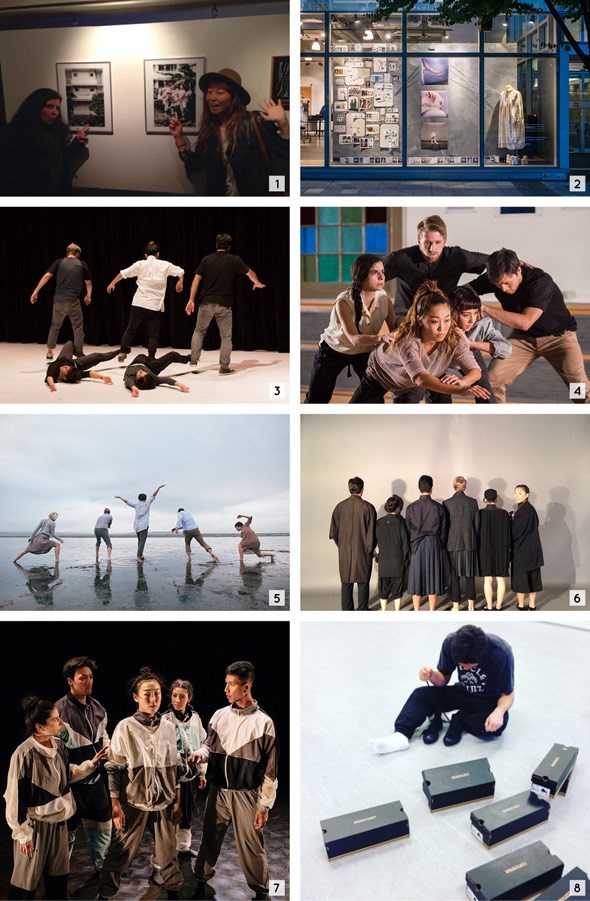 THE PROOF
1. An art show of pieces inspired by a 1970's 16mm film by Maud Van Breemen, all of which are featured in Brasstronaut's music video.
2. Window display at Lululemon Lab for artist Jourdan Tymkow's Visceral Murmurs featuring OURO Collective. (Photo: Jeff Hamada)
3. Action shot form our show with New Works (Photo: Juan Contreras)
4. Shot from our debut performance M. Sessions (Photo: Teppei Tanabe)
5. Our very first photoshoot as a collective (Photo: Jourdan Tymkow)
6. Behind the scenes at our photoshoot for PACE
7. Shot from Kaleido choreographed by Montreal duo, Tentacle Tribe, and costumes by Jean Okada (Photo: Teppei Tanabe)
8. Trying on our new gear from Converse
THE QUESTIONS
1. How did you all meet?
Vancouver's dance scene is relatively small and so it is very rare to not know or hear of someone within the community. Since we all did some form of street dance, we all met at various times over the years, collaborating on shows, competitions, and classes. The friendships seem to have lasted over the years due to our personalities and creative goals being on the same paths.
2. What inspires you to start a dance collective?
We are inspired by each other and each other's respective dance styles. The Street Dance scene is very different than the Contemporary dance or Commercial dance scene in Vancouver where there typically isn't much cross over between various styles. What started out as a small weekly practice between friends, intended to exchange dance styles and influences, became the backbone of our early rehearsal. We realized through these practices that we all shared very open minds when it came to creating from various sources and blending different styles of dance. Vancouver has so much talent, but the artists seem to stick within their own network of people and we felt the need to have more of a crossover between the art communities so that they can all continue to inspire and grow.
3. How would you describe your overall aesthetic?
We employ the use of a lot of partner and group work that involved interaction and connection between members. We do our best to stay true to many of the various dance styles we specialize in while still allowing for free movement. Large portions of our shows involve improvised solos and group work since it is an integral part of street dance.
4. What drew you into dance?
Self expression.
The ability to create movement that is unique to oneself, being able to connect with people and music without the use of words, self healing through music, and the list goes on. Dance, for all of us, became something that we didn't just do. It became an essential part of our lives that we couldn't go on without, whether we did it professionally or just as a pass time.
5. If you weren't a dancer, what would you want to be?
Most of us wouldn't dream of being anything else but if we were to chose something different, all of us agreed it would be something that still stimulated our need to be creative and connect with people on some level. Some would be game or graphic designers, social workers, or RMTs.
6. What are you working on right now? Where can we see your performance?
Aside from prepping for next season, we have an upcoming video project at the end of the month, a jam/workshop in collaboration with This Open Space in October, the debut of our full length piece in May, and several other shows in between. All our info will be on our website and Instagram!
7. Is there anything else you would like to share with us?
We love collaborating with new artists from any and every art form. We are always excited to play and share!
OURO Collective will be presenting at the next PechaKucha Night Vol. 40 on Thursday, Sept 8th. Join us and see what they have planned for us.