Paul Anthony is a superb actor, cultural curator, variety show producer/host and the ultimate cool dad. Paul has shared a leaf of lettuce with a turtle, rested live snakes on his head, and been knocked unconscious by a wrestler. He is always on the hunt for sincere, quirky, excited, and/or eclectic acts for his monthly live show, Talent Time, which he has maintained since 2008.  Talent Time has become a community of its own and I believe Paul's love and fascination for people is what draws everyone in. Acts on his show have come repeated times (first to perform, then to watch). The audience at Talent Time is like no other – always trusting and faithful and ready to join in when Paul suggests an activity during the show, be it a crowd Bunny Hop to the bar around the corner after the show or peddling exercise bikes instead of just sitting in seats, like he asked during their "Get Fit" episodes.
One of my favourite memories from Talent Time is Paul sharing a story of an unfortunate comment about "dumb hats" at a craft show, which was overheard but lead to a conversation with their creator, which lead to an introduction of said hats and creator at a Christmas Talent Time show, which lead to a large majority of the audience buying and wearing the hats for the remainder of the show.
As an actor, maybe you've seen him in cool films like A Gun To The Head or SUCK. He can currently be seen on TV playing the Rainbow Raider on The Flash.
Natalie Vermeer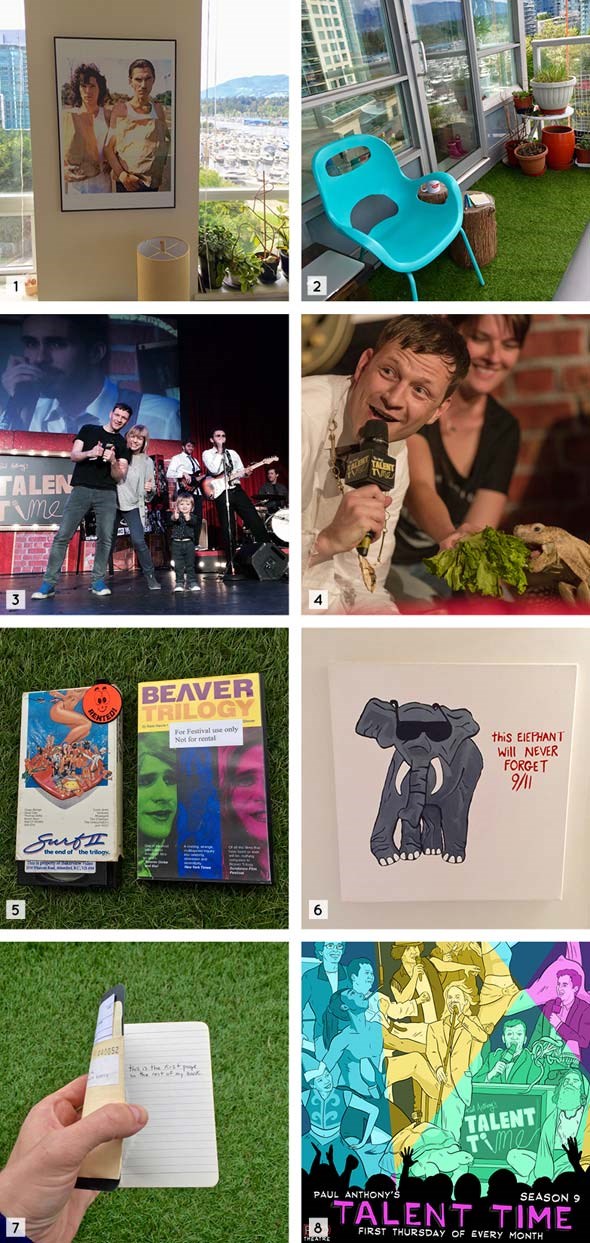 *3&4 Photos by Lindsay Elliott for lindsaysdiet.com
THE PROOF
1. The most recent addition to the apartment is this photo of Ron and Russell Mael of the band SPARKS. Not only do they look cool as shit but they represent artists who are geniusly stretching and growing into old age.
2. I wander out on the balcony that I covered with soft synthetic grass, breath the fresh ocean air and try to dream up ways to ease the pain of living.
3. My family visits during sound check to up the good vibes and to enjoy our fine food sponsors; Nuba & Cartems Donuterie.
4. Photo from our last show when I shared a salad with a large tortoise while tripping on psychedelics. We totally bonded.
5. The Sundance Festival VHS screener of my favourite film, The Beaver Trilogy, signed by Crispin Hellion Glover. Paired with my recent obsession Surf II. The plot revolves around a teenage mad scientist who concocts an addictive cola which turns its drinkers into mutated, garbage-ingesting zombie punks. It was written over the course of 48 hours when writer/director Randall Badat was on heavy opioids after waking up from surgery. None of it makes sense but it's super fun to watch and has a great soundtrack.
6. I made a doodle of this a month after 9/11 when the news kept repeating the "never forget" sentiment. 10 years later I bought a Groupon as a joke for this place you drink wine and paint canvasses. This is what chose to paint among the tipsy housewives. It's hung over our toilet.
7. I'm trying to write more on paper these days.
8. New poster for the launch of the season by Portland artist Jeannette Langmead.
THE QUESTIONS
1. Can you tell us a little bit about yourself?
No
2. What neighbourhood do you live in?
Coal Harbour. Don't judge me; I used to live in a van.
3. How did you come to be an actor/comedian?
When I was about 10 years old, I started creating various characters and going out in the real world to watch how strangers would react to me. A couple years later, I wanted to skip school and go to the mall by myself. I dressed up in my dad's old clothes but I knew I had to change the way I walked and talked so I didn't get caught by the evil principal (I had just watched Ferris Bueller's Day Off).
4. What drew you into acting?
I won tickets to a play around the same time and realized it could be a job. I was always fascinated by the psychology of it. Living other lives. I was very "method" before I went to theatre school. I still have some of that in me, because it's fun.
5. What is Paul Anthony's Talent Time!?
A live comedy/variety/chat show and Public Access TV program with a focus on fascinating locals and novelty acts. Although it's pretty hard to explain what it really is. They say you have to experience it. Or if you wanna dip your toe in, try our website.
6. What inspired you to start Talent Time?
As a kid, I was always putting on variety shows at family functions. As a young adult, I quickly grew bored of the same old club nights so I would ride the train out to the suburbs to check out a talent show in a church basement. It would be mostly boring, but there would always be at least one act that would blow me away and make it all worth while. It was incredible experience, but I couldn't get anybody to make the journey with me so I started showcasing my curated findings on stage with my own show.
7. When is the next Talent Time?
Thursday, September 1st is the launch of our 9th (and possibly last) season. No show in October cause of the film fest, then the first Thursday of every month from November till June.
8. Is there anything else you would like to share with us?
You can catch the TV show if you have cable through Novus or Shaw. Plus we have tons of clips and full episodes on www.TalentTime.Biz
Paul Anthony will be presenting at the next PechaKucha Night Vol. 40 on Thursday, Sept 8th. Join us and see what he has planned for us.