Originally from Australia, Phoebe moved to Canada in 2007. Since then she has been quietly raising the bar for design in our city and abroad. As the Creative Director of Glasfurd & Walker, Phoebe is responsible for Vancouver identities such as Bao Bei, The Juice Truck, Meat & Bread and Litchfield.
Glasfurd & Walker was founded with her partner, Aren Fieldwalker, in 2007. Today their studio is in Railtown, where they work on both local and international projects. Their goal is to provide their clients with relevant, innovative, high quality work that helps their businesses flourish. Phoebe is the recipient of multiple international design awards, and her work has been featured in publications such as Wallpaper* and Monocle. She is the City Insider for the Vancouver Wallpaper* travel guide.
Phoebe is deeply dedicated to both her craft and her clients. She is humble and considerate, and is one of the hardest working people that I know.
I am grateful to be able to call Phoebe my friend, and to have had the privilege of working with her as a client. It is a wonder to see the world through her eyes.
Genevieve Ennis Hume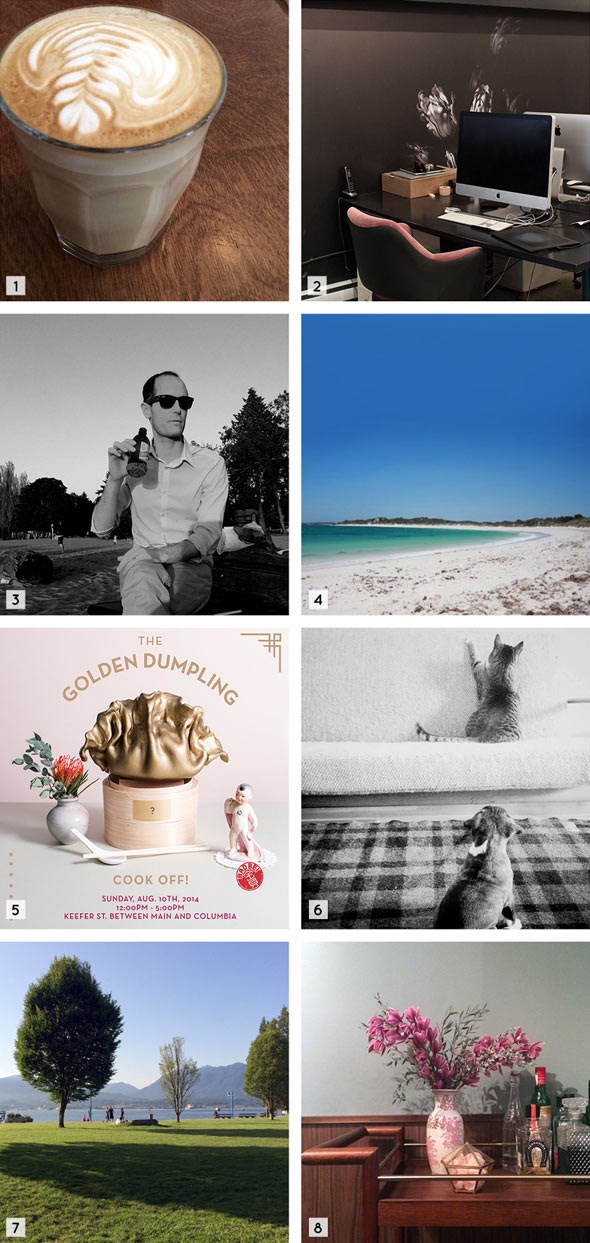 THE PROOF
1. Coffee. The start of every day, without fail.
2. My desk - I spend too much time here.
3. Aren - my husband and business partner. The most logical, smart, funny and interesting person I know.
4. The Australian Beach - you don't know what you miss until its gone. I really miss the beach. The white sand and the crystal clear water.
5. The Golden Dumpling Cook Off - something I'm looking forward to and working on.
6. My Pets. This is the only photo I have of both of them together - the dog grew up and the cat won't go near her without trying to kill her. I love them both. Just not in the same room.
7. Crab Park with our dog. I never get over the view of the mountains. After 7 years they are still a novelty.
8. The office bar - Negroni. My go-to after work drink.
THE QUESTIONS
1. What neighborhood do you live in?
Gastown
2. What do you do and where?
I'm the Creative Director and Co-founder of Glasfurd & Walker.
Our offices are in Railtown - but we work with clients here in Vancouver, in the US, UK, Mexico and Australia.
3. What are you working on?
A range of projects - from retail and hospitality to fashion to property development. In Vancouver, one of the most interesting and exciting projects is a upgrade to the signage and way-finding system for the Marine Building downtown. Its so inspiring and interesting to be working on such a beautiful and historic building.
4. Where can we find your work?
Most easily - you can see it on our website: www.glasfurdandwalker.com
On instagram @glasfurdwalker
Offline, in Vancouver, you can most easily see it at Meat & Bread, Bao Bei, The Juice Truck, Ask for Luigi, Litchfield… (random selection!)
5. Who are your role models?
I don't have one specific role model per say. I admire many people for different reasons. One person I particularly admire and am inspired by, although I only met her when I was very young, is my great grandmother. She was wickedly independent and eccentric - she travelled and lived all around the world with her husband, had amazing style and lived a long and interesting life. I hear stories that she brought an elephant from South Africa for the Perth Zoo - arriving on the docks to call her husband telling him she needed help with her (surprise) cargo. I wish I could have known her has an adult, as I'm sure she would have been a role model. The legacy and stories that are told of her and her family's life always keep me entertained and inspired.
6. What keeps you going in this industry?
I really love what I do, I think that is the main thing.
7. If you had a chance to start your career all over again, how would you do it differently?
There's very little that I would do differently. If anything, I wouldn't have rushed starting my career. I went straight from studying into a great, but demanding and all consuming job which from there we started Glasfurd & Walker. If I had my time again I would have travelled more before things got serious.
8. What advice do you wish someone would have given you when you were young?
Deciding to live on the other side of the world when you're young is romantic and exciting. As you get older, your family gets older and your oldest friends start having families and its a really long way to visit regularly…