No one-trick pony, Rachel Sanders is a woman of many talents. But whether it's through her stellar photography, writing, or radio producing, she's all about one thing: telling a heck of a story, which for her means above all else getting it right. Doesn't matter if you spot her in the pages of your favourite music mag or on the air for CBC, it's a safe bet she's spinning out a yarn that is not just interesting, but also, more importantly, that is true.
- Nathan Fairbairn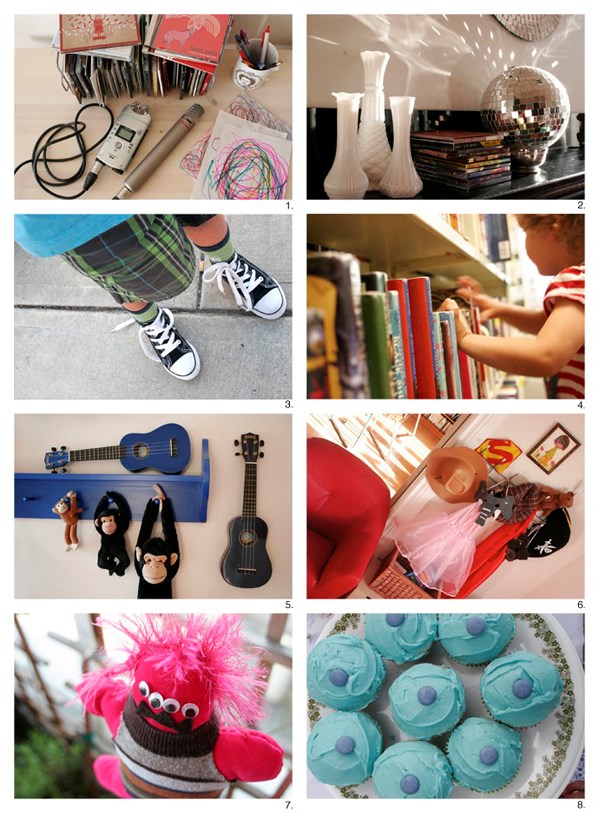 The Proof
01 My desk, which I never work at. Just a parking place for my recorder, microphone, CDs for review & various bits of children's art.
02 The view from the couch, where I actually work. More CDs for review and something shiny to spark ideas during uninspired moments
03 Untied kid shoes: the kind of thing I spend the majority of my daylight hours working on.
04 The public library is one of humankind's greatest inventions. Rock biographies and music magazines for me, Curious George and Winnie the Pooh for the tinies.
05 I've been given a surprisingly large number of ukuleles and toy monkeys as gifts over the years. Someday I'll have time to learn how to play something more difficult than "Ring Of Fire" on the ukes. For now, they're mostly just décor.
06 The dress-up corner: a good place for a game of pirates and superheroes. Followed by a photo shoot, if they'll consent to it.
07 I spend a lot of time art directing various construction paper/glitter/felt/button crafts. It's fun for everyone and a good way to sneak some exercise for my creative brain into the usual daily routine. This guy's called Mr. Pop.
08 I like to know exactly what kind of junk is in the junk food we eat, so I bake a lot. Bonus: homemade cupcakes are fun to photograph.
The Questions
What neighborhood do you live in?
The excellent West Broadway area of Kitsilano.
What do you do and where?
In between tying shoes, preparing snacks, taking on bits of educational writing work, and the occasional photography job, I write about music and culture. These days mostly for Exclaim! and CBC Radio.
What are you working on?
An interview with Canadian musician Jim Bryson, a documentary pitch for the CBC Radio show Inside The Music, and a few record reviews. Also mulling over a couple of ideas for kids' books for a time in the not-too-distant future when my lovely children head off to that magical place known as full time school.
Where can we find your work?