Sarah is all about speed and drive. She has the quickest and sharpest mind I know. Quick to make decisions, quick to follow her artistic instincts. Quick in conversation and witty repartee. She's a master improviser and is the best person I've ever known in making do. And she is completely driven to make incredible art, truly putting her unique spin on the hard edge tradition. It's an obsession for her, if she doesn't create, it's a bad day. She constantly leaves this turtle in the dust and I love her for it.
Tim Chan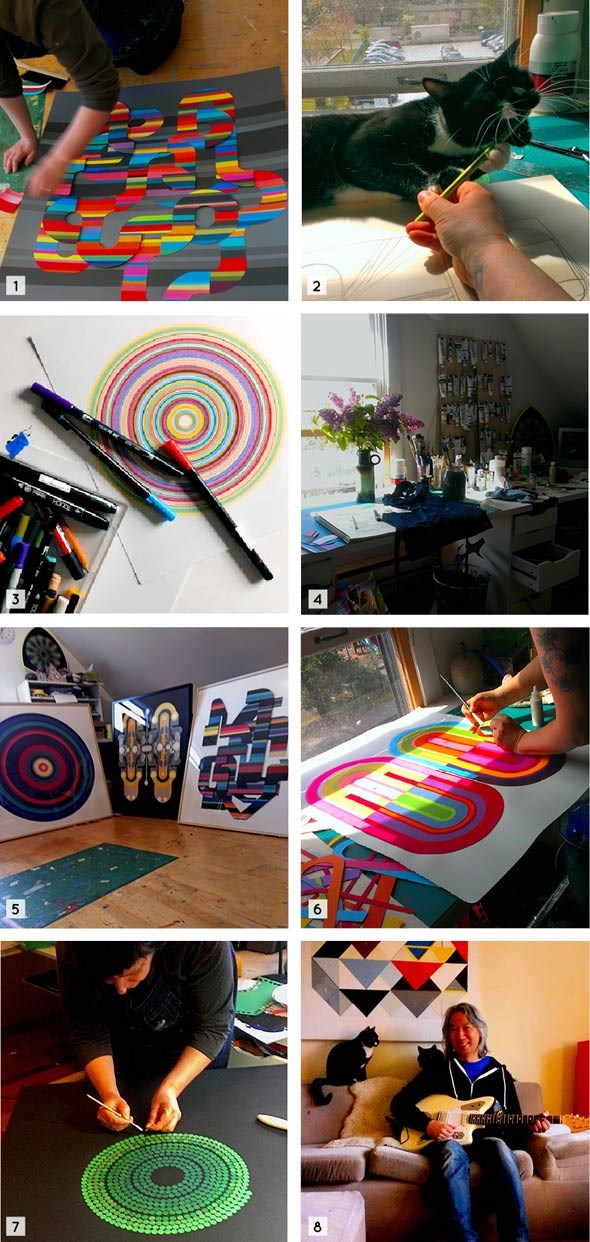 THE PROOF
1. I work on the floor mostly, wrestling with paper.
2. I'm just going to come out and say it, my cats are my life. And they're such good little helpers in the studio too. Or hinderers.
3. My drawing series uses archival inks and a revolving table I rigged from a potter's wheel. It's difficult to use but the drawing blooms on the paper like magic. There's a vimeo online that you can search for if you want to see how it happens.
4. Typical messy workspace. I can make more of a mess in a shorter time than anyone I know.
5. This is a few pieces framed and ready to ship to Toronto. I've stopped doing much of my framing, thankfully.
6. I love colour. This is part of a long series of capsule shapes I'm calling "Amnesia."
7. I'm an impulsive, clumsy person but ironically so much of my work is painstaking and methodical. People think I'm extremely patient, and I am, but only in the studio.
8. The three most important boys in my life: Amadeo, Milo, and my lovely husband Tim.
THE QUESTIONS
1.What neighbourhood do you live in?
I live in Strathcona, Vancouver's oldest residential neighbourhood, tucked away just east of Chinatown. It's a vibrant, diverse place. When I go for walks I see elderly ladies doing Tai Chi in a school field, dogs chasing balls, regulars at the coffee shop, and the guy with the tin foil hat shouting his head off about aliens.
2. What do you do?
I'm an artist making work comprised of collaged paper and acrylic on mat board. You could call it hard edge abstraction because it's in that historical vein, but there's a certain west coast modernism to it, which I'd describe as a bit coolly distant but with a certain resilient optimism.
3. How did you come to be a artist?
I've come late to the game, after years of working dead-end jobs not remotely related to art and getting to a certain stage of life where I started wondering what life was all about, anyway. All of a sudden the end was closer than the beginning, and if that isn't motivation I don't know what is. I've had an interest in modernism, specifically pop modernism - all my life, and I guess I got to a state where shyness, fear and the grim myopia of poverty couldn't exert their hold over me any more. So I just went for it, and damn the consequences. I'm lucky enough to be able to work full-time, thanks to a very supportive husband. Without him I'd still be making change behind a counter somewhere.
4. What inspires you?
I'm not really inspired by external factors. I couldn't care less about mountains and gulf islands swathed in mist. I'm not interested in creating an emotional or political point either, although I respect those who do. I'm compelled to make work that aims at a state of mind, a kind of dazzled calm. Geometry is the transporter here - it carries the mind into an alert yet tranquil state. I'm always trying to get there. It's awfully abstract, which is why I live my life in a semi-dream state, undiverted and unmoved by cherry blossoms or the North Shore mountains.
5. What are you working on right now? Where can we find your work?
I'm represented in Toronto by the fabulous folks at Mayberry Fine Art in Toronto - I currently have a solo show there throughout April. My work can also be found at Back Gallery Project here in Vancouver, and at the Vancouver Art Gallery sales and rental program.
I'm currently working on a "topological series", work that includes elevated pieces in the composition. Because my work is so flat and poster-like, with no gestural marks, the raised pieces give the viewer an unexpected visual jolt. It implies there are deeper layers to be found in this bright, shiny, geometrical surface. It's loads of fun to do.
6. What keeps you going in this industry?
I've made the best friends of my life in the last five years through the art scene here in Vancouver. Fantastic, encouraging, selfless artists and curators who are genuinely excited by art. Plus I haven't made my best art yet. I have to keep going until I do.
7. If you had a chance to start your career all over again, how would you do it differently?
I'd start a lot sooner. I'd listen to what my gut had been whispering to me all those years, and get to work. It really bugs me that so much time has passed.
8. Is there anything else you would like to share with us?
I'd love to encourage people to get out and look at art, and buy original work if you can afford it. Just go to the Emily Carr graduating show and snap up work for a few dollars, or buy a painting on layaway from the artist, or work out a deal with a gallery owner. Don't buy that IKEA print. Get the real deal. Go to openings and talk to people, develop your own taste in art. Support the gallery in your neighbourhood, go to the Eastside Culture Crawl and see how artists work in their studios. If you like someone's work just email them and ask to tour their studio. You'd be surprised how joyously easy it is to have art in your life.