I met Steven almost 10 years ago, we were great friends and 3 years later we were partners. I got to see him grow as a man and experience his journey as a furniture maker, sculptor and artist.
Steven gets some of his inspiration while walking through Stanley Park, the seawall and city streets. A bridge, the side of a mountain, the calm ocean on a rainy day, the boats and the buildings will come up in his works in subtle and original ways. He is revered for his incredible attention to detail and professionalism. As a perfectionist he can also be tortured at times by deadlines but always somehow blows peoples mind with his final vision. I am so proud of him to have followed his heart and left a very lucrative and safe job in the corporate world to live a life of passion and purpose. Steven is an example for all of us that to choose what we love is to become a better person and his art adds so much beauty to our world.
Debbie Lelievre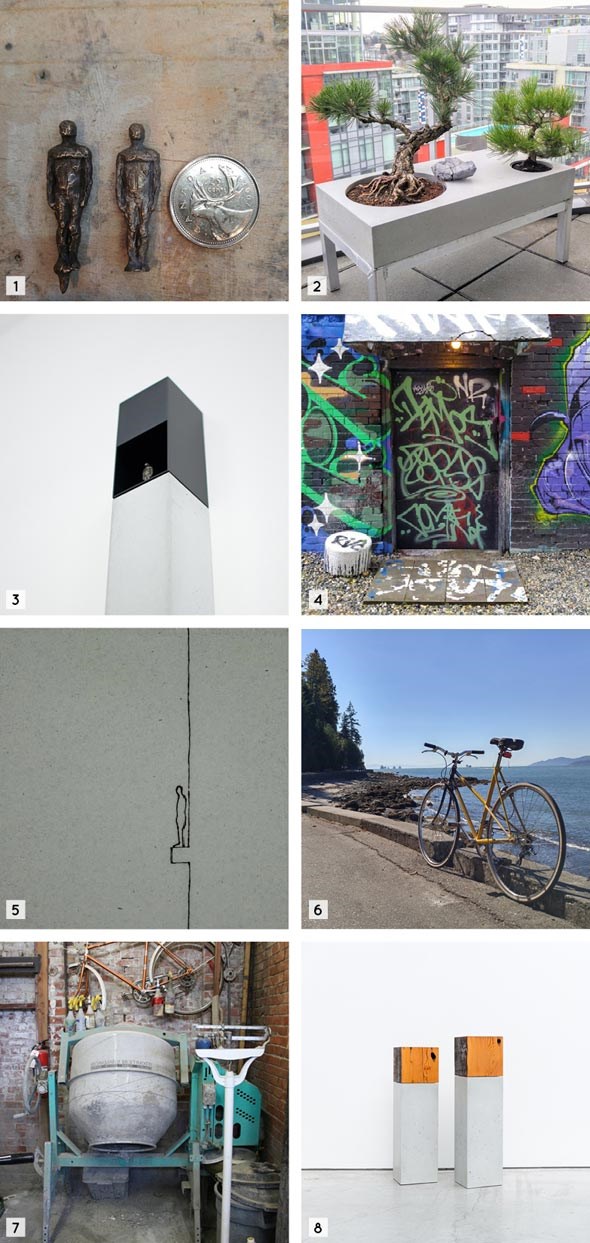 THE PROOF
1. Bronze figures for future pieces.
2. One of Gary and Barb's custom Bonsai planters in Olympic Village. I meet so many interesting people doing what I do.
3. Man on Edge Sculpture. Current work.4. This is the entrance to my studio. You never now what to expect when arriving.
5. Detail of one of my Concrete Relief drawings.
6. Summer !. I dare say it has arrived. I love riding the seawall on my bike.
7. My faithful mixer. Never says no.
8. The Bentall columns. A personal favorite and one of the first pieces I ever made.
THE QUESTIONS
1. What neighborhood do you live in and why?
I live in the West End, Vancouver.
2. What do you do and where?
I make concrete furniture, sculpture and paintings. I have been working out of a studio in 1000 Parker street in East Vancouver for over 12 years now. woodstonedesign.ca
3. How did you come to be sculptor? What drew you into sculpture?
Every year I participate in the Eastside Culture Crawl. It's a time that I push myself to explore new work. I had been doing concrete relief drawings with human figures that were 2 dimensional. It was a natural progression to bring the drawings into a 3D perspective. I quickly realized I could capture a more accurate interpretation of my ideas and began sculpting.
4. Could you describe your process?
It usually begins with walking and seeking quiet. When I have an idea I usually sketch it out loosely. I then typically start mocking up concepts with various materials around the shop followed by exact execution when happy. A lot of my furniture is large scale and heavy. I need to get it right the first time.
5. What is your most cherished tool?
My 12 cubic foot concrete mixer. My first mixer was one of those small orange ones that don't hold much. I pushed that little guy until the welds broke and I lost a mix on the floor. Any tool that helps save my back is a friend of mine.
6. Which of your designs are you most excited about right now and why?
I'm very excited about my Man On Edge sculptures. They have opened a new door of curiosity and discovery.  
7. If you weren't an artist, what would you want to be?
Well, according to my Kindergarten report card I have always wanted to be a flight stewardess.