The Sunday Service is Ryan Beil, Caitlin Howden, Kevin Lee, Aaron Read, Taz VanRassel, and our musical director, Emmett Hall. With over 20 Canadian Comedy Award Nominations, a CCA Best Improv Troupe Award, and most recently voted Best Comedy Show in the Westender, The Sunday Service present to audiences across North America a fast paced and singular take on traditional long form. Favouring discovery over structure, the group builds, demolishes, and builds again an absurd patchwork of scenes and stories. Using strong narratives and character work to ground their set, the group dips in and out of meta-comedy, rock opera, word play and even slapstick shtick. They've been doing this every week for 10 years, and can now be found at the Fox Cabaret on, of course, Sundays.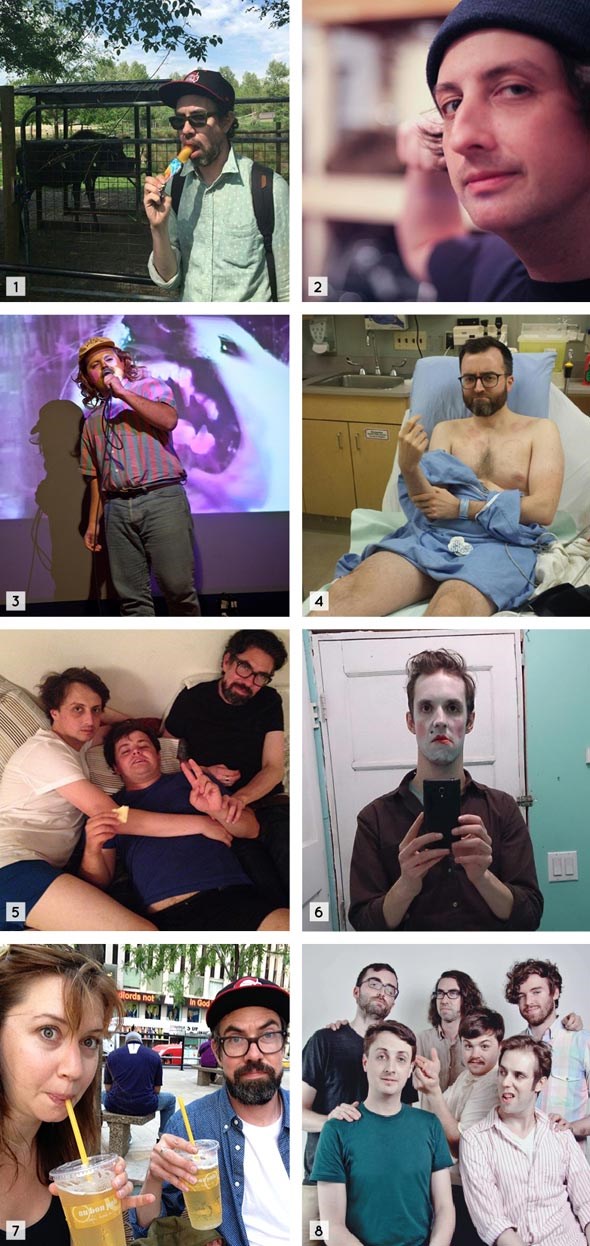 THE PROOF
1. This is the best day of Taz' life.
2. Ryan v v strong
3. While Aaron is the nicest, he is also often stuck inside of a nightmare.
4. Kevin will do anything to get attention.
5. When we travel, we sleep 3 per bed.
6. This is Emmett.
7. When we were in New York this year, Taz and I bought lemonades and snuck beers inside them and he had the second best day of his life.
8. This is the group circa 2009. We think. Honestly, no one knows.
THE QUESTIONS
1. Tell us about The Sunday Service. What is it all about?
The Sunday Service is a comedy show that happens every Sunday at the Fox Cabaret. We make up a new show every week, and we have some of the countries best stand up comedians pop by and do a set. We've won the Canadian Comedy Award for Best Improv Troupe, the Westender's Best Comedy Group, and Mayor Gregor Robertson proclaimed November 18th, 2011 "Sunday Service Day". (https://vimeo.com/44057394)
2. How did you get started? How did you find each other?
When the group first started, we were all much younger, and now we are not. Originally The Sunday Service was Ryan, Taz and our pal Alistair. Then Kevin joined, then Aaron, then Emmett and then Caitlin. The only scientific explanation would be, like, you know magnets? We are no longer accepting new members, thank you.
3. What drew you into improv?
Magnets.
Also, it's easier than acting and (slightly) less obnoxious than clowning or acoustic guitar.
4. How would you describe your performance?
When we first started improvising and doing comedy, it was just something that we loved. We never thought it would be in front of 150 people a week in a space like the Fox Cabaret. It's a party. Imagine an hour and a half of a bunch of strangers laughing and drinking. Us included.
5. What's the hardest thing you've ever had to do as a comedian?
Talk about ourselves in an honest way.
6. Do you have a favourite comedian? Who would that be and why?
Paul F. Tompkins is a fav of ours and has done the show a bunch. He was on Mr Show, he's famous for his podcasts (Comedy Bang! Bang!,The Pod F. Tomcast, Superego), and most recently is on Bojack Horseman as "Mr. Peanutbutter". There isn't a nicer, more talented man.
7. Do you have any strange or secret routines that help you get into the "creative zone"?
We absolutely do.
8. Is there anything else you would like to share with us?
When we're in the "fun zone", we can be found playing handball in various school yards in EastVan and repeatedly asking the younger kids to pass us our ball back.
The Sunday Service will be presenting at the next PechaKucha Night Vol. 39 on Thursday, May 12th. Join us and see what they have planned for us.