Toby is a partner and designer at Propellor; a multi-disciplinary art and design studio based in Strathcona. Propellor's work spans a broad range of disciplines from lighting and furniture design to exhibition design and sculpture. Toby Barratt, Pamela Goddard and Nik Rust became creative allies while studying sculpture at Emily Carr University and formed Propellor in 2000 with the intent of combining their skills as artists and designers. Propellor thrives on creative challenges that allow us to blur the boundaries between art and design and combine our love of sculpture with our skills as designers and makers. There are common threads that run through all of our work; an interest in the forms and systems of the natural world, a passion for uncovering an idiosyncratic beauty in the objects we design and a desire to make work that will last well into the future.
Propellor's lighting work and sculpture hangs in public spaces, hotels, restaurants, boutiques and private residences around the world. Our design, as well as our sculptural work, is regularly shown in museums in Canada and abroad.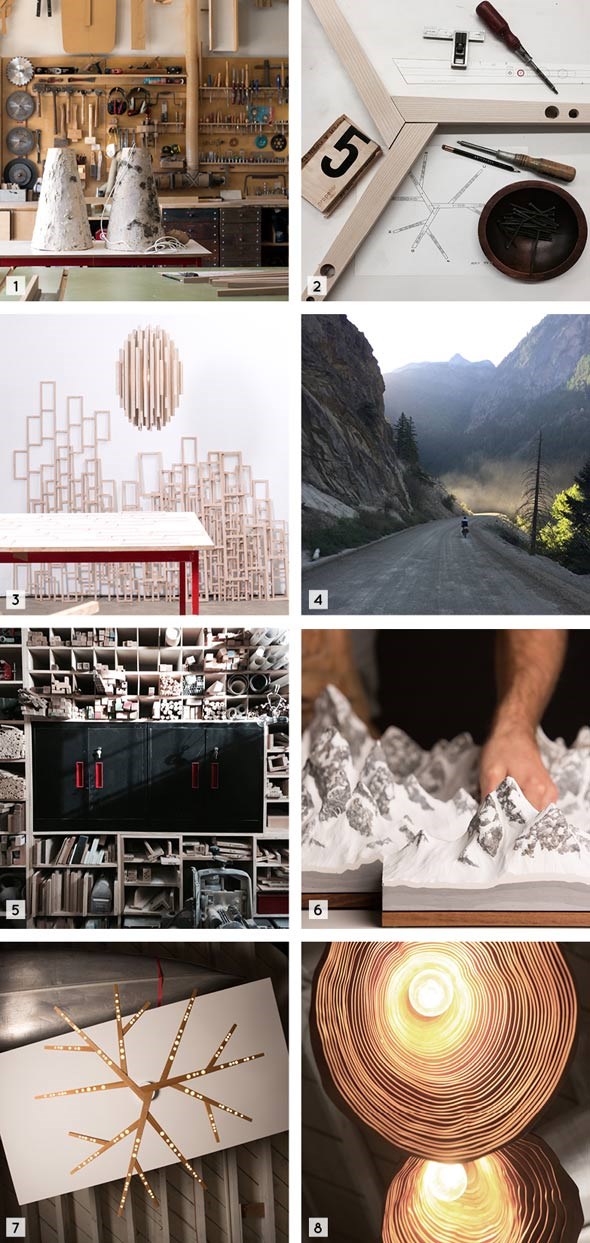 THE PROOF
1. Building birch-bark lights in the wood-shop. Photo by Jennilee Marigomen
2. Plans and parts for our Myco light.
3. Lighting and sculpture pieces in the studio. Photo by Jennilee Marigomen
4. Bike tour last summer deep in the mountains beyond Pemberton.
5. Keeping things sorted in the wood-shop.
6. A selection of newly minted Range sculptures. Photo by Bright Photography
7. Our Myco 72 light hanging in the studio. Photo by Bright Photography
8. Two version our latest - the Years light. Photo by Bright Photography
THE QUESTIONS
1. What neighborhood do you live in and why?
I live in a 100 year old storefront space situated between Gastown and Chinatown. I like the diversity of my neighbourhood, I like the old buildings and general patina of use that this part of town wears, and of course, there is plenty of great food and drink in the hood.
2. What do you do and where?
I'm a partner in a multi-disciplinary art and design studio called Propellor based in Strathcona. Our work ranges from lighting and furniture design to exhibition design and sculpture.
3. How did you come to be lighting designer? What drew you into light fixtures?
There is something essential about lighting that has aways attracted me - it brings life and warmth to a space. Lighting design is a great outlet for our skills as sculptors. It's a realm of design where our clients are happy to let us experiment with form and scale in the pieces we make. One day we are designing a small light to hang in a clients home and the next we are designing a light sculpture to animate a large public space.
4. Could you describe your process?
I am fortunate to work with my best friends. Every piece of work that comes out of our studio is the product of us all designing and making together. We all like to spend time in the mountains. Weekend expeditions exploring forests, lakes, rivers and alpine trails yield inspiration, and more often that not, our designs are born from our observation of the natural world. There is so much to learn from nature as a designer; the way that light filters through the forest, the way time is recorded in the growth ring of trees, the ways in which lichen carpet stone. We absorb these lessons and call on them when we design.
5. What is your most cherished tool?
I have a wooden block plane that I liberated from my Dad's tool box when I left home, a set of wood chisels that belonged to my partner Pamela's grandpa and an old set of callipers that belonged to a close friend's Dad. These tools come with stories.  
6. Which of your designs are you most excited about right now and why?
In mid-May we are travelling to NYC in partnership with IDS Vancouver to launch three new products during design week. One of the pieces that has us really excited is a new lighting design that we are calling Years. Our starting point for this design is the growth rings of a forty year old tree which we have traced, turned into layers, stacked and extended into space. Each ring of the tree becomes a layer, and the layers become topography. Part of the beauty of this design is that it can be repeated over and over using different source trees, each tree telling a different visual story and taking on it's own unique form. We will be showing two of these lights from two different trees at WantedDesign in Manhattan.  
7. If you weren't a lighting designer, what would you want to be?
I'm nowhere near being done with the path that I'm on but I imagine that, were life long enough to have many careers, I would eventually begin to design buildings and try my hand at being a cook.
8. Is there anything else you would like to share with us?
We are in the early stages of designing an exhibition for The Museum of Vancouver. The show will feature their extensive collection of Haida artifacts. We love collaborating with the people at the MOV and the chance to work with curators from the Haida community and spend time with these artifacts is going to be a highlight of the coming summer. The show, called Haida Now, will open at the MOV later this year.
Propellor will be exhibiting their lighting fixtures alongside over thirty other designer makers at Kate Duncan's Address Assembly.  Hosted this year at the Ellis Building, 1024 Main St, May 25th - 28th.