Yashar Nijati was born in Tehran, Iran to political activist parents fighting against Iran's repressive government. While his mother was pregnant, his parents were taken in as political prisoners, moments before boarding a plane to flee the country. Yashar spend the first two years of his life with his mother inside Iran's infamous Evin prison. His mother was released a year later and his father was executed along with thousands of other political prisoners.
They arrived to Canada in 1992 as refugees, a six year old and a single mother without money who did not speak English or have any job-ready skills. Against the odds and obstacles of his early life, everything worked out because of his mother's strength and ability to do whatever it takes. Needless to say, Yashar's eternal optimism, work ethic, and entrepreneurial spirit comes from his mother.
Yashar is the founder of thisopenspace, a Vancouver-based tech startup that's quickly becoming the world's most trusted place for people to discover and book unique and undiscovered spaces for short-term retail, events, production, and meetings. The company started as a pop-up retail space in Vancouver's Chinatown that has hosted 300+ pop-up shops since 2012. thisopenspace evolved into a tech startup this past April and has since expanded to Vancouver, Toronto, and New York.
When he is not at his desk, Yashar can be found in the kitchen cooking for friends, tending to an ever growing collection of houseplants as an amateur botanist, and embracing his Persian heritage with tea and game of backgammon.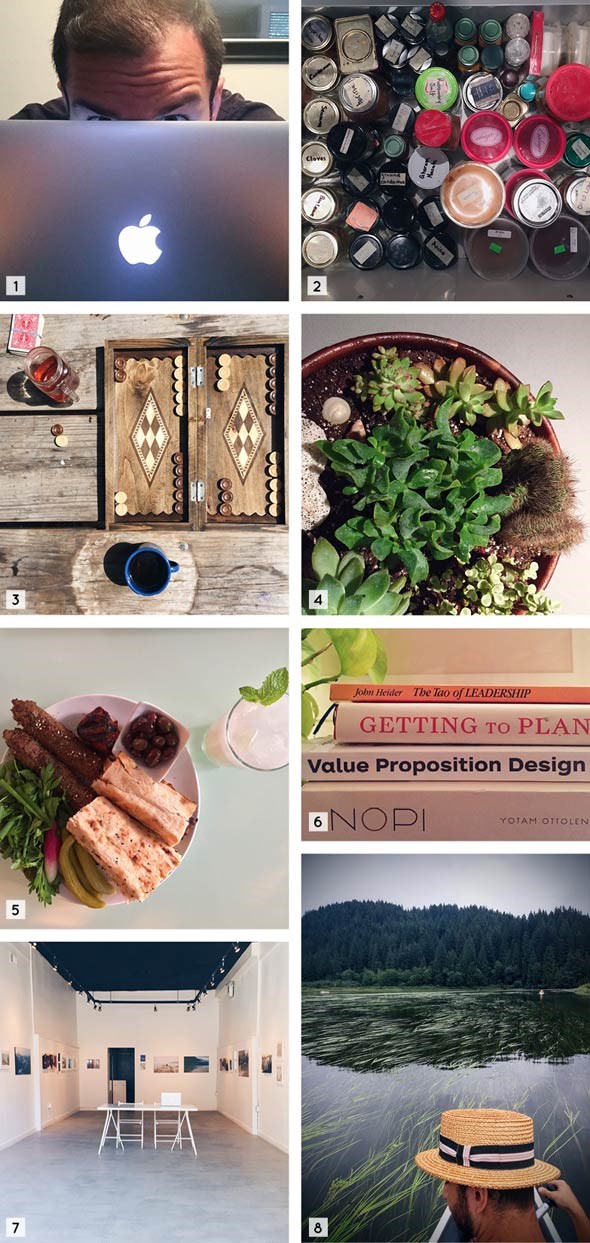 THE PROOF
1. This is how I spend most of days... and nights.
2. This is my spice drawer - my pride and joy. My favourite spices are cardamom, sumac, and saffron. A great little place for fresh spices is Jasmine on Main & 27.
3. I like to start or end the day with a game of backgammon. This shot is from a camping trip this summer on the Oregon coast.
4. The newest addition to my house plant collection with a few found coral and shells from a recent weekend trip to Ucluelet. I got this as an early Christmas present and pretty stoked on it.
5. Kabob koobideh (ground beef cooked cooked over charcoal on a wide flat skewer) with dough (fizzy yoghurt drink) is by far my favourite meal. It's also really enjoy making it and got to practice this summer.
6. Four books I'm reading right now. The top two are must haves for any entrepreneur. Value Proposition Design is an excellent tool for creating products people want. And I've really enjoyed cooking from Nopi these last few weeks.
7. thisopenspace began here inside a 600sqft store in Chinatown. The space is now called The Playground and it's still a part of our business. I love it because of the diversity of people and brands that have been through here, 300 and counting since 2012.
8. I went on my first ever canoe camping trip this summer with a group of friends. I am happiest when camping.
THE QUESTIONS
1. What neighborhood do you live in?
I've called Fairview home for the last five years. I love the walkability and that every other neighbourhood in less than ten minutes away.
2. What do you do and where?
I am the founder of thisopenspace, a Vancouver-based startup. I work from anywhere my laptop is and our team works from wherever they are happiest, right now this is Brooklyn, Toronto, Gastown, and Burnaby.
3. What is thisopenspace?
thisopenspace is an online marketplace for people to discover and book unique spaces for retail pop-up shops, events, photo shoots, and workshops. It's Airbnb for commercial space.
4. Why did you start thisopenspace?
I started thisopenspace solve a problem that I had. Three years ago, I needed space to open a pop-up café and I produced events around the city. Finding space was always a challenge. Luckily, other people had this problem too.
5. What are you working on right now?
There's always lots on the go. This week, we're finishing new product updates for January - making it even easier for people to discover and connect with unique spaces in minutes and book space on demand. We're planning for the year ahead and being remote means that we have our company holiday party over Skype this Friday.
6. How does the concept of community play into your business?
We get to help all types of business' grow their communities by sharing space. Of course, we would not have build thisopenspace if it was not for the community that supported the idea in its infancy.
7. What is your favourite space in the city?
I love Little Mountain Shop, it's gorgeous retail space in an underrated neighbourhood. My favourite event space is 397 Alexander, it's an old World War II armoury tucked away in Railtown, you'll never know it's there - it's a bit of a secret. Of course, I have to mention The Playground. It's where thisopenspace and many other local businesses got started. The Tight Club, Pazzo Chow, Hey Jude, and MakerLabs all had a pop-up in this tiny Chinatown spot before opening their own shops. I'm really proud of what we've build there.
8. Is there anything else you would like to share with us?
I started a personal passion project four months ago called #52plants. I get a new house plant every week for one year. If anyone has any inside tips on where to find rare exotic plants, hit me up on Instagram @yashar.nijati.