Zach Berman co-owner of the Juice Truck found his way into the juice world after a year long backpacking trip through Nepal, India and Sri Lanka with his business partner and best friend Ryan Slater. After graduating from Emily Carr with a painting degree, he took off with Slater to Nepal. Snowed in, in a small mountain town in the Annapurna region the two discovered seabuckthorn berry. At the high altitude, this super berry provided the locals with most of their needed daily nutrients. From that moment, Zach and Ryan spent the year seeking out different juices and super foods in each town that they passed through. Fast forward to 2011 and Zach and Ryan launched the Juice Truck.
When Zach's not juicing, he's hooked on hiking, badminton, tv shoes, and doing his best at indoor rock climbing.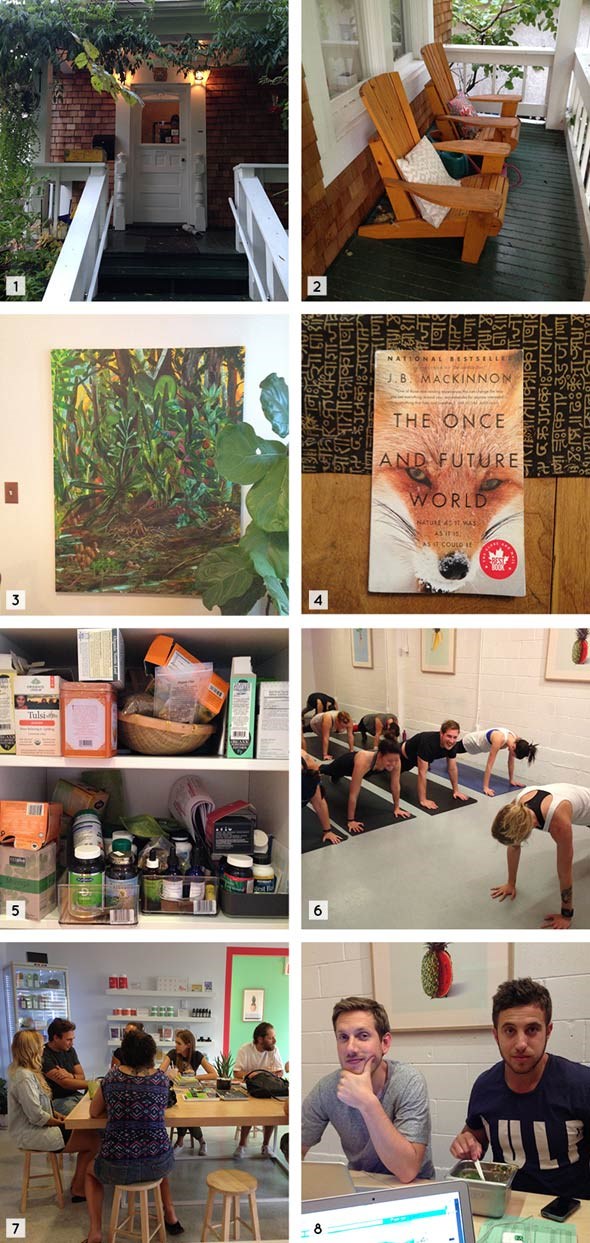 THE PROOF
1. Home is the sanctuary. Lots of plants, books. It's a calm haven for recharging and relaxing.
2. Front patio. It's a jungle in the front yard. A great place to sit and watch the squirrels, birds and sometimes coyotes.
3. One of my favorite paintings from local artist Jessica Jang.
4. What I'm currently reading. Incredible book that I would recommend to everyone.
5. A glimpse into my tea / superfood / supplement cupboard.
6. Weekly ritual - workouts with Tight Club and the Distrikt.
7. View from the juice bar. We're very lucky to have such an amazing community.
8. Lunch with my business partner Ryan Slater.
THE QUESTIONS
What neighborhood do you live in?
I live in the Cedar Cottage - Kensington Neighbourhood.
What do you do and where?
I make Juice at the Juice Truck at our storefront at 28 W 5th Ave and our Food Truck at Water & Abbott.
What are you working on?
We're working on our winter menu - new soups, teas, seasonal smoothies. We have some fun collabs in the works as well.
Where can we taste / purchase your product?
At our storefront or truck. Our juice is also available at Meinhardt, Harvest, Le Marche St George, Caedance, Ride Cycle, Eastwood Cycle Sanctuary, Strike Movement and at the Arbutus Country Club.
What motivated you to open a cold-pressed juice company?
My business partner, Ryan Slater and I, spent a year travelling through India, Nepal and Sri Lanka. While we travelled, juicing became part of our daily ritual. We started to seek out different juices and super foods in every city that we passed through. Just how people gather at coffee shops here, locals gathered around juice stands and we wanted to create a community inspired, street accessible juice business. We've evolved from the truck now, but community remains one of our main driving forces.
Do you have a favourite drink? What would that be? Why?
I love the Green with a few add ons. The green has Kale, cucumber, spinach, lemon, parsley and celery in it. I like to add turmeric and ginger to spice it up.
If you had a chance to start your career all over again, how would you do it differently?
If we were to start all over, we would have tried to take advantage of the mobile nature of our Juice Truck and served more 'mobile mornings.' I'd probably design the ergonomics of the truck a bit differently as well.
What advice do you wish someone would have given you when you were young?
As much as Post secondary education is a lot of fun. To be honest, if I travelled more and worked more, I would have learned just as much, if not more and had the time to be further ahead in my own personal practice. Five years of university was a great experience…but necessary to advancing my career…probably not.