The Vancouver Public Library released a book that they're now giving away for FREE to families with small children! Released on Family Literacy Day, it's now available at all VPL branches.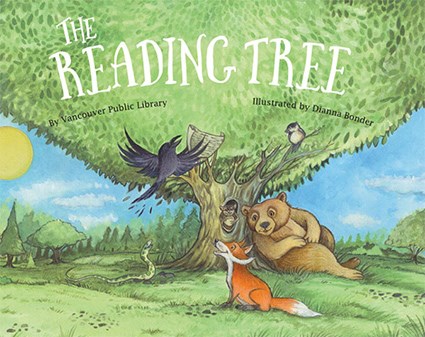 'The Reading Tree' was illustrated by the award-winning Dianna Bonder and it's like many of the books I remember reading to my son when he was too young to read on his own. He's 8 now and reads on his own, and when he was younger my wife and I would read to him every day, like our parents had done with us. We love books, and it wasn't even discussed - we just did it. But when he went into school and we came out of the bubble that was our immediate circle of friends and their kids a crushing truth was revealed: there were children in his kindergarten class who had never had somebody read to them. Ever. It shocked me to learn that kids living in Canada wouldn't have a story read to them until they turned 5, but reading isn't built in to every family and everybody's situation is different.
This new children's book from the library not only tells the kids a nice story and gets the engaged but it also has a guide in the back with ways to encourage early literacy. It also touts the free service that is the public library system, and how it can help all of us . It's an important title this one, and it was partially funded by the Ministry of Education. I'll leave you with this quote from Dr. Patricia Daly, the chief medical health officer and VP of public health of Vancouver Coastal Health:
"In the first few years of life, 700 new neural connections are made every second. It is at this time that the young brain is capturing experiences and is especially responsive to external input. That's why projects like the early literacy book are so important – they are an engaging way of building the crucial role that parents and caregivers play in stimulating optimal patterns of brain development.
"As the book so beautifully shows, early literacy goes beyond reading, and includes promoting curiosity in the world and imaginative play and encouraging questions and the exploration of new ideas. This strengthens parent-child relationships at a critical time in child development that, in turn, builds language, literacy and social-emotional skills that last a lifetime."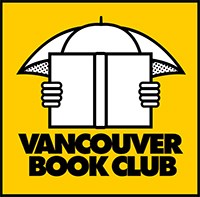 Since 2010 V.I.A.'s Vancouver Book Club has been connecting the city with books and authors through a range of online features and offline events. This post is part of our blog series where we're recommending a book we think you should read, every single week. Mostly non-fiction, these titles will give you a greater understanding of the past, present and future of the city, province and country you call home.
Other recent book reviews:
- 'We Oughta Know' by Andrea Warner
- 'The Killer Whale Who Changed the World' by Mark-Leiren-Young
- 'Secret Life: The Jian Ghomeshi Investigation' by Kevin Donovan
- 'The Last Gang in Town' by Aaron Chapman
- 'The Woods: A Year on Protection Island' by Amber McMillan