If you were at our first ever Vancouver Book Club meeting that we held this past weekend then you had a great time with author Charles Demers who joined Lizzy Karp who headed up an imtimate discussion about our first recommended book, his Vancouver Special. You were also one of the first to hear that our second recommended read is Grant Lawrence's Adventures In Solitude!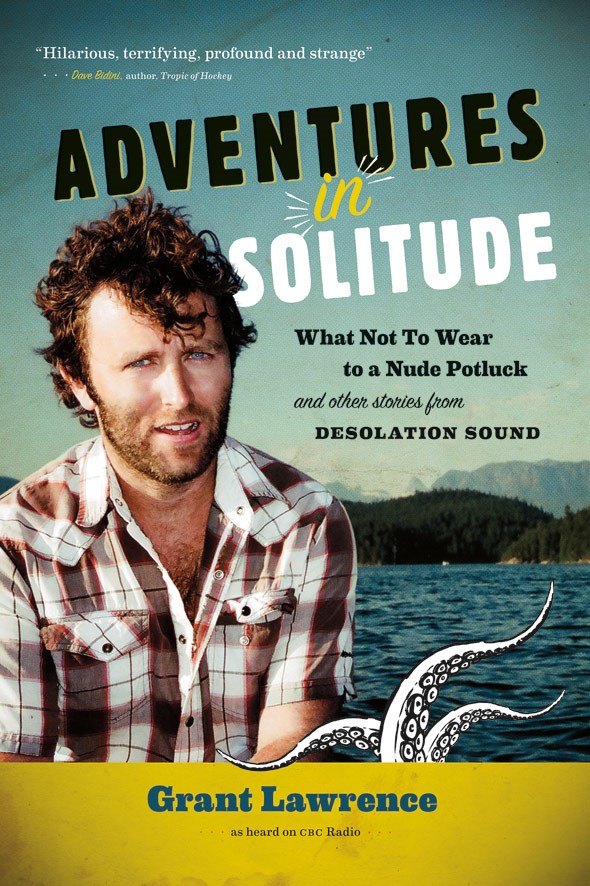 Search Grant Lawrence's name on V.I.A. and you'll come across pages upon pages of features concerning everything from CBC to music to ice skating to the Olympics to podcasts to talk shows all the way to the Canadian invention of Crokinole! Our relationship with this former punk rock frontman turned CBC Radio personality goes back almost two years when he was the subject of one of our very first Most Awesome interviews, so to say that he probably needs no introduction to our readers would be an understatement. One of the surprises that I found in his just-released first book, Adventures In Solitude, is that going into it doesn't require any knowledge of the author. It stands alone as a title not about music or radio but about the coastal British Columbia experience born of this land and climate and the people getting along within it.
Sure, it's named after a New Pornographers song. And yes, some of Grant's bandmates and friends that he's met through music over the years are characters in the book. There are quick mentions of his touring band and of his work at CBC to frame certain tales but the central character is, indeed, the rugged West coast of our province. Specifically, Desolation Sound, the somewhat under-appreciated underdog of BC's coastal destinations which is only accessible by water or air.
It begins with stories of Grant's childhood as a nerdy and awkward kid taking trips with his family to the Sound, when his father bought a chunk of land to split up and inadvertently set the stage for many of the characters we are introduced to who built cabins there, just like the Lawrence family did. It transitions to his early adulthood there with his beer-swilling buddies, then his finding enlightenment and spending time there entirely on his own. Throughout it's supported by an eclectic cast of salty characters he's encountered or had adventures with, on and off the water. He also delivers BC history lessons as it's seasoned with narratives of Captain Vancouver's stay while mapping the coast and some expertly researched and entertaining stories about early pioneers in the region.
Grant turns this beyond-the-end-of-the-road destination (it's entry point, the town of Lund, sits quite literally at the very end of the world's longest roadway, Highway 101) seem like the very beginning of the road, offering a raw yet incredibly romantic view of coastal life there. If there were a tourism board for Lund or the whole of Desolation Sound I imagine that a parade would soon be planned in his honour, that they would name the government pier Lawrence and that he would forever have a complimentary room to stay in at the historical Lund Hotel coupled with a never ending tab in the pub. Unfortunately (or fortunately, depending on how you look at it) there is no tourism board and it would be more realistic to suggest that the locals will likely rally together and organize a nude potluck in celebration.
If you were to take some of my personal favourite books like Mark Vonnegut's The Eden Express, Charlie White's Living Off The Sea, Farley Mowat's The Boat Who Wouldn't Float and one of those random yet totally awesome collections of short stories about BC history discovered on the rack at a fruitstand on a road trip to Moberly Lake (BC Provincial Police Stories, maybe), grind them all up, throw in a couple extra dashes of Canadiana and humour then you'd end up with a healthy glass of Adventures In Solitude, a future Canadian classic.
ISBN 13: 978-1-55017-514-1
ISBN 10: 1-55017-514-9
Paperback
6 x 9 - 288 pp - September 2010