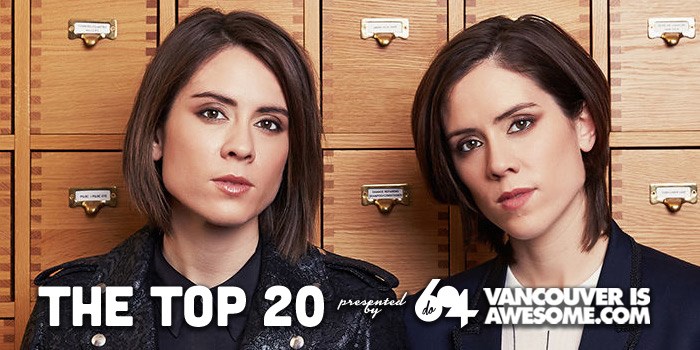 Tegan & Sara's secret show is finally coming up. It's going to be super fun, super private and unquestionably intimate. Have YOU entered to win tickets yet?
Here are the 20 artists you must NOT miss this week in Vancouver as picked by our city's #knowfun Selectors at Do604
https://open.spotify.com/user/do604/playlist/3JZh1e5yI2WQI5zTZPLZ9s
Subscribe to the playlist, or return back every Monday to hear who's the best of the best playing Vancouver.
Rock the night away to soaring melodies and incendiary guitar lines.
It can be our little secret when you win tickets!
Forget about all your problems and party the night away with Clipping.
Bask in indie-rock glory and get your groove on!
Music in between rich 5-part harmonies and bluegrass on steroids.
See the "Saviour of Saskatchewan guitar rock" live at WISE Hall!
Age is irrelevant when it comes to Maya Rae's spectacular voice. This 14 year old will leave you speechless with her versatile and sophisticated vocals.
Get a dose of soulful indie pop thats smooth, lyrically rich and dreamy as these two!
Meet one of the world's hottest young producers that's in the game live at Alexander.
This Vancouver gem has built his own empire within the future bass realm.
Don't miss out on Derek Wise's first ever Vancouver Debut at Republic!
Pop music that's bursting with thug swagger and emo glamour.
If you like your music loud, fast, and wild then this is the show for you.
Music that's about hometowns and heartbreaks, they will make you miss Alberta even if you're not from there.
This crazy duo will send you into the future with their wild bass and insane remixes.
Gracing us with his sexy and funky jams, get ready to throw it down.
There is nothing stopping this Norwegian prodigy from amazing you with his chunky and groovy energy.
Unwind and get cozy with Desiree Dawson at Guilt & Co.
Make your Sunday LOUD with Deap Vally among this wicked lineup.
End the weekend with a little hardcore punk to get in the mood for/deny the existence of Monday.