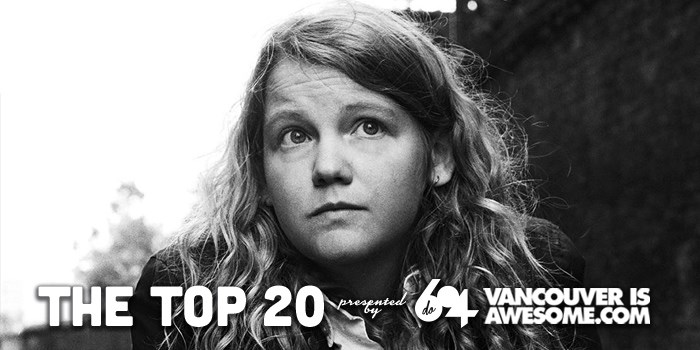 Haunting synth lines with pounding bass is going to filling up Fortune when Kate Tempest takes the stage this week. Her performance will trip you out with pulsating electronic currents.
Here are the 20 artists you must NOT miss this week in Vancouver, as picked by our city's #knowfun Selectors at Do604.
https://open.spotify.com/user/do604/playlist/3JZh1e5yI2WQI5zTZPLZ9s
Subscribe to the playlist, or return back every Monday to hear who's the best of the best playing Vancouver.
Monday March 27
Alex Cameron at The Cobalt
Highlighting the struggles of hope and failure to light through electro-pop.

20SIX Hundred at The Projection Room
Leave everything you know behind and let 20SIXHundred's synth wave guide you over to the dark side.

Chris Stapleton at Rogers
Stealing your breath away with swirling bluesy rock, RnB, and country tunes.

Tuesday March 28
Alina Baraz at Imperial
Challenge your mindset and set yourself free from all your boundaries with Alina Baraz. 

Wednesday March 29
Kate Tempest at Fortune
Let Them Eat Dust.

Midnight at The Decibel Magazine Tour at The Rickshaw
Descend into the abyss of metal mayhem and thrash it out. 

Thursday March 30 
Inhabitants at WISE Hall
Our very own jazz fusion band is back and ready to groove with their renewed buzz.

Shaun Verreault at The Roxy
Let your imagination run wild and feel the bluesy-rock fusion run through your veins this Thursday. 

QUIX at Fortune
Vibe to thunderous bass, gritty synths, epic bangers and find your WAY HOME!

Emily Chambers at Guilt & Co.
Old school Motown with poppin' Southern grit to get you in the mood for the week to be over.

Friday March 31
Drug Church at 333
Get ready to be demolished by their aggressive punk. 

Ora Cogan at The Fox
Discover a mystic reality full of promise when Ora Cogan steps on stage with her haunting vocals (with Chance Lovett and The Broken Hearted).

Kap Slap at MIA
Mashups are tricky, but Kap Slap's mashes are so awesome they'll leave you speechless. 

Biffy Clyro at The Vogue
It's never a boring moment with Biffy Clyro's heavy textures, bumpin' bass and a hint of country twang. 

Timmy Trumpet at Celebrities
Start bouncing when Timmy Trumpet hits Celebs with his jazzy electro jams.

The Tea Party at The Commodore (Fri & Sat) 
Canadian rock legends return for a double header.
Saturday April 1
DOA at The Rickshaw
Welcome the Punk Kings DOA! Feel their electrifying punk rock take over The Rickshaw.

The Prototypes at The Red Room
We hope Red Room is ready for The Prototypes' dancefloor smashing bass and euphoric atmosphere. 

Colony House at The Biltmore
A vibrant force of tight harmonies and hypnotizing melodies to sweep you off your feet. 

Bill & Joel Plaskett at The Vogue
Taking two different eras of music and weaving together flawlessly glowing new folk melodies.