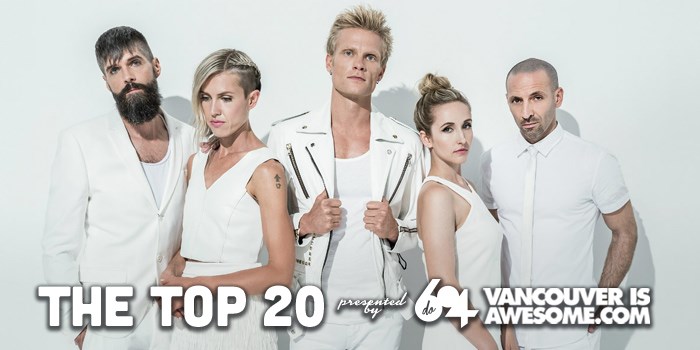 Love them or hate them, Mother Mother will be kicking off their 5 show run this week. Fall in love with their tri-harmony vocals and explosive instrumentation at The Commodore. Here are the 20 artists you must NOT miss this week in Vancouver, as picked by our city's #knowfun Selectors at Do604.
https://open.spotify.com/user/do604/playlist/3JZh1e5yI2WQI5zTZPLZ9s
Subscribe to the playlist, or return back every Monday to hear who's the best of the best playing Vancouver.
Mon March 20
Black Atlass at The Biltmore
Blending dreamy vocals, elegant piano melodies, and gritty pop so flawlessly, Black Atlass will leave you speechless.

Japandroids at The Commodore
Gliding guitar and echoing vocals will be filling The Commodore when this duo hits the stage with their newest material.

Koban at The Projection Room
Making waves with their dark post punk. It'll be deliciously grimy all night.

Tues March 21
Truckfighters at The Rickshaw
Blasting your ears with groovy, progressive rock.

Wed March 22
Isaiah Rashad at Fortune
Fight your demons with Isaiah Rashad when you see his anxieties bleed out in his raps.
Camo & Krooked at Red Room
Meet one of the hottest production duos in Europe. Get lost in their polished vocals and heavy electronic sounds.  

So Loki at 333
Shedding light on Vancouver's up and coming hiphop scene with their electro melodies and tight beats.

Thurs March 23
Three For Silver at The WISE Hall
Roaring bass with dreamy melodies. It'll remind you of home, yet wondering where home really is.

Princess Nokia at The Biltmore
Watch Princess Nokia set musical boundaries on fire with her innovative approach to underground mainstream.
Elvis Depressedly at The Biltmore Ballroom
A lo-fi indie rock band that's radiating with positivity and quirky jams.

The Enemy Feathers at Lanalou's
Fly away from your nest and get lost with The Enemy Feathers at Lanalou's!

Fri March 24
Ariana Grande at Rogers Arena
Why would you want to miss out on this pop princess?

Low Levels at The Cobalt
Feel fresh and recharged when Low Levels bring their brash rock n' roll to the stage.

Daniel Tortoledo at Cafe Deux Soleils
Get a glimpse of Tortoledo's kaleidoscopic sea of elements through his wild vocals.

Sat March 25
Mother Mother at The Commodore (Sat & Sun)
Playful energetic hooks paired with powerhouse harmonies.

Why? at Venue
Merging folk and indie rock to create stunning fluid psych pop folk vibes throughout the night.

Shred Kelly at The Fox
Jam out with this rapidly rising folk pop quintet to their foot-stomping anthems.

Posh Lost at Big Smoke's Two Year Anniversary Party at The Gam
This dream pop duo will make you feel heartbroken one moment and radiate with happiness the next.

James Zabiela at MIA
Once James Zabiela gets on stage, all barriers between the music and you will disappear and you will become one with the hypnotizing melodies.

Sun March 26
Anda Union at The Chan Centre
Rich and powerful Mongolian music that's on a mission to preserve old traditions and cultures.