Last night I was pleased to attend a fabulous evening at the Vancouver Public Library, for an event called TOUCH hosted by the VPL Foundation. Funds raised during this new annual fundraising event will support the creation of the VPL Inspiration Lab. The Inspiration Lab is a bold, energetic space in the Central Library with freely available technology, a digital recording studio and sound mixing equipment, video editing software and workstations and self-publishing support. The intention of the space is the engage creativity and participation from Vancouver residents. It sounds pretty exciting.
The evening was incredibly inspirational, featuring six art and tech installations, curated by Malcolm Levy:
Titanoboa: Immediately when I arrived, I was greeted by this 50ft mechanical serpent. The Titanoboa is an independent project supported by eatART to reincarnate the ancient serpent rendered extinct by past climate change. It was pretty magnificent! Check out the link above for more details.
Babble-On: (pictured below) When I first arrived I was asked to walk through Babble-On, a book art sculpture that, as you walked through projected multiple language tracts; This installation was created by Paula Shackleton & Ian Rhodes.
Touch of Light: Created by Shahrzad Ash, this installation had visitors walk in to a completely black room, and explore a space on the quest to find light. I really enjoyed fumbling my way through the dark space, exploring it with my hands until I figured out what was going on. As I finally approached a screen and began to touch it, light revealed a story about the exhibit. While touching the screen you were able to feel the translated text in braille.
PaperDude VR:  A virtual reality experience tapping into the nostalgia of the golden age of paper routes. Learn more at www.bit.ly/vplpaperdude 
Robotic Writer: (pictured below)This installation featured a sketching device that creates 2D drawings of a topic or a theme. The creator, Dan Royer explained to me how the robotic device was developed as an educational toy. Learn more at www.marginallyclever.com/blog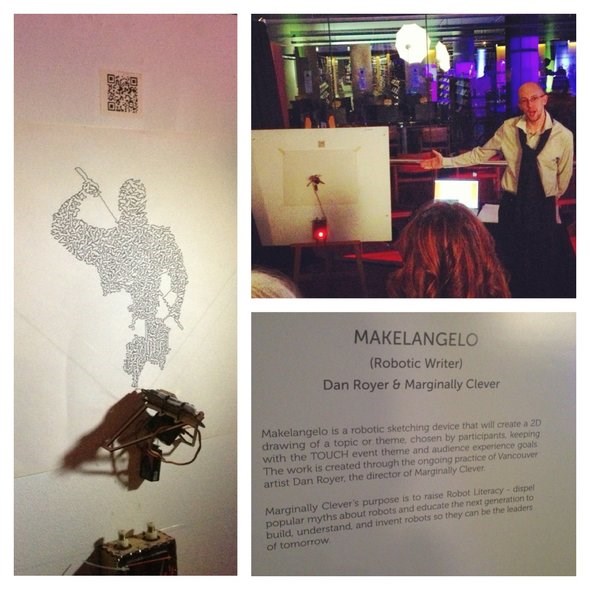 Authors Lounge:  The Author's lounge was an interactive environment, featuring Vancouver authors Steve Burgess (pictured below) and Jen Sookfong Lee, collaborating with the general public's help via social media (see some of the tweets by following @Touch_Event). These two talented authors were creating a story, on the fly about a terrible Lululemon project gone horribly wrong causing havoc in the city of Vancouver. Vikram Vij got involved and it was getting pretty hilarious by the time I left. This was my favourite part of the evening and I sat there attentively listening and watching for over an hour, while to authors spoke with visitors about what they were creating right in front of our eyes. I contributed a few ideas to the story via twitter, we will see if they made it in!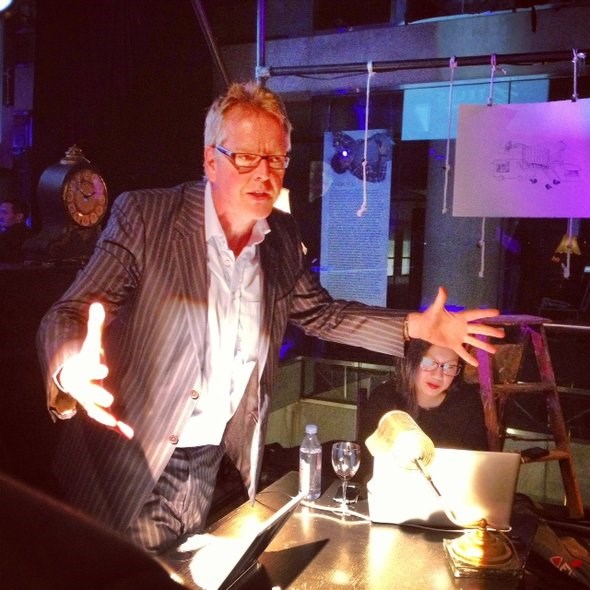 It was interesting to hear about the role of the library within our community and how it's changing. TOUCH showcased how traditional brick and mortar libraries have evolved into today's intriguing modern hybrids of digitized information. Not to mention, the signature cocktails and delicious canapes by NUBA were a nice "touch" (sorry!)
For more information about the event, the organizers and sponsors, or to make a donation, please visit: www.vplfoundation.ca/touch
To find out more about the Inspiration Lab and other great upcoming events at the Library, please visit: www.vpl.ca