A new kitty once a week! Click here to find out how your cat can appear on Van City Kitty.
Every month we feature a few kitties who are looking for their forever home. Today we have three adoptable felines from VOKRA!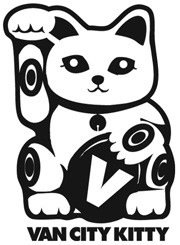 Vancouver Orphan Kitten Rescue Association (VOKRA) is a no-kill, non-profit, registered charity dedicated to the rescue of cats in the Lower Mainland. They also coordinate rescue work with other groups in BC.
VOKRA does not have a shelter. Instead, they provide individual foster homes throughout the Lower Mainland. In this way VOKRA is able to protect the very young from colds, distemper, parasites and other transmissible illnesses.Placed in foster home environments, cats are safe and well socialized, with lots of love and attention.Learn more about VOKRA here
In 2012 VOKRA rescued over 1700 cats and kittens!
VOKRA still has adorable 2013 calendars available! Click here...
COLLETTE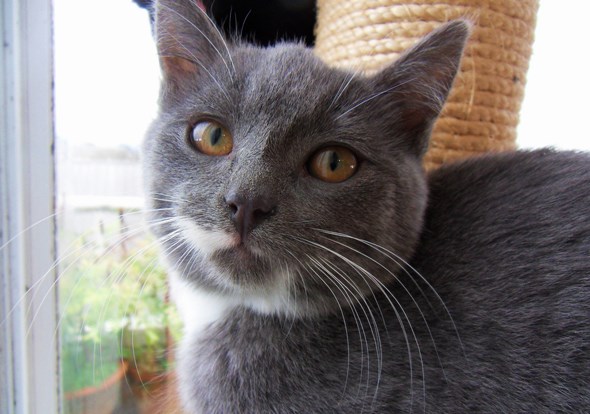 Collette is a sweet, well-adjusted kitten who loves people and other cats, and is always happy to be cuddled. She loves to play, and watching her eager little face and very expressive tail as she chases her toys or explores a new space is guaranteed to make you smile. Collette is litter trained, likes her scratch post, often comes when called by name, and is happy to be picked up and held. She's also very smart and learns house rules quickly. She is laid back and would likely adapt well to most situations, including living with another cat or cat-friendly dog.
ASH AND AURORA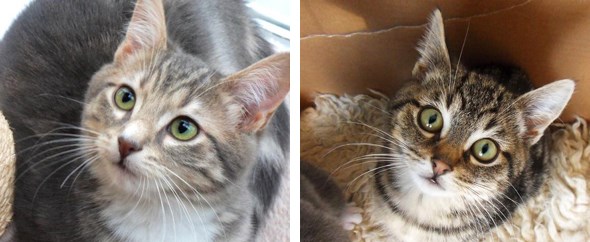 Ash and Aurora were rescued from the streets and arrived at their foster family's place as wild and feral. After a few weeks in the calm presence of their foster, they have really turned into a sweet and playful pair of house cats. Ash almost desperately enjoys being petted and doesn't mind being held tight. She really likes attention, however she is still wary of quick movements. Her sister, Aurora, is a bit more wary, purrs when petted and really enjoys play. They can make someone a very happy home because they will become more trusting and very attached to their owner over time. Often the most skittish cats become the most loving when their trust is earned. They belong in a peaceful and quiet home, preferably without dogs or children. Ash and Aurora need to be adopted together.
Recognize Aurora? She is also in the 2013 VOKRA calendar!
ADOPT THEM HERE (and see more photos of Aurora!)
ADOPT THEM HERE (and see more photos of Ash!)