Every week our friends at The Georgia Straight provide us with a preview of what you'll see on - and in – their paper that week. They are the source for lifestyle and entertainment in our city and along with their robust online presence they've always released a print edition, distributed everywhere each Thursday. This week, as it's Christmas, their publishing schedule is a little bit different and you might see copies of the paper as early as this evening.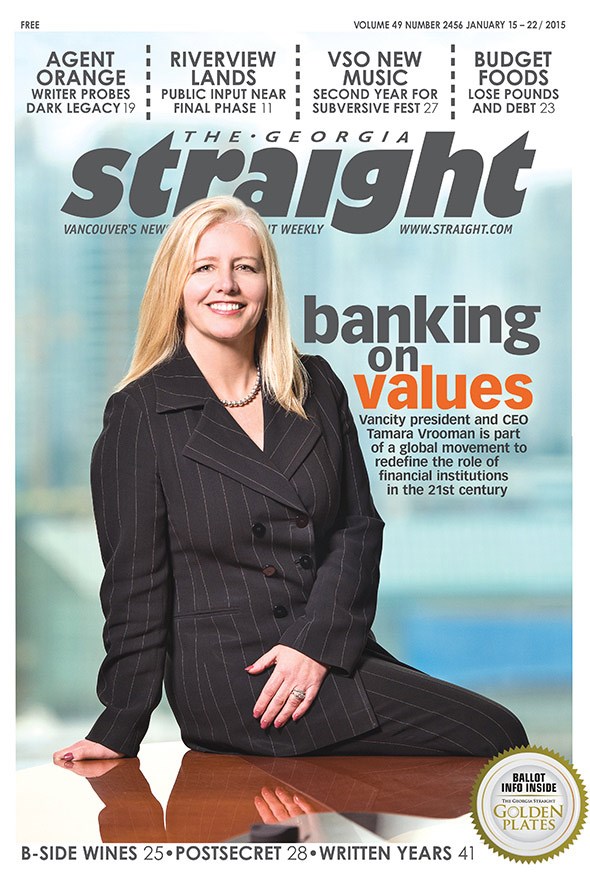 This issue is their 2,456th and on the cover this week is Banking on Values. Vancity president and CEO Tamara Vrooman is part of a global movement to redefine the role of financial institutions in the 21st century.
They've also got a package of articles on Personal Finance HERE.
Here are some links to stories highlighted on the cover:
- Vancity's values-based banking brings CEO Tamara Vrooman in contact with global icons by Charlie Smith
- Brandy Liên Worrall's What Doesn't Kill Us links cancer to war by Gail Johnson
- Competing ideas for Riverview balance mental-health care with community living by Travis Lupick
- Vancouver Symphony Orchestra's New Music Festival brings the sounds of surprise by Alexander Varty
- How to eat healthy on a budget by Gail Johnson
And their 2015 Golden Plates ballot is now live and ready for your votes. Have your say HERE!
Pick up a copy of the Straight when you see it!