Thank you Vancouver for pitching in so many great creatives! We're happy to report that we do have clear Winners in some Industry Categories, but still need more competition to take place in others for a final portfolio wrap.
THE RESULTS
Closed Categories & Winners:
- OTHER: Joseph Wu |  JOSEPH WU ORIGAMI INC
- CINEMA: James Bamford | STUNTS CANADA
- FASHION: Morgan Mallett | DESIGN & CONQUER
- HEALTHY LIVING/ YOGA: Lexi Soukoreff | DAUB + DESIGN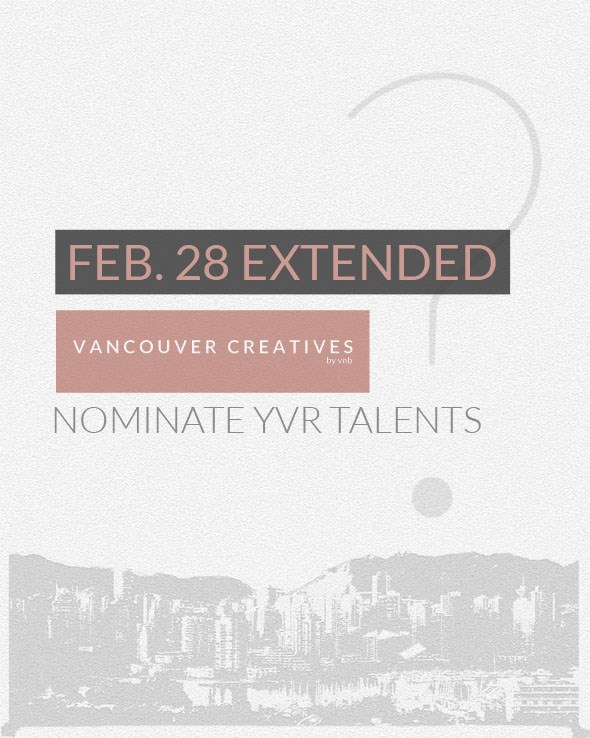 We understand that our public campaign took time for everyone to catch up and nominate so we have decided to keep a number of Portfolio Industry Categories open for the month of February.
FEBRUARY OPEN CALL FOR NOMINATIONS & VOTES (Feb. 28 deadline)
Open Categories for February Intake:
- FOOD (culinary talents/chefs, innovative restaurant concepts/food trucks, organic growing)
- TRANSPORTATION (bike technology or infrastructure, electric cars, greener combustibles)
- GAMING / NEW TECHNOLOGIES (Game Design, software designers)
- OUTDOORS (gear or any other product related to climbing, hiking, sailing, flying, skiing)
- MUSIC (composers, musicians, producers, managers, concert/festival organizers, venues)
- ENVIRONMENTAL CAUSES (nature preservation, ecology, endangered species advocates)
Nominate your Vancouver Creative here: http://vnbphoto.com/vancouver-creatives-nominate/
View and vote for the current nominees here: http://vnbphoto.com/category/vote/
View the current portfolio at http://vnbphoto.com/vancouver-creatives/
________________
Vancouver Creatives is a collaborative Calotype photography project by VNB Photo showcasing Vancouver's best creative talent today industry per industry. Find us at Vancouver is Awesome every Wednesday to discover a total of 20 portraits of the most contributive business founders and individuals to Vancouver's unique high-quality lifestyle and forward 21st C. identity. All photographs are purely analog, a VNB Photo trait, being taken on special coated paper using a massive 1920s 8×10 camera system.