Vancouver Is Awesome is a proud media partner of Vancouver Draw Down 2013. The Drawing is Awesome project here on the blog showcases prominent Vancouverites participating in the Online Daily Drawing Project...

Name & Occupation: Gabrielle Rose is an actress.
Daily Drawing Project: " Reduce Your Carbon Footprint " (From Day 7 Online Daily Drawing.) Cover a page with an even base of charcoal or pencil. Make a drawing by erasing white lines and shapes.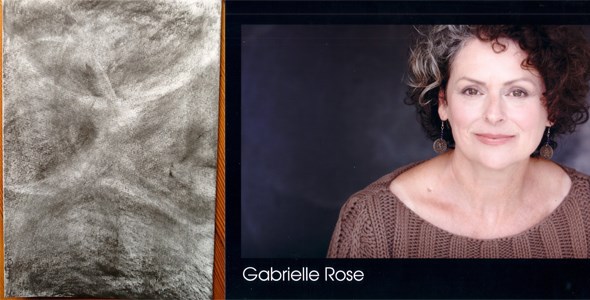 Gabrielle Rose - 
"The last thing I drew was almost a year ago, summer at the cottage  in Quebec, where, after a couple of weeks of unplugging, I find I often start to do a little art. I, generally, use pastels and always, it is of the countryside near the cottage . The lake or the flowers or the trees. This is my first time trying to work with charcoal. I am not  in any way artist but I do find it gives me great peace of mind and pleasure to play with making pictures. Working with charcoal was interesting and quite messy! My first two efforts were rather dismal affairs and on bemoaning my lack of talent to my husband, he said" Don't draw what you see, draw what you feel" . Here is the result."
Visit the Online Daily Drawing Project running June 5 – June 14 in the 10 days leading up to Vancouver Draw Down, an annual daylong celebration of drawing on June 15 that offers free drawing workshops at over 35 locations around Vancouver.
Click here to check out past daily drawings by other prominent Vancouverites!