If you've picked up the June issue of Vancouver Magazine then you've already checked out their "125 Reasons to Love Our City Right Now" feature. It's a comprehensive look beyond clichés, a truly intimate look at the best things about this city of ours, from a true insider perspective (including Ayden Fabien Férdeline, Blaine Kyllo, Frances Bula, Jim Sutherland, Neal Giannone and others). Have a look at the online companion to the issue HERE and be sure to pick up a copy.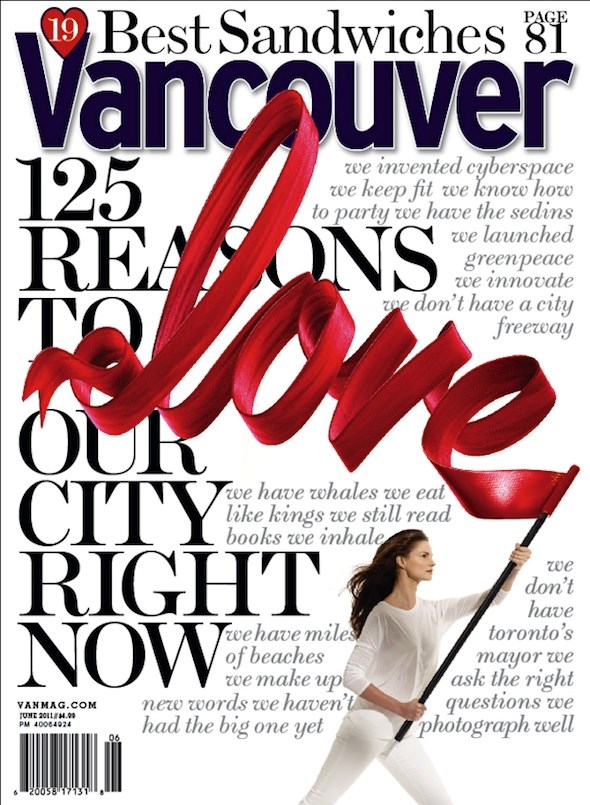 My personal favourite in their roundup is reason number 32, Because we value books. On this topic, they write:
Traditional book publishing's been gutted by the Internet, yet Douglas & McIntyre soldiers on, the last major Canadian independent house standing. Book tours have gone the way of the dodo, and authors are told to do their own marketing—start a blog, use Facebook and Twitter— yet the Vancouver International Writers Festival grows bigger and better each year. Independent bookstores close, yet the quirky MacLeod's remains a bibliophile's treasure chest. And some of the country's best writers—Steven Galloway, Ann Ireland, Lee Henderson, Zsuzsi Gartner, Madeleine Thien—got their start through UBC's creative writing program, where nary a word is said about search-engine optimization. Books are dead? Long live books.