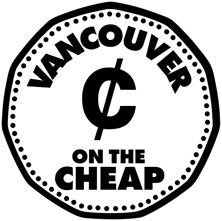 If you were to create a Venn diagram where one circle was labeled "cheap" and the other labeled "awesome", the middle point where they cross over could be labeled "Vancouver on the Cheap". In other words, this is a weekly series on things to do and places to go in Vancouver that fall into that magical category of being both cheap and awesome.
Every once and a while a theatre comes along with a wonderful thing: pay-what-you-can nights. These are just what they sound like - show up at the door, and give whatever dollar amount you can afford up front. Well, there's a new theatre company in town with a new twist on the old standard: pay-what-you-DECIDE theatre. That's right - you don't pay a dime until after you've seen the show and decide what you think it was worth! So the affordability of this night is entirely up to you - well, you and your evaluation of the play. This is risky business, and if something is going to motivate the producers to put on a fantastic show, asking the audience to pay after it's over is it! The play itself is called 3...2...1 and it's about a couple of friends who skip out on their buddy's funeral, opting instead to lock themselves in a garage while a host of mood-altering substances to force themselves to work through what's happened.
Book your tickets for free in advance on their Eventbrite page and then drop your cash in the bucket on the way out the door!
3...2...1 by Nathan Cuckow and Chris Craddock
Presented by SpeakEasy Theatre
Nov 3-8 at Studio 1398