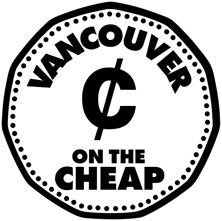 If you were to create a Venn diagram where one circle was labeled "cheap" and the other labeled "awesome", the middle point where they cross over could be labeled "Vancouver on the Cheap". In other words, this is a weekly series on things to do and places to go in Vancouver that fall into that magical category of being both cheap and awesome.
Got a cheap-living tip you'd like to share? Send it in here or tweet it to @andreaxuaxua (#cheapthing)!
Now this is the kind of flyer you love to come across. Free outdoor yoga in Dude Chilling Park, every day! Just think of all the relaxed energy emanating from that park, what better place to salute the sun and get yourself chilled out? Seven days a week at 10am and 6pm, check it out!