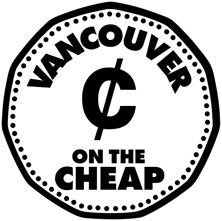 If you were to create a Venn diagram where one circle was labeled "cheap" and the other labeled "awesome", the middle point where they cross over could be labeled "Vancouver on the Cheap". In other words, this is a weekly series on things to do and places to go in Vancouver that fall into that magical category of being both cheap and awesome.
Got a cheap-living tip you'd like to share? Send it in here or tweet it to @andreaxuaxua (#cheapthing)!
If you're anything like me, your Monday nights are generally bereft of hauntings, spooky comedy, kitsch, and general mystery. Well, one out of four Mondays are about to get this terrible problem solved with Phantom Signal, a comedy horror night with the billing "Too terrifying to take seriously", telling "blood curdling tales based on actual speculation." A lovingly-parodied homage to the old time radio show created by some of Vancouver's finest comedic talent (Tara Travis, Andrew Bailey, and Jayson McDonald), Phantom Signal gives you two episodes of comedy horror performed live on the last Monday of every month. Entry is only $10 - perfect for a cheap start to the week! The first one is perfectly timed for a pre-Halloween treat on October 26th.
the last Monday of every month
The Fox Cabaret