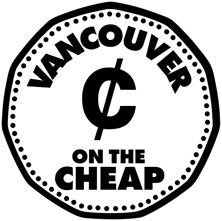 If you were to create a Venn diagram where one circle was labeled "cheap" and the other labeled "awesome", the middle point where they cross over could be labeled "Vancouver on the Cheap". In other words, this is a weekly series on things to do and places to go in Vancouver that fall into that magical category of being both cheap and awesome.
Got a cheap-living tip you'd like to share? Send it in here or tweet it to @andreaxuaxua (#cheapthing)!
Christmas, am I right? Man, is that an expensive time of year! In the pasty, I've given a round up of gifts that are cheap but don't feel cheap, but sometimes you've just got to buy someone a present, and it's got to cost more than $10. If you want your beloved gift-receiver to really feel the love, why not get them a piece of art? Prices for original art usually go (at least) into the triple digits, but Roam Gallery at City Square Mall has you covered. Their holiday art show (Nov 11-Jan 5) has all art priced reasonably at $60, $120, or $240. So why not convince your family to do a gift exchange and instead of buying six $20 gifts, get one $120 gift? (Or get a $60 painting and buy yourself some Christmas spirits).
Below is some of the work that will be available. Definitely worth checking out.