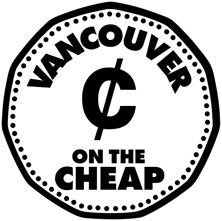 If you were to create a Venn diagram where one circle was labeled "cheap" and the other labeled "awesome", the middle point where they cross over could be labeled "Vancouver on the Cheap". In other words, this is a weekly series on things to do and places to go in Vancouver that fall into that magical category of being both cheap and awesome.
Got a cheap-living tip you'd like to share? Send it in here or tweet it to @andreaxuaxua (#cheapthing)!
The Active Fiction Project is back! A real world choose-your-own-adventure where pieces of stories are planted around the city. Currently there are two stories in play until November 1, and then the third instalment will step in sometime in November. The first ("Giveaway") one starts at Main & 20th, at the bike racks by Bean Around the World, and the second ("The Birds") is in front of Off the Tracks Cafe in Railspur Alley on Granville Island.
How do you do it? Just find the first chapter of the story and follow where it leads you. Each one will direct you to the next chapter, spaced a few minutes' walk apart, or an even shorter bike ride.