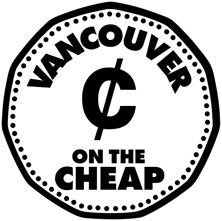 If you were to create a Venn diagram where one circle was labeled "cheap" and the other labeled "awesome", the middle point where they cross over could be labeled "Vancouver on the Cheap". In other words, this is a weekly series on things to do and places to go in Vancouver that fall into that magical category of being both cheap and awesome.Got a cheap-living tip you'd like to share? Send it in here or tweet it to @andreaxuaxua (#cheapthing)!
Continuing the daily deals series, we have a sampling of Tuesday specials! Tuesdays feature all sorts of fun food and drink options, all nicely subsidized for your pleasure.
Twisted Fork Bistro - $8 1lb. mussels + fries
Triple O's - $3.33 original burger
Trattoria - $11 signature pastas
Cavino - FREE flight tastings (sittings at 5:30pm and 6pm)
The Academic - $2 beer, $3 select shots, and Trivia Tuesdays!
The Bitter Tasting Room - $12 all-you-can-eat tacos
Heritage Grill - $0.39 wings (minimum ½ order)
Society - 50% off their entire food menu
Two Parrots - $3 tacos, $5.25 Coronas
Cineplex Theatres - $7.50 movie admission