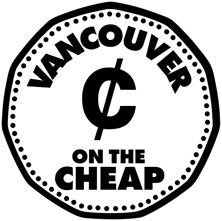 If you were to create a Venn diagram where one circle was labeled "cheap" and the other labeled "awesome", the middle point where they cross over could be labeled "Vancouver on the Cheap". In other words, this is a weekly series on things to do and places to go in Vancouver that fall into that magical category of being both cheap and awesome.
Got a cheap-living tip you'd like to share? Send it in here or tweet it to @andreaxuaxua (#cheapthing)!
This week our series of daily deals moves on to Wednesdays. What's cheap and fun on a Wednesday, you ask? Here is a round up of some wonderful mid-week specials all over town.
1798 Restaurant - BYOB (bring your own bottle of wine and pay no corkage fee!)
The Academic - $4 wings
Bellaggio Cafe (Homer St) - 50% off pasta + pizza dishes after 6pm
Blackbird Pub & Oyster Bar - $5 pints, $8 scotch + half pint, $10 pizza
Cavino - $5 BBQ hamburgers
Sip Resto Lounge - $4 Bacardi cocktails, $7 veggie flatbread
Yaletown Brew Pub - 3 for $10 martinis, $5 beer
Joe's Apartment - $2 glasses of beer
The Morrissey - $10 veggie burger and beer
Lolitas - $10 chimichangas