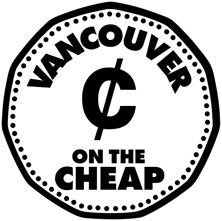 If you were to create a Venn diagram where one circle was labeled "cheap" and the other labeled "awesome", the middle point where they cross over could be labeled "Vancouver on the Cheap". In other words, this is a weekly series on things to do and places to go in Vancouver that fall into that magical category of being both cheap and awesome.
Got a cheap-living tip you'd like to share? Send it in!
There is something special about a good karaoke night. When regular people get a chance to step on a stage and pretend they're performers, things always get interesting - from the red-faced person who barely moves their lips while they mumble a song to the wannabe-divas and almost-rock-stars who act like they're in a music video, it is fascinating. So here's a chance to enjoy a night of both watching and participating in the fun, for super cheap. Weekend Leisure Karaoke takes over the Astoria every Monday with an awesome selection of songs, some rad locally made karaoke videos, and inflatable instruments for FREE. No cover charged. Plus, you can get a pitcher for $10 at the Astoria, if you're so inclined.
A few friends rocking it out. Photo by Kate Robin.
Mondays at The Astoria
769 E Hastings