Hey, Happy Wednesday!
Now I know what you're thinking, and you're right - it's not Monday, which means it isn't time to hit Nicholson Road and venture out into the suburbs. Instead, I'm making a special appearance today to make sure you don't miss out on some of the exciting things happening this week!
First off, you may have noticed one of the 111 flag-bearers decked in bright t-shirts racing through the region on Monday, from starting points at SFU, UBC, and Whistler (via Grouse, by Helijet). If not, maybe you happened upon the big celebration shortly thereafter at Centennial Square outside the Vancouver Art Gallery? Either way, you should know that Vancouver is the host city to the 2011 GLISA North America Outgames!
The North America Outgames, a celebration of sport, culture, and human rights, provides LGBTQ athletes across North America an opportunity to showcase their athletic abilities in a competitive, and inclusive environment. Thousands of athletes are in town for the Outgames this year with the hopes of winning a medal or two in 13 events ranging from the more traditional, like track and field, tennis, and volleyball, to more unique events like the Eco-Challenge in Whistler, and the 6K Vertical Challenge - a race up the Grouse Grind! Most of the events and celebrations are free to attend, with the exception of the closing party which takes place all day Saturday over at the Plaza of Nations, with performances by Ace of Base (yes, THAT Ace of Base!), Dragonette, and plenty of local talent. Check the Vancouver 2011 Outgames site for venue locations and other details!
In addition to the various sporting events, the Outgames also has a conference component - the 2011 Vancouver Outgames Human Rights Conference. Covering a wide assortment of topics, the intent of the conference is to move LGBTQ human rights forward in North America. We're pretty lucky here in Canada, and especially Vancouver, thanks to a local movement that began in the mid 60's. This week especially, we're reminded as we look at the beautiful photos and stories coming out of New York, that not many gay or lesbian people in North America are able to marry the person they love. Many still, experience a daily struggle whether it be alienation of the elderly, workplace discrimination, bullying at school, or countless other trials. The Outgames Human Rights Conference focuses on these issues and dozens more, to educate, assist, and help make progress happen!
On top of both of these amazing events, you have to know that this is also Pride Week in Vancouver. All sorts of festivities have been going on, and plenty more are still happening, including the Queer Arts Festival, a showcase of queer expressions of art which runs until August 13th over at the Roundhouse Community Centre; The Pride Ball, the Paris is Burning-inspired night of themed walk-offs (including Body Hair Realness, Yacht Club Couture, and High Fashion EastVan) which takes place Thursday at the Cobalt; and the Caya Davie Street Dance Party, which closes down the streets through Davie Village on Friday for a night of high-energy music and entertainment (and great people-watching!).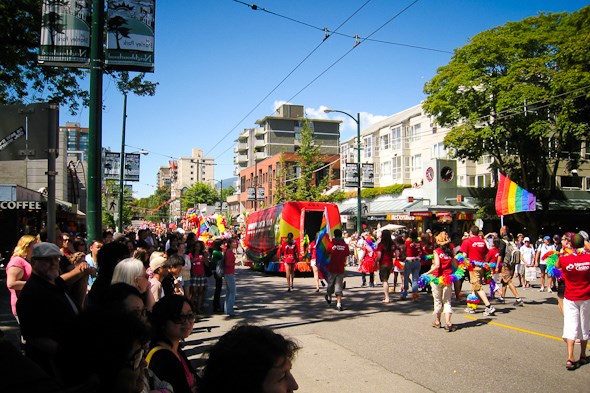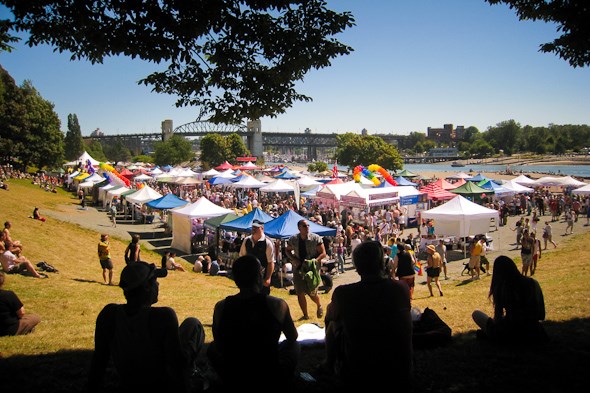 As if all of the above isn't enough homoawesome for one week, of course Sunday is also the 2011 Vancouver Pride Parade! This year marks the 33rd year of the parade, which is recognized as Western Canada's largest LGBTQ celebration! Last year's parade drew upwards of 640,000 people who made their way into the West End to enjoy the sights, sounds, and surprises of the parade as it traveled along its route from Robson at Thurlow down to the festival site at Sunset Beach. With 130 registered parade entries ranging from small community groups to full-on rainbow party floats, the Vancouver Pride Parade is always a good time! For a complete rundown on everything there is to see and do in the days to come, pay a visit to the official Vancouver Pride website.
Then make sure to take a few days of rest after the parade and festivities, because on August 11th the 2011 Queer Film Festival kicks off.
...Seriously? More? Yes!!
All this, my friends, is precisely why Vancouver is Awesome!