Vancouver Public Library and V.I.A. have teamed up to help you discover new reads, hidden book gems and surprising literary finds. Check back every couple of weeks for the latest reading recommendations from the experts at Vancouver's library.
Transformation is central to stories we love. A frog becomes a prince. A man turns to stone. A trail becomes a street. A newcomer becomes a citizen. In morph, VPL's first feature exhibition, curator Gregory Dreicer offers tales of Vancouver's metamorphosis, mutation, and growth.
See the exhibition when it opens at VPL's Central Library, along with the new rooftop garden, shared spaces and gathering places, on Saturday, Sept 29.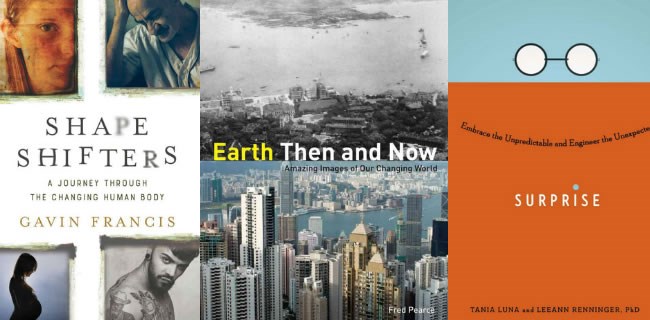 Prepare for your own transformation by reading these titles about change. Share your experience with #morphVPL.
This is a profound exploration of the manifold transformations of the human body, from changes in the anatomy during puberty and pregnancy to external changes through cosmetic surgery and tattooing. Going beyond medical and scientific information, the book also explores the cultural history and even the mythology of human change.
Does living in a city make us happier? Montgomery believes it might. His book examines the possible benefits on our moods and investigates the ways in which cities around the world are using urban design to improve the lives of their residents.
Each one of us can be an agent of change and help to slow down global warming by reducing our carbon footprint. Kalmus, who reduced his own to just one tenth of the US average, offers many practical suggestions on how to be better citizen of the world through lifestyle changes.
The earth has been in a constant state of transformation from its beginnings to the present day. Physical phenomena, such as floods and earthquakes, as well as human intervention, have been altering our landscapes and environment. This collection of powerful images highlights some of the major changes our planet has undergone over the millennia.
This collection of poetic retellings of Indigenous legends by E. Pauline Johnson (Takehionwake) has been a classic since its first edition in 1911. Many of the captivating legends tell of transformations of natural landmarks and familiar locations in and around our city, such as the Lions and Siwash (Slhx?i7lsh) Rock.
Rybczynski, a prize-winning author and a lifetime observer of cities, offers both an engaging history of the evolution of cities and a look into the future of urban environments. Here is a great opportunity for all to think what we want from our ever-changing cities and imagine the various possibilities.
We live in the Anthropocene, the era of environmental changes due to human alterations and not so much to natural phenomena. This unique collection of essays by artists, humanists, and scientists provide insights into the transformations of the planet in our times as well as advice on how we can shape the future.
The authors of this delightful book argue that surprise can be the spark for creativity and true transformation in your life. So when life takes us by surprise, we should never resent or even dread the unexpected turn of events. Instead we should embrace the opportunity to evolve and turn our daily life into an adventure.